Jimmy Ward's Nashville, Tennessee
Nashville is a very hospitable town. People always comment on how nice we are.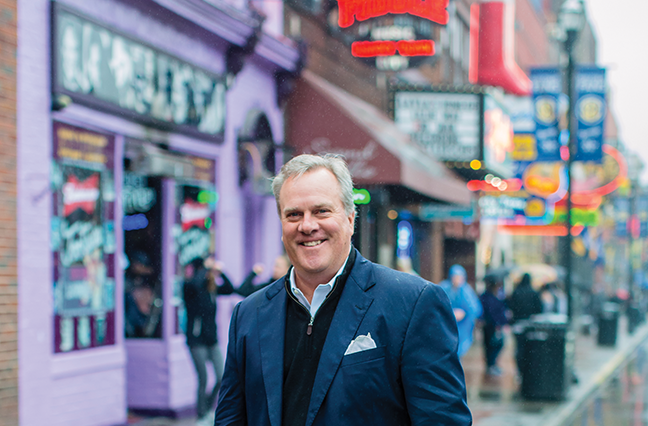 Jimmy Ward is co-chair and CEO of The Crichton Group.
What's to love >> Nashville is a very hospitable town. People always comment on how nice we are. We have the HQ of AllianceBernstein moving here, and Amazon and Ernst & Young are opening large support centers, bringing more than 7,000 white-collar jobs to the city. Nashville was already a major hub for healthcare with HCA Healthcare and Vanderbilt University being here, but we're also growing rapidly in our technology footprint. And there's no state income tax.
Dining scene >> Nashville's dining scene is very exciting. There are a lot of new restaurants serving a variety of cuisines but especially a lot of farm-to-table places. My favorite new restaurant is 404 Kitchen in The Gulch. It's actually not new, but it moved into a larger space and expanded the menu to include dishes like whole crispy chicken and a 30-ounce hardwood-roasted rib eye. The food is excellent, and they have a great bar with lots of different bourbons, scotches and tequilas.
Old School Eats >> Midtown Café. It's a Nashville staple that offers all kinds of food, including steaks and seafood, and is consistently delicious. The lemon artichoke soup and the blackened grouper are my favorites.
Spirits >> The Patterson House is probably the best. It's a speakeasy. For every day, I like BrickTop's on West End Avenue. You'll see a lot of folks and some celebrities there. Another great one is L.A. Jackson, on the roof of the Thompson Nashville hotel.
Stay >> Thompson Nashville, a luxury boutique hotel in The Gulch. It's across from 404 Kitchen and close to a lot of really good restaurants. It's also within walking distance to downtown.
Music >> Tootsie's Orchid Lounge is an old staple that is still great. Willie Nelson and Kris Kristofferson played there back in the day. Also great is FGL House (Florida Georgia Line), Acme Feed & Seed and just about any honky-tonk downtown, where you can see all kinds of country musicians and songwriters.
Don't miss >> Going downtown to go "Honky Tonkin." If you like beer and great live music, it's the thing to do. We are also known as being the second most popular bachelorette destination in the country.
Beyond music >> We're not just country music. Nashville has a great public parks system. The Nashville Symphony at Schermerhorn Symphony Center is one of the best. And we have more than 20 four-year colleges and universities based here.