McKeel Hagerty, President and CEO, Hagerty Insurance
"I think a lot about human needs and human nature, and I let the business come out of that."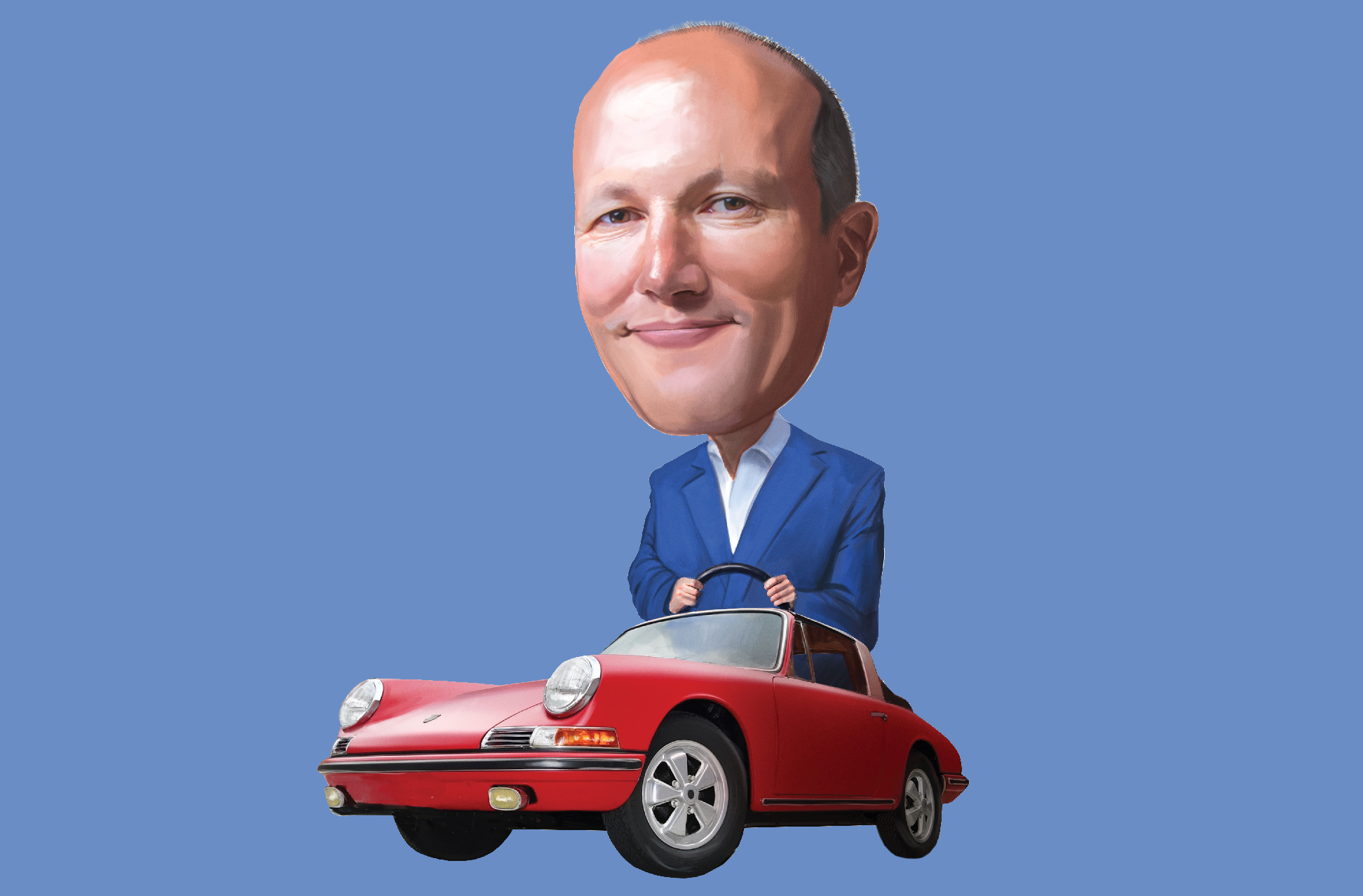 Q
As a company, Hagerty is all about cars. Why cars?
A
I grew up in a car-loving family. Our father was constantly working on cars. For me and my older sister, if you wanted time with Dad, you were in the garage with Dad working on cars. He had a practice where we kids each picked a car and he restored it with us over a couple of years, the idea being it would be ready for us by the time we were old enough to drive. Mine was a 1967 Porsche 911S. I bought it for $500 with my lawn-mowing money. I was 13 then, and I still own it.
Favorite vacation spot: Maui ("There isn't a bad view in Maui.")
Favorite movie: Gladiator
Favorite actor: Anthony Hopkins
Favorite band: Van Halen ("I was running to Van Halen this morning.")
Favorite book or author: "I'm a big reader, but the book I give the most is Meditations by Marcus Aurelius." (A.D. 121-180)
Favorite restaurant in Traverse City: The Good Bowl. ("It was started by my wife, Soon Hagerty, in 2018. It's a mission-driven business with premium fast-casual Vietnamese food that is to die for.")
Favorite Dish at The Good Bowl: Beef Pho Bo
Q
Where did your entrepreneurial streak come from?
A
I was an entrepreneur from a young age. The same year I bought the Porsche I started an apple orchard with 600 trees. I discovered early it's really hard to make money selling apples. But I learned something. I decided to bring my apples to the market in our 1933 pickup truck. They put me front and center. Now I was a 16-year-old kid with a great truck. I'd sell out by 9 a.m. I figured I'd go to college to study business.
Q
But you ended up earning your bachelor's degree in English and philosophy from Pepperdine University. What happened?
A
When I went to preregister, all the business courses were full, so I signed up for a bunch of English literature classes. I learned that I loved it.
Q
Later, you earned your master's degree in theology from Saint Vladimir's Orthodox Seminary in New York, then you studied classics and philosophy at Boston College. What was your goal?
A
I wanted to get my Ph.D. in ancient philosophy and become a philosophy professor. But during a class on Plato, something in the text got me thinking about the family business. My parents owned an insurance agency insuring classic wooden boats, and I helped out during the summers. I loved philosophy and still do, but the entrepreneur in me won out. So I left school and came home and took over the business.
Q
Five years ago you were elected as international board chair of Young Presidents Organization (YPO), the global group of chief executives. What was that experience like?
A
It became my MBA. I needed a business network outside of the insurance world. I traveled to over 40 countries. I met countless heads of state on almost every continent. It was a master class in leadership and global dynamics. It turbocharged my network way beyond what I could have done in the automotive or insurance world. I grew a lot as a leader in that time.
Q
And you became especially impressed by mayors of great cities.
A
When I met Michael Bloomberg, he had just come out of being mayor of New York. He's the one who made me realize that mayors are something special. They have to be very solution-oriented, very pragmatic. It's like, "We can talk about politics all we want, but first we have to fix the sewer system." The mayor of London, Sadiq Khan, the city's first Muslim mayor, told me that London is going from eight million to 12 million people by 2030. He kept using that number over and over again. He said: "I don't have time to think about politics. I have to think about public transportation, infrastructure. Otherwise, you're not going to like London in 2030."
Q
If you could change one thing about the insurance industry, what would it be?
A
I think the industry needs to get itself ready to attract better talent. We tend to sit there and say, "Well, we can't be like Apple." My view is, "Let's make ourselves like Apple. Let's make ourselves that cool."
Q
Last question: What gives you your leader's edge?
A
I think a lot about human needs and human nature, and I let the business come out of that. Having a growth mindset is critical.