Jenn Walsh, Senior Vice President & Partner, Woodruff-Sawyer & Co.
They're like, "What? You have what going on?"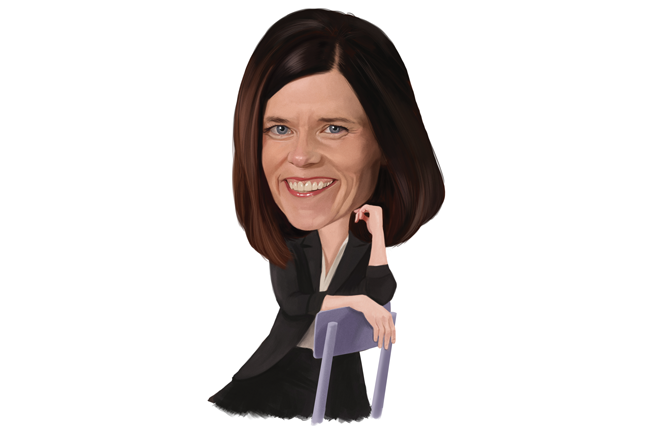 Q
What do you like to do when you're not working?
A
My latest obsession is fostering puppies for the humane society. It has been the most ridiculously fun thing we've ever done. Chihuahuas and pit bulls are typically the dogs that get abandoned. I've kind of become the crazy puppy lady.
Tell me about your family.
My husband, John, and I have been married for 19 years. We met in line buying margaritas at the Union Street Fair in San Francisco. We have a son and daughter. Christopher is 14 and a baseball player. Meghan is 18 and a rower. She'll be going to Columbia next year. Everything in New York City she loved. She walks taller there. For her it's like being plugged in.
What's the best career advice you ever received?
Years ago when I was considering a new position at the firm, my husband asked me if I was still going to get "the buzz." His question reminded me to consider what really makes me tick. Is it going to be creative? Interesting enough? It's rarely about the money or the title. Well, sometimes it's about the money—especially now with Columbia tuition.
Who was your most influential business mentor?
Stan Loar [the former CEO and current chairman of Woodruff-Sawyer] introduced me to the idea of "You get what you give." This influences how I invest my time, balancing industry activities with my day-to-day responsibilities at the firm.
What would your co-workers be surprised to learn about you?
I think the puppy thing had them scratching their heads a little bit. They're like, "What? You have what going on?"
If you could have lunch with three people, living or dead, who would they be?
We'll have to be creative and rotate them in for various courses. They would be my best friends in my Council study group: Chris Nadeau, Kerry Drake, Shawn Pynes, Liz Smith, John Kirke, Lisa Hawker and Tim Byrne. Dave Oberkircher has to be there, too, since I'm sure he would have some thoughts about how our lives have zigged and zagged the last 18 months since we lost him to cancer. Most importantly, inspired by Shawn, it would be a "proper" lunch—lengthy and with a lot of great wine. If I could squeeze him in, then I'd also have Rob Lowe there.
This month you become chair of the Council of Employee Benefits Executives. How do you envision your year in charge?
In such a dynamic time, it's hard to imagine what new challenges might emerge. I do know that our best shot at success is leveraging the collective talents within our member firms. I'd like to encourage everyone to continue to contribute their time, energy and ideas. Our clients need us to solve big problems, and that will require a high level of engagement.
Do you feel an obligation to mentor other aspiring women executives? I haven't paid that much attention to it, as about half of our leadership positions and shareholders at Woodruff-Sawyer are women. I will say I experience and witness gender bias routinely in business. I do what I can to create awareness on the issue. You can't change everything overnight. We need to just keep moving forward.
If you could change one thing about the insurance industry, what would it be? I would want all stakeholders leveraging technology so they are making decisions based on data as opposed to their "spidey" senses based on legacy operations.
What gives you your leader's edge? I think it's my curiosity and high energy level. I love meeting new people. I like testing new ideas. That's led to a really fantastic network of peers with whom I can continually brainstorm and challenge my points of view.
The Walsh File
Favorite Author: Brené Brown ("She's got a great TED talk on the power of vulnerabilities. Rising Strong is a really great book.")
Favorite Movie: The Blind Side ("It just hit everything for me, and it's entertaining.")
Favorite Destination: Mexico ("New Year's Eve usually finds us in Cabo San Lucas.")
Last Broadway Play: Hedwig and the Angry Inch ("An alum of my daughter's high school was in it. He was fantastic. At the Tony Awards, he did a shout-out to one of his teachers.")
Wheels: 2012 red Lexus 450h SUV