Jay Weintraub, Co-founder, InsureTech Connect; Founder & CEO, NextCustomer
It was such a great feeling to say, "I don't care if I fail."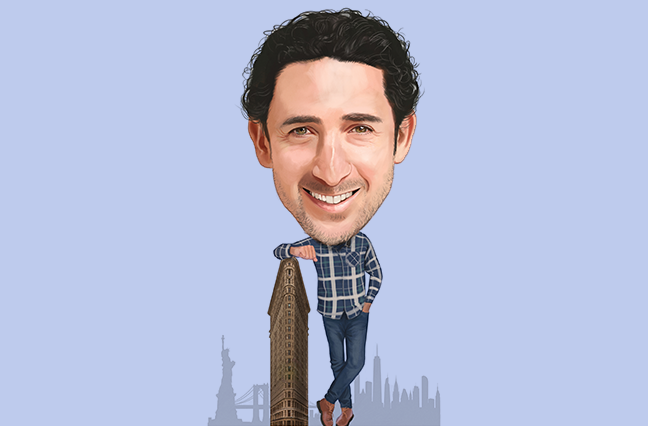 Q
Are you a native New Yorker?
A
I am not. I was born and raised in San Antonio, Texas.
What's the most common misconception about Texas?
Everything is bigger in Texas. It really isn't. The Alamo is surprisingly small.
What brought you to New York?
Internet advertising brought me to Los Angeles in 2002. I ended up starting a conference for the world of internet advertising called LeadsCon. I lived in L.A. for five years. Everywhere I went in L.A., people would ask me, "Are you from New York?" I said, "You know what? This is the time to try it." So I took my job with me.
Where do you live now?
In Manhattan. I work in the Flatiron area, east of Chelsea.
And now you have five-year-old twins. What's it like raising kids in New York?
The joy of New York is that it's an amazing melting pot. I'm so glad they get the experience of seeing this city and becoming comfortable with all cultures. It creates a sense of unity, and I'm glad our kids get to experience that firsthand.
Mets or Yankees?
"Neither" is the actual answer, which is why I can't yet say I'm a true New Yorker.
When friends come to visit, what's one place you take them?
Central Park. I think it is sort of magical to have such peace and beauty in the midst of such activity.
You've called yourself an accidental entrepreneur. Why?
It was such a great feeling to say, "I don't care if I fail." You leave a job and go for something that hasn't been built before. It was outside of my knowledge base and comfort zone, and it was the best decision I ever made.
You've also referred to your history of "wondering why things couldn't be a certain way." What do you mean by that?
I love seeing things improve. I think about why InsureTech is so interesting. You have a commitment embracing what a better industry would look like and how tech might play a role in that.
How did that idea evolve?
It's really about the insurance industry being able to meet the needs of the world better. Yes, tech is a key. We have an opportunity to create products people want and deliver them in a way people want. Every industry has to become more consumer-centric. If it doesn't, somebody else will.
Is there a business leader you most admire?
Don Pazour is the CEO of Access Intelligence, which acquired LeadsCon in 2012. It was Don who helped me appreciate what we do and what we can do, to think of an event as more than just an event.
What has been the biggest surprise in running such a new enterprise?
Just how much support there is for innovation and transformation.
Tell me a little about your business.
We have a team of about 10 who work on InsureTech Connect. We're expecting about 7,000 people in the 2019 edition, which is September 23 to 25, back at the MGM Grand in Las Vegas. One of things we're most proud of is that it's a global gathering. In 2018, there were more than 1,000 people who attended from outside the United States, out of about 6,000. The seniority of the audience is something we're also very proud of: we had 500 people with the title of CEO or founder.
Was the global nature of the conference intentional?
It was. The best way to move the industry forward is to make sure a diverse group of industry leaders get together, especially ones that might not do so otherwise.
What would your co-workers be surprised to learn about you?
Just how many Hallmark movies my wife and I enjoy watching and that it's not her fault. I'm a willing participant.
How would your co-workers describe your management style?
Encouraging and inclusive. I continually challenge them to tap into their passions and grow as we grow.
Last question: What gives you your leader's edge?
A combination of our curiosity and our passion. We are a service business. We genuinely care about the people who attend and the people in the industry.
The Weintraub File
Favorite New York neighborhood: Flatiron
Favorite New York restaurant: Maialino (Lexington Avenue at 21st Street) "Dining in New York is probably one of the best things possible."
Favorite dish at Maialino: Cacio e Pepe
Favorite vacation spot: Portugal
Favorite movie: The Matrix
Favorite actor: James Earl Jones
Favorite musical group: U2
Favorite business book:Crucial Conversations: Tools for Talking When Stakes Are High, by Kerry Patterson, Joseph Grenny, Ron McMillan, and Al Switzler. "Communicating with others is probably one of the most important aspects of life. But no one talks about how we can make it better."
Wheels: "I love cars, but I don't own one in New York City."