Debra Martinez
Chief Human Resources Officer, Alera Group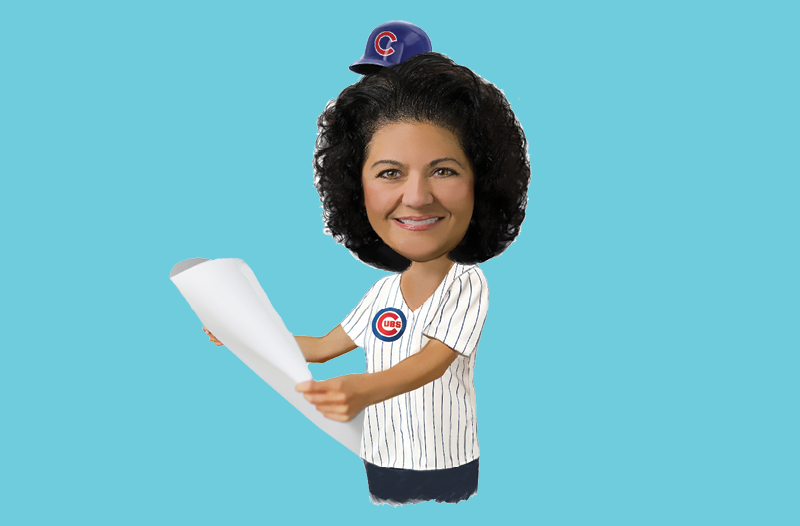 "What does get me up in the morning is an opportunity to either refine something and make it better or build it from the beginning, collectively, with a lot of people."
Q
You grew up and went to college in Chicago, and you're now living and working in Texas. I'm going to guess that was something of a transition.
A
The culture is different. The Midwest is much faster paced. And it's business first, relationship second. Here, it's relationship first, business second.

Favorite vacation spot: The Bahamas. It's easy. It's calm. Its beautiful.
Favorite City for Working Abroad: Buenos Aires. The people and culture, the architecture, the history, the food and the professional environment.
Favorite Book: The Boy in the Striped Pajamas by John Boyne
Favorite Musicians: Stevie Wonder, Mark Anthony, George Michael, Marvin Gaye, John Secada, Elton John, John Legend
Favorite Stevie Wonder Song: My Cherie Amour
Favorite Houston Restaurant: Carrabba's. It reminds me of restaurants in Chicago because it's very friendly and familiar. The people know you by your first name, so it's just a really good experience.
Q
You're a Cubs fan. How did that happen?
A
My mom's uncle was an insurance man. He had season tickets to the Bears and the Cubs. So I didn't know anything different than the Cubs. We became lifelong fans.
Q
You told me that two of your biggest influences in your life were your grandmothers and that you didn't realize that until your son was born. Tell me about that.
A
Conrad was a preemie; he was a 29-weeker. I was the VP of human resources for a very large national company, working full-time, traveling and doing all the fun things that I love. When he was born, it was life-changing. I quickly realized how my grandmothers had prepared me to continue to be successful in what I wanted to do and balance it with having a family. Had they not instilled in me the importance of work ethic, family first, being able to persevere regardless of what life throws at you, I don't know if I would have been prepared for that experience.
Q
What is the best thing about your job?
A
The people I work with.
Q
What is the worst thing about your job?
A
When I have to transition people out of an organization. Whether it's a company's decision or the person's decision, the impact on that person, their lives and the lives that they touch—mother, father, children, grandchildren, whatever that looks like—that's always really, really hard.
Q
You told me that Alera is one of your favorite employers. Why?
A
You get to bring your experiences and ideas to the table. Regardless of the outcome, you still have the opportunity to be heard. I'm a builder, so I love the opportunity to build. One of the great experiences at Alera Group that I'm really enjoying is building our inclusion and diversity mission for the organization.
Q
Have you always considered yourself a builder?
A
No, it was a little bit of trial and error. What does get me up in the morning is an opportunity to either refine something and make it better or build it from the beginning, collectively, with a lot of people.
Q
What's a perfect weekend for you?
A
My husband, Christopher, and my son, Conrad, they're very outdoorsy. They like to fish and ride motorbikes. I like to ride my road bike. I ride about 20 miles over any given weekend. A few years back, I rode in the Houston MS 150. And I am a faith formation teacher, so my Sundays are full with teaching my students at our church.
Q
So you don't just sleep?
Q
Would your 20-year-old self be surprised to see who you are today?
A
The expansion of my thoughts, my experiences, and the value that I'm able to bring to an organization— I would have never dreamed at 20 years old that I'd be doing that. I've traveled all over the world, working and having fun.
Q
What are three words that your co-workers would use to describe your management style?
A
Engaged. Executional. Strategic.
Q
What gives you your leader's edge in this business?
A
My ability to look beyond the four walls and to really understand and find solutions that make sense for the organization and its people.