Brenda (Ballard) Austenfeld, President, National Property Practice, RT Specialty
Once I moved to Kansas City and began traveling, I realized how many opportunities truly existed in life.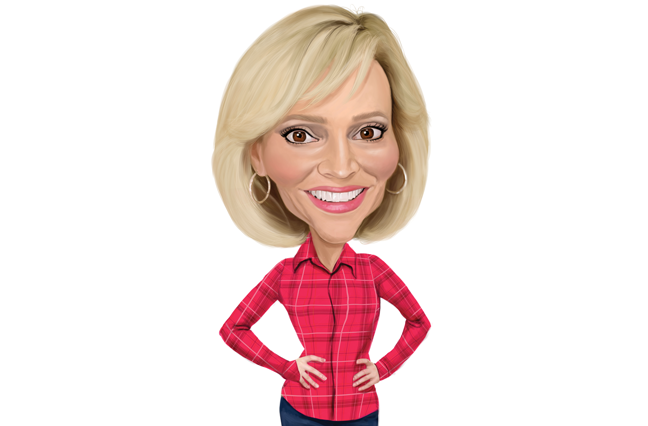 A
In Kansas on a wheat and cattle farm. It was definitely rural America. I loved it!
What did you love about it?
You knew everyone in the surrounding counties. We all learned early in life the importance of family, friends and community. My graduating class in high school was 32.
Wow.
Exactly what everyone says—wow! I played all sports—basketball, volleyball, track, and I was a cheerleader and student council president. On the busiest days, I would cheer for the boys' junior varsity team, play for the girls' varsity team, cheer for the boys' varsity game, and as student council president I would organize the dances afterward.
What's the biggest piece of farm equipment you ever drove?
Either the John Deere tractor, the John Deere combine (which harvests the wheat) or the two-ton Ford truck that held 300 bushels of wheat.
What's it like to drive something that big?
When you grow up on a farm, you ride horses before you can walk and you drive before you can reach the pedals. You just have a different type of confidence.
Did you ever consider farming as a career?
When I was in high school I wanted to own a large horse ranch.
And?
Once I moved to Kansas City and began traveling for my career, I realized how many opportunities truly existed in life. I wouldn't say I never looked back. I have a great fondness for that part of my life.
Who were your childhood heroes?
My dad, Jack. He worked hard. He was a farmer, but he also worked as a welding foreman for 40 years. He always had time to spend with our family. Dad is 83 now and we still ride horses together. My dad is one of the greatest negotiators I've been around. It is because of him that I have been a broker my entire insurance career.
You started your insurance career as a retail broker. What made you move to wholesale?
Building a team and a company was a goal of mine. I joined Westrope as employee number 18. Our firm grew to the sixth largest wholesale broker in the nation. We sold Westrope in 2013 to RT Specialty, part of Ryan Specialty Group. RSG is six years old with $5 billion in premium. Pat Ryan is an amazing leader who I admire immensely because of his success in building great firms and his ability to relate to people.
I understand you're something of a Kansas City Royals fan. On a scale of 1 to 10, how would you rank your fandom?
Definitely a 10-plus. The last two years we went to all the World Series games.
And you're a top-flight golfer.
As a 10 handicap, I can play toe-to-toe with anyone. As I mentor young women and men in this business, learning how to play golf and taking it seriously is always a strong suggestion to all.
Your favorite courses?
Pebble Beach and Cypress Point in California. Bandon Dunes in Oregon. Whistling Straits in Wisconsin. Lahinch in Ireland. Kapalua in Hawaii. And Baltusrol in New Jersey.
You're on the executive board of the Kansas 4-H Foundation. Why 4-H?
As a kid, 4-H was a big part of my life. Ten years ago they asked me to speak at the Kansas 4-H annual awards banquet. I stood in front of 600 future leaders—it was just so inspirational. That's when I decided to become part of the board and do everything I could to help the youth of Kansas believe they, too, could be everything they wanted to be.
What's the most interesting thing in your office?
A framed quote by Lincoln: "Things may come to those who wait, but only the things left by those who hustle." I've moved it with me to every office for more than 20 years.
How would your co-workers describe your management style?
Consistent and a confident leader who builds a team culture to be the best through integrity, trust, support and mentoring.
What gives you your leader's edge?
I love to win. And I believe a true leader sets the example of how to win—and also the dignity of how to lose and how to learn from it.
The Austenfeld File
Biggest Vehicle Driven: John Deere Combine
Favorite Sports Team: Kansas City Royals
Favorite Sport: Golf (10 Handicap)
Favorite Barbecue Joint: Fiorella's Jack Stack, Kansas City
Favorite Dish: Barbecue Chicken & Burnt Ends