Andrew Neary
CEO, Marsh McLennan Agency, East Region, Conshohocken, Pennsylvania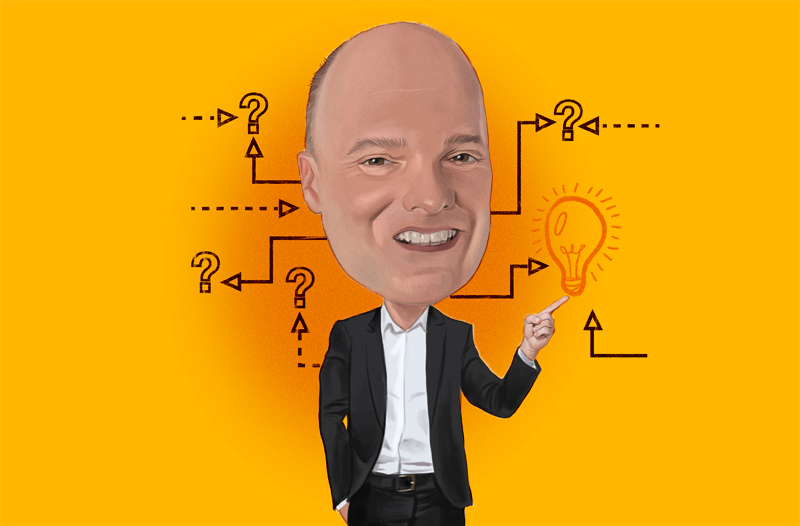 "I just always love to dig in, work as a team, come up with a strategy, then present solutions to clients."
Q
When you became CEO, what was the biggest surprise for you about your new role?
A
I'd have to say probably managing not only the day-to-day strategy and the business operations but the amount of collaboration, the amount of interaction with the teams—being accessible, being open.
Favorite vacation spot: Naples, Florida
Favorite Musician or Musical Group: Imagine Dragons
Favorite Book: The Alchemist, by Paulo Coelho ("I read it late in life, maybe about five or so years ago, but I just love the story. I love the personal journey going out. I love the message, which was all about being present in the moment, being open to opportunities, being open to change, both personally and professionally. It just really kind of resonated with me.")
Favorite Hiking Trail: Path of the Gods, on the Amalfi Coast in Italy ("It's got to be 1,500-plus feet above sea level, and you kind of overlook the entire sea and the cliffs of Amalfi. It's absolutely amazing. Then it ends with something like 1,000 steps that go down into the city of Positano. I didn't walk right for probably the next week after that.")
Q
You mentioned the draw of the client-facing aspect of the insurance business. Why do you think that's such an appeal for you?
A
I've always loved solving problems. Whether it be a healthcare challenge, an expense issue, or a merger or acquisition—I just always love to dig in, work as a team, come up with a strategy, then present solutions to clients.
Q
What did growing up with five siblings teach you about parenting three kids?
A
I don't know if anything teaches you about parenting three kids. I think you definitely learn as you go. Every day is new. And every day I am learning and growing as a parent.
Q
What does your perfect weekend look like?
A
I was never really a big cook, but throughout COVID, I got into cooking with my kids. So I guess a perfect weekend would be cooking with my family and then getting together with friends for dinner and drinks and fun.
Q
You've been in the industry for a long time. What has kept you interested?
A
I love what I do. I love the ability to work with people and collaborate with our colleagues.
Q
Is there a leader in the business world you most admire in or outside the insurance industry?
A
I'd have to go back to Dave Oberkircher. Dave was one of the founding partners of Trion, our firm's legacy name prior to becoming MMA. Unfortunately, he passed away in 2016. I had an opportunity to work with him for over 10 years. Dave was such a phenomenal industry leader, a great family guy and, for me personally, a great coach and mentor for so many years. He's one of the main reasons why I'm here, and I hope to carry on his legacy.
Q
What was one lesson you would say you learned from Dave and employ now in your role as CEO?
A
One of the main things Dave did very well was to make sure he was prepared, sometimes overly prepared, for sales, strategy and client meetings. So one of the things that he instilled was make sure you know the business, make sure that you're a subject matter expert, make sure that, before you enter a room with a client or prospect, you're prepared. A lot of the work that I've done with my team has been taking that same approach.
Q
How would your co-workers describe your management style?
A
I would probably say open and collaborative, a team approach.
Q
If you could change one thing about the insurance industry, what would it be?
A
The complexity. I mean, just so many rules, laws, regulations that have been coming, especially during COVID. We always feel for our clients. They're doing so much more with less—less staff, less support. And it often feels like they're just trying to keep up with the complexity, with the laws and the regulations—the basic blocking and tackling that needs to be done—versus truly looking forward and strategizing about the next two to three years.
Q
What gives you your leader's edge in the industry?
A
Listening and gaining perspective—whether it's opinions or feedback from my colleagues, from my team members, or from our clients and prospects. It's that balance, that insight, that perspective that I'm always seeking. I want to understand all of the angles first and make sure that I've heard from my teams before incorporating them into my decision-making process.