A Calculated Risk-Taker Finds Peace
Not even significant wealth made Carl H. Lindner III happy. So he quit his workaholic ways, reconnected with his family and found his spiritual side.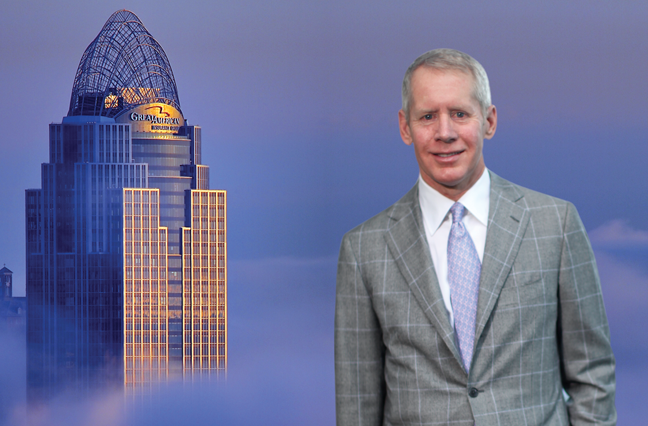 Carl H. Lindner III defies stereotyping. Born into enormous wealth, he started out at the bottom of the family empire, dipping ice cream at one of the family's United Dairy Farmer stores. He calls himself a calculated risk-taker, yet he has sky-dived and bungee jumped.
He's described as a cutting-edge businessman, but he'll tell you he used to be a workaholic. A devout Christian who begins each day with 30 minutes of prayer and solitude, he says there were times when he put his Bible on a shelf and needed to be reminded what's important.
"The most important things in my life are faith, family, my occupation and helping others," he says today.
Lindner, 58, and his brother Craig are co-CEOs of American Financial Group, the giant holding company founded in 1959 by their father, Carl H. Lindner Jr., a one-time owner of the Cincinnati Reds baseball team who amassed significant personal wealth that put him on the Forbes 400 List.
Among AFG's holdings is Great American Insurance Company, of which Carl H. Lindner III is chairman and CEO. He has been principally responsible for the property and casualty insurance operation since 1987.
Known originally as American Financial Corp., the company merged with American Premier Underwriters in 1995 to form the publicly traded American Financial Group, which today has more than $30 billion in assets. The elder Lindner was a major benefactor in Cincinnati, donating hundreds of millions of dollars to a multitude of causes. The Lindner children have carried on the giving.
"I grew up with one of the greatest entrepreneurial investors around," Lindner says of his father. "Naturally, he had a big influence on my life. I have this entrepreneurial DNA that my father gave me. My father left a great work ethic and a legacy of entrepreneurship and generosity, and my mother has given me my faith in Jesus Christ. Between my mother and father, they covered a lot of good bases and set a good tone."
Great American Cincinnati
The family's influence in Cincinnati can be seen everywhere. When Lindner goes to his office downtown, he enters the city's newest and tallest skyscraper, the 41-story Great American Tower, which opened last year. When he takes in a Reds game, it's at the Great American Ballpark, which opened in 2003.
Lindner graduated from the University of Cincinnati in 1975, where he earned a degree in business administration from what has since been renamed the Carl H. Lindner College of Business (after his father). The irony is not lost on him.
"I like to tell people I got my MBA at Lindner University," he says. "We were in everything, from the media business to bananas in a diversified kind of conglomerate. I got my MBA on the job with my father."
Lindner started at the bottom. Besides the ice cream job, he worked as a teller at a family-owned bank. Later he was tasked with repossessing cars. But he was always a quick study about business. He earned his undergraduate degree in three and a half years while working 25 to 30 hours a week on the side. He was in his 30s when he assumed principal responsibility for the property and casualty insurance operations.
"I was kind of a calculated risk-taker, and I love investing and building our businesses," he says. "In the property and casualty business, there's two important things that companies need to do to be really successful. One is to manage money really well. You know, manage money better than your peers. My brother Craig, Co-CEO, has helped American Money Management, our investment arm, over many years have an enviable track record. The other is to create an underwriting culture where you can have a bigger underwriting profit than your peers over time. Success is driven by investment performance and underwriting profits. It's really been kind of an ideal world for me to be in professionally."
Great American is engaged in property and casualty insurance, focusing on specialized commercial products for businesses, and in the sale of traditional fixed and indexed annuities.
In 2011, Ward Group included Great American Property & Casualty Insurance Group in its "Ward's 50" list of the leading insurance companies. Lindner says keeping the company a leader poses a challenge.
"This is a unique business," he says. "In a lot of cases you don't know your true costs of doing business for years. That always provides challenges, particularly in the liability and the workers comp side of our business. A change in judges and the court system or rulings by judges to include something that everyone in the industry thought was excluded are risks and challenges that are ongoing in this business. They can mean big losses if they are changes in the interpretations that nobody thought would be made. That's a big challenge."
The past couple of years have been hard throughout the industry as companies faced the economic collapse of 2008 and then a series of natural disasters that continued through 2011.
"Our company's philosophy around how much catastrophe risk we want to take is kind of tied to my faith, and also to common sense," Lindner says. "During my lifetime, there have already been two or three one-in-50-year events. So common sense says maybe the models are good tools, but they don't have everything figured out. If you believe there is a sovereign God who can do whatever he wants, whenever he wants, with regard to earthquakes, windstorms, tornadoes and all those types of events, it makes you be a little bit more careful in taking on lots of exposure. Because in our business you need to know what your projected loss costs are. And if you believe there is a sovereign God, it's almost impossible to get the right price.
"One thing about our company over the last few years: As there have been major catastrophes, sure, we have losses, but we have lower relative catastrophe volatility than most companies. During 2011, a year of heavy industry CAT losses, we didn't change our earnings guidance down, which was pretty amazing."
During 2011, a year of heavy industry CAT losses, we didn't change our earnings guidance down, which was pretty amazing.
Lindner says he loves his job, but it wasn't always so.
Recovered Workaholic
"It took a while—quite a few years—for God to get my attention and (make me) realize I didn't have the peace and the joy that I should," he says. "Money, power, position—all those things—weren't going to make me happy. I was fairly young to have the size responsibilities that I had. God had to get my attention because I wasn't a happy camper. As I started reading the Bible again, started having a prayerful life, guess what? My happiness and my joy returned, and I've been a more effective business executive, having a more balanced perspective."
Part of the balance came from knowing when to slow down.
"My father was a workaholic until his death," he says. "I was a workaholic to the worst degree for probably the first 15 years of my work life. It was my faith and my wife's encouragement and some older friends who told me the one thing they would have changed in life is to spend more time with the wife and children. I was blessed to have friends who would be honest with me, and I think my faith and my wife caused me to have a better balance of work and family for the last 15 to 20 years. I probably worked from 7 a.m. to 8 p.m., worked weekends, and my wife and family didn't see me too much. That wasn't going to work. I'm in it for the long haul.
"I've been blessed with great health and a lot of energy, and I'm really trying to manage my health so I can work until I'm at least 70."
Today he is a member of the Alfalfa Club of Washington, D.C., and the Commercial Club of Cincinnati. He was one of the founding elders of Horizon Community Church in Cincinnati. In 2008, President George W. Bush appointed Lindner to serve on the board of trustees at the John F. Kennedy Center for the Performing Arts in Washington, D.C.
Education has been one of the pillars of the Lindners' charitable giving. Lindner and his wife, Martha, were among the founders and major benefactors of the Cincinnati Hills Christian Academy in 1989. The private school was established in a Cincinnati suburb as a K-7 school but has since expanded to include a middle school, a high school and an inner-city elementary school. The inner-city school—the Otto Armleder Memorial Education Center—was founded in 2000 with help from Lindner's father and brother Keith. Today, more than 1,500 students attend classes at the academy's four campuses. Nearly all of the 92 graduates in the class of 2011 now attend college.
"Carl believes in doing things well, and he put his money where his heart was, investing millions in facilities and staff," says Randy Brunk, the academy's head of school.
"Carl is a kind, thoughtful, wise, persistent, and committed parent and friend. Though he has significant wealth and influence, he never considers himself anything more than a fellow worker in the Lord's harvest. I have seen him roll up his sleeves to do the work and at the same time write a check unlike many have ever done for Christian education."
Though he has significant wealth and influence, he never considers himself anything more than a fellow worker in the Lord's harvest.
Lindner says he and his wife concentrate their giving on education, evangelism and the poor, especially children.
"My wife and I have been very blessed," he says. "As a philanthropist and as a Christian, you get so many requests for various needs that over time you need to ask God to help you understand what your passion is. We focused our efforts with the poor and orphans in particular in many different organizations. We're involved throughout the world in a number of orphanages and a number of organizations that focus on that."
David Szymanski, the dean of the University of Cincinnati's Carl H. Lindner College of Business, says Lindner is one of the most impressive businessmen he's run across.
"He's absolutely, totally committed to the industry," Szymanski says. "I'm really impressed by his forward thinking. His whole family has a philanthropic approach to life. He's very grounded by his faith."
Next Generation
Lindner's plate is full for 2012. While he sees himself staying on the job at least another decade, he realizes he and others on the senior management team are getting older.
"One reason for our success is we've worked with the same group of senior execs probably for 25 years," he says. "I have a great management team, but we need to develop the next generations. The good news is we have a great team, but all of us are in our 50s or early 60s. We've always done strategic reviews of every one of our businesses, but what I find is the people development part always gets short shrift. So as a company we've begun doing strategic leadership reviews. We have detailed plans that are developed business by business for people, both for immediate successors and long-term successors."
And he expects the economy to remain a challenge. He says he intends to be ready.
"[You have to] make sure you have the right enterprise risk management controls in place and that you're aggressively looking at many different crisis scenarios to make sure that you're going to have your capital stay intact," he says. "That's why as a company we're keeping quite a bit of powder dry. Offensively for opportunities and defensively for the things you don't know about.
"Craig and I have made a decision we're going to keep $300 million in cash and excess capital just as dry powder. Some of the time some of the best opportunities to acquire things are when the biggest problems are out there."