Where from Here?
We are uniquely situated to evaluate solutions to mitigate another pandemic.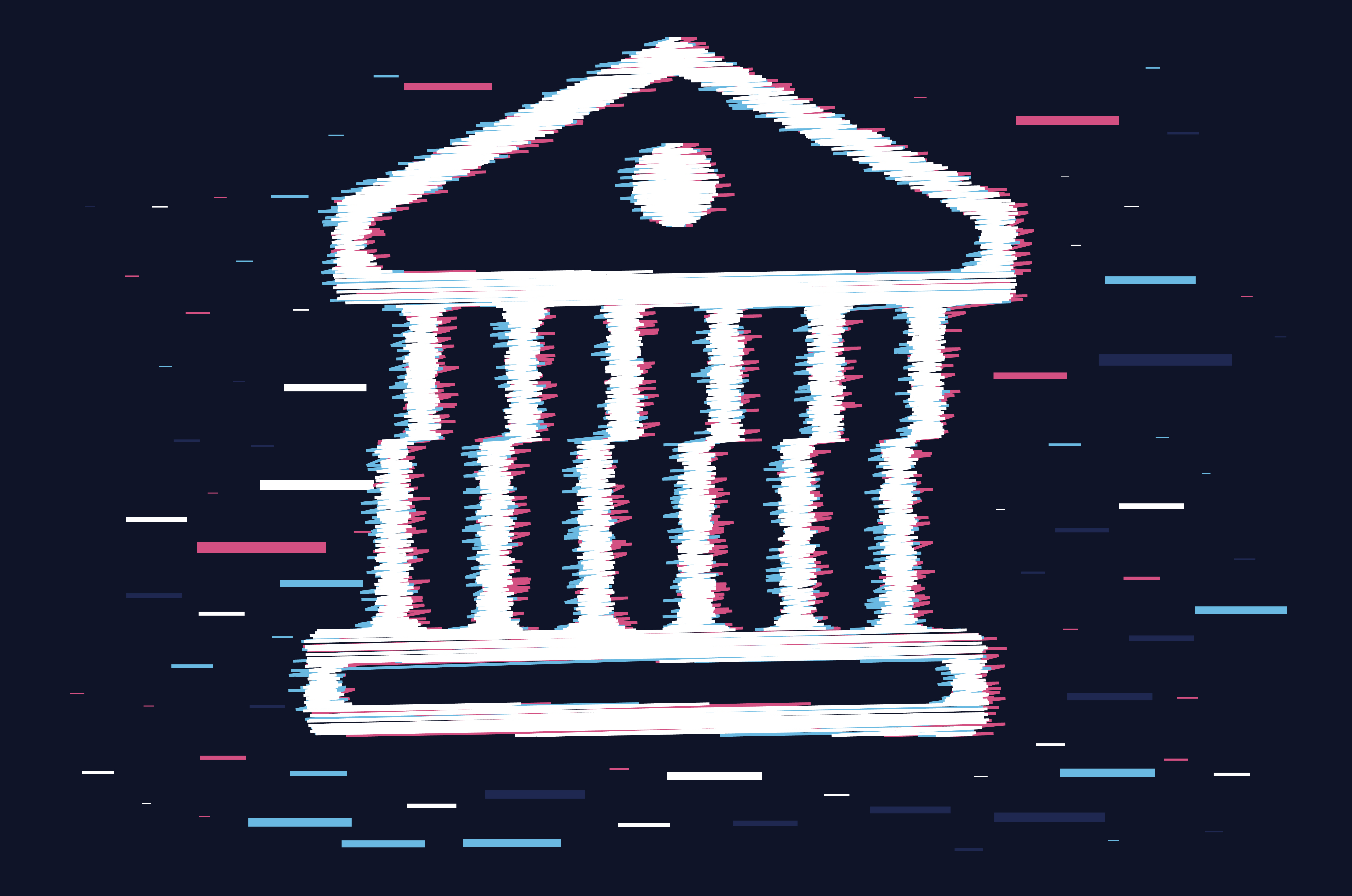 "For those of us who answered the call to service because we want to make a difference, this is our moment." —Susan Neely, American Council of Life Insurers
I came to Washington 30 years ago, and I wanted to be of service. I had no real interest in insurance and no sense of what a trade association really was or did. My very first day at a law firm, I began working for the National Association of Casualty and Surety Agents (now The Council).
Early on, this quote from the Supreme Court case that begat the McCarran-Ferguson Act impressed me:
"Perhaps no modern commercial enterprise directly affects so many persons in all walks of life as does the insurance business. Insurance touches the home, the family, and the occupation or the business of almost every person in the United States."
Perhaps even more pertinent now, however, the Court then reflected that insurance serves a far broader public interest, as it is the essential means by which the "disaster to an individual is shared by many, the disaster to a community shared by other communities; great catastrophes are thereby lessened, and, it may be, repaired."
As the country struggles to maintain itself while we work to overcome the COVID-19 pandemic, the government has leapt into action. The recently enacted CARES Act contains over $2.5 trillion in new spending, which is both unprecedented and widely acknowledged as likely only the beginning. Over half that money is earmarked for loans that effectively function as grants to "small businesses" ($350 billion to businesses and charities with fewer than 500 employees) and highly preferential, federally guaranteed loans that are available to essentially all other American businesses. Less than two weeks after that bill was signed into law, Congress began working on a new bill to expand the small lending program by at least $250 billion.
The legislative enactment of these programs and their regulatory implementation has been, perhaps understandably, chaotic and uneven. It is hard to write legislation of this magnitude and to proffer governing guidelines under duress and the fear of imminent economic collapse.
Now the clarion calls are prevalent for a go-forward solution to avoid the next pandemic-related economic meltdown. Several varieties of a Terrorism Risk Insurance Act (TRIA) rewritten to address pandemic exposures—"Pandemic Risk Insurance Acts" (PRIAs)—already are circulating.
Under TRIA's basics, insurers must "make available" terrorism coverage (with no corresponding policyholder obligation to purchase) and, if there are insured losses, pay a deductible equivalent to 20% of their net written premiums and then pay a 20% co-insurance share for losses beyond that up to the overall program cap. The government bears the rest of the risk of loss up to the program cap, and there is a government outlay repayment mechanism through the imposition of post-event premium surcharges on policyholders.
Rewriting TRIA to PRIA may be far from straightforward. We simply have not seen since the Great Depression an event of this magnitude that impacts so many so much. TRIA's $100 billion program cap—which is two-and-a-half times the largest terrorist event in our nation's history—is not even a down payment on the initial CARES Act payments.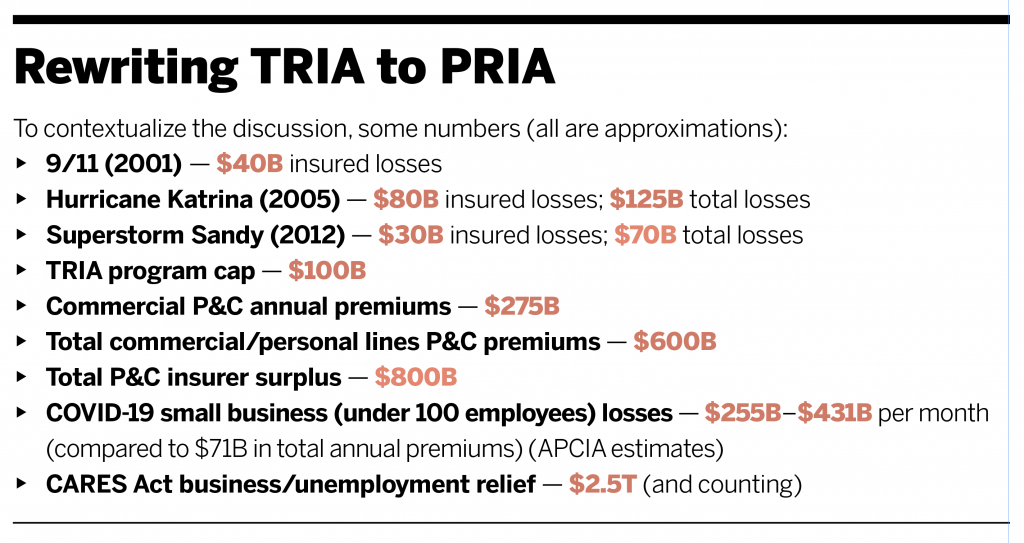 Other issues also might seriously impede a simple transition of TRIA to PRIA. For example, insurers accepted the TRIA "make available" requirement primarily because they needed access to the federal TRIA backstop to reinsure exposures for which states do not permit exclusions (workers compensation and "fire-following" primarily). And several Council members assert that any prospective pandemic insurance program cannot be optional for policyholders. Everyone will want and need relief if (or when) another pandemic moment is upon us, and partial insurance relief has significant shortfalls as we saw in the aftermath of Katrina and Sandy. But, of course, mandatory offer and purchase requirements both raise significant constitutional questions.
Insurers also maintain that another COVID-19-like event is uninsurable. They point to both the breadth and depth of the exposures as being unsuitable to an insurance solution. Terrorism events historically have been limited in geographic scope, but pandemics are, by definition essentially unlimited in such scope. Modeling pandemic losses also is virtually impossible in part because the bulk of the business losses result not from the virus itself but from the government responses.
Even if modeling were feasible, insurers assert that actuarially sound pricing would be by no means affordable. Just one month of projected small-business losses during the current crisis, for example, is the equivalent of four to seven years of current premiums for such businesses. The uncertainty of the frequency of such events adds to insurer concern, as multiple events could be financially devastating. Insurers also contend that they do not have anything close to the bandwidth that would be required to adjust claims simultaneously for such a broad swath of American businesses.
It is for those reasons that most policies contain war and civil authority coverage exclusions, and those same issues raise serious questions as to whether a PRIA solution modeled on TRIA is a viable path forward.
Alternatives to Consider
Other government insurance programs might provide alternate frameworks. Under the National Flood Insurance Program and the World War II-era War Damage Insurance Act (WDIA), for example, the government is (or was) the sole risk bearer for coverage. Policyholders have (or had) a right but generally not an enforceable obligation to purchase that coverage. Insurers have (or had) an option to serve as program administrators by being the conduit to put such coverage into place and to oversee the adjustment of claims in the event of a loss.
The prevailing view captured in the Senate Report on the WDIA is instructive: "The cost of such protection—pertaining solely to catastrophic results arising from a common national cause—should be borne by the Nation at large" because "losses resulting from the war are a national responsibility[.]" In a very real way, this is our next great war, and we need to better prepare ourselves for it as a nation.
Jason Schupp, of the Centers for Better Insurance and a TRIA veteran, recently wrote, "The only ones with enough money to fund the economy during another COVID-19 scale lockdown are those who can print it. Any private funding within a pandemic risk program would be on the margins at most." He thinks that, in crafting a forward-looking solution, three questions come to the fore:
What benefits should be available to impacted businesses?
Which businesses should be entitled to claim those benefits?
Who has the infrastructural capabilities to deliver the necessary scale of benefits?
I think we want to avoid replicating the current post-hoc solution efforts if (or when) we are confronted with our next pandemic. As we seek to craft what likely will need to be a multifaceted solution, Jason's questions seem a good place to start.
From a risk management perspective, I would also ask what lessons can be garnered and gleaned from the current moment and how those lessons can be incorporated into the broader crisis response plans for businesses.
The answers may vary by business size and segment, and, if the CARES Act is reflective of the debate to come, policymakers may insist on tying components of the relief to expenditure incentives.
At the moment, I obviously have more questions than answers. But—at a minimum—as members of the insurance community, we are uniquely situated to evaluate go-forward solutions and our potential roles in those solutions that might better position the nation if (or when) there is a next time. I know I want to help. I think we all do. This is our moment.