M&A Entrepreneur
David Eslick has broken through the elusive middle market.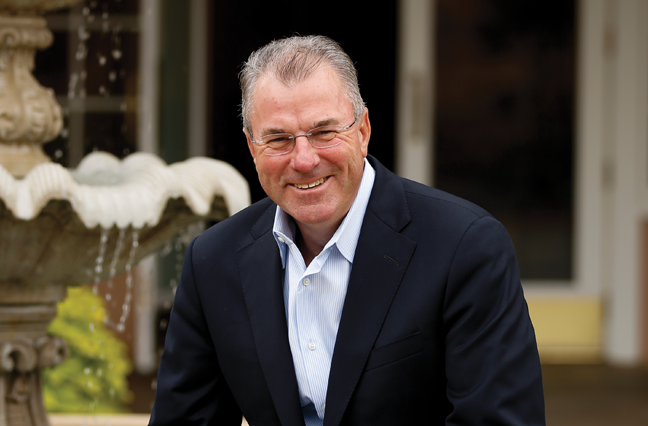 People often ask David Eslick why he abandoned a career in sales for management. "At first you make a sale, and you are euphoric for a week," he says. "After a while, you make a sale and you are euphoric for a day. Then the euphoria is gone as soon as you leave the meeting.
"When I helped someone else make a sale, I lived off their euphoric feeling for a very long time. Being able to help other people succeed was more satisfying for me than me doing it on my own."
Helping agencies succeed is a big part of Eslick's job as chairman of Marsh & McLennan Agency, the Marsh subsidiary driving the organization's aggressive push into the middle market. He does this in two ways: enabling the spread of good ideas among MMA's most successful agencies as "chief collaboration officer" and keeping the publicly owned behemoth from steamrolling the entrepreneurial culture of middle-market agencies.
Throughout his career acquiring and managing agencies at Acordia, USI and now MMA, Eslick built a reputation as a trusted partner, a strategic thinker and a relentless executor—all important qualities for managing a large brokerage. But a critical characteristic that captures the attention of agency owners who have eschewed previous offers from large brokers is Eslick's tried-and-true middle-market perspective.
"He was a producer and ran an agency before he got into the M&A field with USI," says Bill Henry, who sold MHBT, his large Texas agency, to MMA last year. "He knows what we do every day."
'I Just Wanted to Get Going'
Eslick got his start in insurance at age 12, licking envelopes for his father at the picnic table in the family's Cincinnati backyard. Les Eslick had embarked on a new career selling life insurance after abandoning a successful one in the shoe business. He was the Midwest manager for the Hanover Shoe Company until the day his boss dispatched him to take care of a problem at the Cleveland store four hours away. Les wasn't going to leave his wife, Linda, and three children on Mother's Day weekend, so he quit and applied the next week for a job at Prudential. When an interviewer asked him how he knew he could do the job, Les replied that, with a house, a car, a wife and three children, he had no choice but to succeed.
Starting all over under those circumstances might seem like a rash move, but family time was sacrosanct in the Eslick home, not least because it was a luxury his parents never had as children.
When Les was just four, his father died, and to help his mother with the family finances he dropped out of high school to work full time. David Eslick's maternal grandmother raised two daughters on her own after an early divorce.
Eslick's parents, who celebrated their 60th anniversary in April, worked hard to give him and his siblings a childhood very different from their own difficult upbringings.
"My father didn't have a father to teach him how to be a father, but both my father and mother were teaching us how to be good parents," Eslick says. "I felt they gave us a lot of advantages, worked hard and spent all their time and money on us. That was a huge commitment, and I didn't want to waste that."
Eslick followed in his father's footsteps, selling life insurance for Ohio National at age 19 as part of the five-year co-op program offered at the University of Cincinnati, where he played soccer until he was sidelined by injuries. But at 21 years old, newly married and planning a family, Eslick grew impatient to start building his career, so he dropped out to sell insurance full time.
"I had two parents who had to figure out at young ages how to provide for themselves," Eslick says. "That's what drove me. I just wanted to get going."
The Middle-Market Lens
Within a year of joining Frederick Rauh & Co., one of Cincinnati's oldest independent property-casualty agencies, Eslick was tapped, at age 24, to lead its expansion into life insurance and employee benefits.
When the owners cashed out in 1988, selling to Barney Mizel's fast-growing American Business Insurance, Eslick stayed on, eventually becoming Frederick Rauh's president at 33. He stayed through another sale, this time to Acordia, founded by Ben Lytle, a visionary who turned the sleepy Blue Cross and Blue Shield of Indiana into Anthem, the health benefits giant.
My father didn't have a father to teach him how to be a father, but both my father and mother were teaching us how to be good parents.
When Lytle met Eslick, he was blown away by his youth. "Even though he was very young, he was very poised and very confident," Lytle says. "Any time he had something to say, it was worth listening to."
As his career advanced, Eslick's decision to leave college came back to haunt him. He felt he needed to fill the gaps in his education, but he didn't have the undergraduate degree necessary to pursue most MBA programs. Xavier University offered an executive MBA program aimed at experienced professionals. He learned as much about work/life balance as he did about business.
After work each day as president of Acordia's Cincinnati agency, Eslick would come home to his wife and two school-age sons, then hunker down for four to five hours of homework. "It was the hardest 19 months of my career but I think one of the most fulfilling 19 months of my career," he says. "That's when it hit me about the connection between your education, your career and your personal life."
Lytle tried convincing Eslick to join him at Anthem, knowing Acordia would ultimately be sold. (It was, first to a private equity firm in 1997 and eventually to Wells Fargo in 2001.) "I felt he was a guy who could be on a short list to replace me or be one of the top executives in Anthem," Lytle says.
But Eslick had a passion for sales—more precisely, for helping others succeed at selling—and that was not Anthem's core business. In 1997, he joined USI, the brokerage Mizel had started from scratch three years earlier. Within two years, he was president, attempting to knit 80 insurance agencies acquired over five years into an integrated whole. Eslick added chairman and CEO to his job as president when Mizel retired in 2002, and eight months later he took the company public and moved the corporate headquarters from San Francisco to White Plains, New York.
Over the next four years, USI acquired 40 more agencies, doubling its size and dramatically improving its profitability. The board sold the firm to Goldman Sachs Capital Partners for $1.4 billion in 2007, and within six months Eslick left for what he calls a "forced sabbatical."
It was obvious to Lytle, then a USI board member, that the new private equity owners would not favor Eslick's approach to running the business. "Private equity is a different breed of cat," Lytle says. "They are 100% financial and 100% short term. Dave is a very strategic guy, and he is all about building something that lasts." (Five years after buying USI, Goldman Sachs Capital Partners sold the firm for $2.3 billion.)
After nearly 30 years of working, Eslick struggled to adapt to the new reality—no ringing phones, an empty inbox. "You are kind of in this moment of silence," he says. "It's been part of who you are and what you did every day, and it's gone."
At first, he woke early each day, settling in at his home office by 7 a.m. "That lasted for about three weeks," he says, "until Mary told me to get over it." Together, he and his wife traveled to Ireland and Rome, and Eslick took his father on a weeklong fishing trip on Florida's Lake Okeechobee. It was nice. "But I knew pretty quickly that I needed to get back in the game," he says. "I wanted to build something that could have a real legacy."
Eslick started consulting and was lining up private equity financing to create a new brokerage when a banker friend connected him with Dan Glaser, president and CEO of Marsh & McLennan Cos.
Then head of Marsh, Glaser orchestrated the brokerage's latest effort to break into the middle market, a highly fragmented sector with more than 30,000 agencies competing for $30 billion in commission revenue.
It was clear to Glaser that Marsh & McLennan Agency had to be a distinct business to succeed. But it was only after meeting Eslick in October 2008—several months after the Marsh & McLennan Cos. board approved the venture—that the strategy really took shape.
Their first meeting, scheduled for 40 minutes, lasted two hours. Eslick told Glaser he was skeptical about MMA's initial plans, which involved building a foundation for the middle-market enterprise by extracting business from the lower end of Marsh's client base.
"He told me more about what we should be doing in those two hours than all the strategy work we had done to convince ourselves we should go on this path," Glaser says. "I was impressed because he told me the most important factor was building a business that could grow organically and not rely solely on an acquisition strategy."
Even though he was very young, he was very poised and very confident. Any time he had something to say, it was worth listening to.
Ben Lytle, former CEO, Anthem
And Eslick laid out what that meant in clear terms: "I said, 'If this is going to happen, and if it's going to have a really positive impact in a reasonable time, we just have to go and get into business with these people who've already succeeded.'"
The challenge, of course, was that many of the firms meeting Eslick's criteria weren't for sale. He wasn't interested in firms whose leaders saw MMA as a way out but, rather, wanted owners who would see MMA as a vehicle to propel their growth to a new level.
By January 2009, Eslick was on the road, telling his story to agency owners, many of whom he'd known for years. Not surprisingly, he encountered skepticism: Marsh wasn't the only large brokerage that had tried and failed to break into the lucrative sector, finding they couldn't successfully adapt their approach to the needs of midsize customers. Ill-suited to the culture of a large corporation, the successful entrepreneurs who built those agencies often left soon after the acquisition.
Within a year, Eslick had helped MMA acquire two successful independent agencies. But to really change the industry's mind, he needed one dominant middle-market player to say yes.
Committed to the Experiment
Many suitors over the years—brokerages, private equity firms, banks—had courted the owners of Rutherfoord, one of the country's oldest and most successful independent middle-market brokerages. The overtures rarely merited a meeting. But when a friend encouraged Rutherfoord's top executives to meet with Marsh's new middle-market ambassador, they did so as a courtesy.
"His vision was different from anything else we had heard or seen in our industry," recalls George "Shad" Steadman, Rutherfoord vice chairman. With partners Thomas Rutherfoord and Thomas Brown, Steadman had transformed the century-old Richmond, Virginia-based agency into a regional brokerage with $81 million in revenues. They knew they would succeed quite well if they remained independent, but they saw promise in Eslick's offer. "We thought, if they pull this off and they do it the way they say they are going to do it, this is going to be something really special and will attract a lot of people."
The deal came with a good price. But more importantly, Steadman and his partners trusted Eslick. Steadman and Eslick had worked together for many years as board members of The Council of Insurance Agents & Brokers. In that forum, they became trusted peers.
The strategy worked. Once MMA acquired Rutherfoord, other large agencies took notice.
Working closely with Marsh CEO Peter Zaffino, Eslick lured one high-caliber agency after another, kept the principals and helped disseminate their best practices. Since 2009, MMA has acquired 52 agencies. With revenues approaching $1 billion, the middle-market subsidiary represents more than a third of Marsh's U.S. business. And as a distinct business, Marsh & McLennan Agency now stands at the threshold of the top 10 U.S. brokerages.
You are kind of in this moment of silence. It's been part of who you are and what you did every day, and it's gone.
Eslick's leadership will continue to be tested as the first generation of agency owners retires and competition for the remaining suitable partners heats up. In the first half of 2016, MMA acquired three new agencies, and Marsh plans to replicate the strategy in overseas markets. But for now, he's enjoying the ride.
Eslick spends 80% of his time traveling the country visiting middle market brokers. Some are potential partners, others are established ones. In his role as chief collaboration officer, he helps each new acquisition share their successful strategies across the organization.
"What I love about my job is I learn something new every day because it's almost like each one of these offices is a lab," Eslick says. "I'm a person who likes to be in business with great people and find ways to help everybody just grow to another level."
The Eslick File
David Eslick, Chairman and CEO, Marsh & McLennan Agency
Age: 57
Family: Married since 1980 to Mary, who owns a weaving business; two sons: Brian, 35, works for Chubb in Atlanta; Patrick, 31, works for ClearSight, a Marsh subsidiary, in Chicago; and three grandchildren: Sophia, 7, Logan, 5, and Graeme, 4.
Home: Grew up in Cincinnati and lived there until 1999, followed by four years in San Francisco; now lives in Briarcliff Manor, New York, with a second home in Sarasota, Florida.
Family vacations: Long Boat Key, Florida (the first vacations they took with their sons), Italy, Ireland and Scotland
Grandparenting skills: Master Lego builder, giving out cookies when their parents aren't looking
R&R: Golf. Passed on an opportunity to attend the Masters at Augusta 20 years ago, pledging to himself that the first time he stepped onto the grounds at Augusta it would be to play a round of golf. "Sounded bold 20 years ago but still awaiting this opportunity."
Favorite book: The Godfather, by Mario Puzo
Current book: 212°: The Extra Degree, by Sam Parker
Wheels: 2015 Mercedes E63. "My play car is a 1961 Corvette."
Heroes: My parents and all of our military personnel
Awards: October 2002 Business Insurance "Rising Stars 35"; 2005 Lilli & Allan Shedlin Award for Easter Seals of New York
Industry boards: Council of Insurance Agents & Brokers, Marsh & McLennan Companies PAC
Morning routine: Up early, most days a quick workout, then out the door
Can't leave home without: iPad
Motto: "Nothing in this world can take the place of persistence." —Calvin Coolidge