It's High Time We Deal with Pot
But conflicting federal and state law create unclear implications.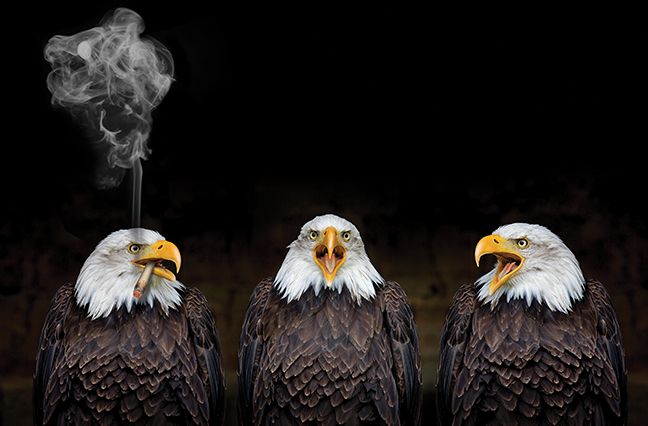 A total of 29 states, the District of Columbia, Guam and Puerto Rico have legalized marijuana for medical use. Eight of those states and D.C. have fully legalized marijuana for recreational use.
Twenty states currently have legislation or ballot initiatives pending to fully legalize its use, 14 of which already have legalized marijuana for medical purposes. If all those efforts succeed, as many as 28 states and D.C. could have full legalization regimes in place by the end of 2018, and 34 states, D.C., Guam and Puerto Rico would allow medical use.
And business is booming. The U.S. marijuana market generated $6.7 billion in revenue in 2016, an increase of 34% over 2015, according to Business Insider. Forbes reported in February the industry will create more than 250,000 new jobs by 2020, more new jobs than the Bureau of Labor Statistics projects for manufacturing, utilities or government during the same period. Bloomberg, citing a 2016 report from Cowen & Co., stated that revenue could grow to $50 billion by 2026.
There is only one problem: under federal law, it's illegal to grow, manufacture, sell, possess or use marijuana.
So what does that mean for those seeking to insure marijuana businesses in the United States?
Under the federal Controlled Substances Act, a Schedule I drug, substance or other chemical is one that:
Has a high potential for abuse
Has no currently accepted medical use in treatment in the United States
Has a lack of accepted safety of use under medical supervision.
The U.S. Drug Enforcement Administration classifies drugs. It's generally illegal under federal law to possess, distribute or dispense a Schedule I drug for any purpose. Since the statute was enacted in 1970, the DEA has classified marijuana as a Schedule I drug. It shares this status with heroin, LSD and peyote. In contrast, cocaine and methamphetamines are classified as Schedule II drugs, permitting their sale and use under specified conditions.
The DEA has the authority to reclassify a drug to a different schedule if new evidence arises. To do so, it is required to obtain a scientific and medical evaluation and a recommendation from the U.S. Food and Drug Administration on whether the drug should be rescheduled. The FDA considers eight factors, including the addictive effects and the current scientific knowledge related to the drug under review.
Even though so many jurisdictions have legalized marijuana for medical purposes, and physicians in most of those states are prescribing it for various maladies, as recently as 2016 the DEA refused to reclassify it. It recommended marijuana remain in Schedule I, finding "no currently accepted medical use in the United States," even though it will soon be used for just that purpose in a majority of states.
The ramifications of the FDA's inaction are far ranging. Engaging in any aspect of the marijuana business can trigger a host of federal violations. A "legal" marijuana business can be prosecuted under federal drug and money-laundering criminal statutes. Those who assist those businesses can be prosecuted as co-conspirators or as aiders and abettors.
The Department's guidance in this memorandum rests on its expectation that states and local governments that have enacted laws authorizing marijuana-related conduct will implement strong and effective regulatory enforcement mechanisms that will address the threat those state laws could pose to public safety, public health, and other law enforcement interests.
Guidance Regarding Marijuana Enforcement (the Cole Memorandum), U.S. Department of Justice
It is a separate federal crime to manage or control any place for the purpose of manufacturing, distributing, storing or using marijuana. Landlords who lease space to marijuana businesses are liable for that violation. Receipt of more than $10,000 from a marijuana business is a felony. Engaging in any financial transaction with a known marijuana business for the purpose of promoting a known marijuana business is a felony.
In 2009, the Obama Justice Department issued its now-infamous Cole Memorandum—named for its author, Deputy Attorney General James M. Cole, and titled "Guidance Regarding Marijuana Enforcement." The memorandum instructed federal prosecutors not to target medical marijuana dispensaries and users for federal law violations if they are in compliance with their respective state laws. As the memorandum put it:
The enactment of state laws that endeavor to authorize marijuana production, distribution, and possession by establishing a regulatory scheme for these purposes affects [the] traditional joint federal-state approach to narcotics enforcement. The Department's guidance in this memorandum rests on its expectation that states and local governments that have enacted laws authorizing marijuana-related conduct will implement strong and effective regulatory enforcement mechanisms that will address the threat those state laws could pose to public safety, public health, and other law enforcement interests.
There are two important qualifications to the guidance. It focuses only on state legalized medical marijuana and does not extend to recreational use. It also does not bar prosecution. Instead, it outlines a list of priorities to determine whether prosecution may be warranted, including preventing:
The distribution of marijuana to minors
Marijuana sales from supporting criminal enterprises, gangs and cartels
The diversion of marijuana from states where it is legal under state law to other states
State-authorized marijuana activity from being used as a cover or pretext for trafficking of other illegal drugs or other illegal activity
Violence and the use of firearms in the cultivation and distribution of marijuana
Drugged driving and the exacerbation of other adverse public health consequences associated with marijuana use
The growing of marijuana on public lands.
Congress also has weighed in. It included the Rohrabacher-Blumenauer Amendment in a 2014 spending bill. That amendment prohibited using federal funds to arrest or prosecute patients, caregivers and businesses acting in compliance with state medical marijuana laws. The 9th Circuit Court of Appeals ruled in 2016 the amendment protects patients and providers acting in accordance with state medical marijuana laws, despite DOJ's arguments to the contrary.
The Treasury's Financial Crimes Enforcement Network (FinCEN) issued guidance on how federally insured banks can service marijuana businesses, which are legal under state law and in compliance with the Bank Secrecy Act—a law they would otherwise violate.
The FinCEN guidance says that, in assessing the risk of providing services to a marijuana-related business, a financial institution should conduct customer due diligence that involves evaluating several factors, including:
Verifying with the appropriate state authorities that the business is duly licensed and registered
Reviewing the license application (and related documentation) submitted by the business for obtaining a state license to operate its marijuana-related business
Requesting from state licensing and enforcement authorities available information about the business and related parties
Developing an understanding of the normal and expected activity for the business, including the types of products to be sold and the type of customers to be served (e.g., medical versus recreational customers)
Ongoing monitoring of publicly available sources for adverse information about the business and related parties
Ongoing monitoring for suspicious activity
Refreshing information obtained as part of customer due diligence on a periodic basis and commensurate with the risk.
A financial institution that provides financial services to a marijuana-related business would be required to automatically file a suspicious activity report (SAR) every time it receives funds from the business. The depth of the report would depend on whether the business is violating state law or engaging in more threatening conduct (such as distributing marijuana to minors, allowing revenue to go to criminal enterprises, and trafficking).
New Administration, New Policy?
Attorney General Jeff Sessions has a jaundiced view on marijuana. Since being sworn in, he has been quoted as saying:
"Good people don't smoke marijuana."
"Medical marijuana has been hyped, maybe too much."
Marijuana is a "life-wrecking dependency" that is "only slightly less awful than heroin."
And he has issued a memorandum directing the Task Force on Crime Reduction and Public Safety to undertake a "review of existing policies in the areas of charging, sentencing and marijuana to ensure consistency with the Department's overall strategy on reducing violent crime and with Administration goals and priorities."
In May, Congress reenacted the Rohrabacher-Blumenauer Amendment (a requirement with each new budget year) barring the DOJ and DEA from using any funds to prosecute those acting in accordance with state marijuana legalization regimes. In signing that bill into law, President Trump said it "provides that the Department of Justice may not use any funds to prevent implementation of medical marijuana laws by various states and territories. I will treat this provision consistently with my constitutional responsibility to take care that the laws be faithfully executed."
The pundits are split on whether that is a positive or negative statement and how it bodes for future treatment of the issue in the Trump administration. White House chief of staff John Kelly may offer some contrary evidence. In a widely quoted Washington Post piece, General Kelly said marijuana was "not a factor in the drug war" and "arresting a lot of users" is not the right solution for the country's drug problem. "Whether it's veterans or anyone else, if it helps those people, then fine," he said.
In September, however, following a written recommendation from the Department of Justice, the House Rules Committee blocked a floor vote for the Rohrabacher-Blumenauer Amendment. The amendment was deemed "out of order" for the 2018 House Appropriations bill, despite its inclusion in appropriations bills since 2014. Nevertheless, after President Trump struck a three-month deal with the Democratic leadership to extend the current federal budget and debt ceiling until December 2017, the amendment was granted a temporary extension by proxy. Whether it survives the December budget debates remains to be seen.
Congress Attempts Federal Legalization
In August, Sen. Cory Booker, D-New Jersey, introduced the Marijuana Justice Act, the first congressional bill ever introduced to fully legalize marijuana under federal law and encourage state legalization. The Marijuana Justice Act would:
Remove marijuana from the Controlled Substance Act schedules (thereby overriding the DEA and FDA determinations)
Resolve some of the outstanding issues regarding federal law and the marijuana business (such as access to banking services)
Prevent deportations predicated on marijuana offenses
Provide expungement and resentencing for marijuana offenses at the federal level
Create a "Community Reinvestment Fund" of $500 million for programs such as job training, reentry and community centers.
Although the prospects for the bill are thin in the current political climate, legalization of medical marijuana at the federal level may be within closer reach. Senators Brian Schatz, D-Hawaii, and Orrin Hatch, R-Utah, are co-sponsoring the Marijuana Effective Drug Study Act (MEDS Act), introduced in September. The MEDS Act would take steps to remove barriers impeding research into the benefits of medical marijuana. Hatch says the MEDS Act will "encourage more research on medical marijuana by streamlining the research registration process" without forcing the DEA to reschedule marijuana. It would "make marijuana more available for legitimate scientific and medical research," Hatch says, and "protect against diversion or abuse of the controlled marijuana substances."
The Banking Issue
About 70% of cannabis businesses have no bank accounts. Despite FinCEN guidance, no major U.S. bank appears willing to fund marijuana businesses. That may be understandable. If they do, the FinCEN guidance requires filing of a Suspicious Activity Report, which could be read as an admission by the filing bank that it is violating federal laws. In a moment in which the administration's final marijuana policy is unclear, creating such an evidentiary record may not be that appealing to the compliance-focused banking sector.
The only two markets currently offering effective product liability coverage for the recreational markets as required under Washington state law are United Specialty Insurance, through a program offered by Next Wave, and James River.
Norm Ives, cannabis program manager, Mosaic Insurance Alliance
In response to the shortage of available banking services, Colorado (which became one of the first two states, with Washington, to legalize recreational marijuana in 2012) created a new class of financial institution called a "cannabis credit cooperative." The Los Angeles Times reported no such institutions have been formed, partly because the Federal Reserve is unlikely to approve them. Colorado also has authorized the creation of a credit union for the cannabis industry, but the Federal Reserve denied the credit union access to a master account and the National Credit Union Administration refused to insure its deposits.
In Washington state, some banks purportedly have been willing to open accounts for state-licensed marijuana businesses, but they do not appear to have made any loans to marijuana businesses and they are not expected to do so any time soon.
In the emerging world of crypto currencies, some issuers are looking at filling the banking void by using the blockchain system. Tokken, for example, offers one such online platform that purports to enable credit card payments for the legal marijuana industry through use of blockchain technology.
What About Us?
So, does insurance coverage exist? If so, from whom? And is it worth the paper it's written on?
To date, there have been very few cases evaluating whether insurers must pay claims that are illegal under federal law. In a 2012 case in Hawaii, the federal district court ruled in favor of USAA's denial of a homeowner's claim based on the theft of marijuana plants. The plaintiff had contended the theft fell squarely within the clause covering "trees, shrubs and other plants." The court refused to enforce this provision because "the plaintiff's possession and cultivation of marijuana, even for state-authorized medical use, clearly violates federal law."
In a more recent federal case in Colorado, the court found a marijuana dispensary and cultivation facility may be entitled to coverage for harvested plants damaged by smoke and ash from a wildfire, rejecting the insurer's argument that the products were uninsurable because of federal law's classification of marijuana as a Schedule I drug. The court ruled the insurer's argument that it could not be required to pay claims related to illegal activities under federal law was not valid because the insurer had elected to issue the policy with the "mutual intention" that the marijuana inventory be covered.
The emerging view in the legal community is "there should be coverage under policies sold specifically to marijuana-related businesses operating legally in their home states," says Jeff Sistrunk in Law360.
Bob Morgan with Much Shelist, an Illinois law firm, chairs its Cannabis Industry Practice. He previously served as the coordinator for the medical cannabis program in Illinois and oversaw development of the state's medical cannabis regulations.
"I'm not sure I would say insurance is a top-three challenge for the industry, but it definitely is in the top 10," Morgan says. "My clients and others in the industry think of insurance as a secondary problem right now, but it ordinarily would be much higher on the list."
That is because mainstream insurers and brokerage firms largely appear to be steering clear of the growing industry. Until two years ago, Lloyd's had offered some coverages, but it subsequently withdrew them, explaining at the time:
Based upon a thorough review of all positions, unless and until the sale of either medicinal or recreational marijuana is formally recognized by the Federal government as legal (as opposed to subject to non-enforcement directives), Lloyd's has asked that underwriters should not insure such operations in any form (including crop, property or liability cover for those who grow, distribute or sell any form of marijuana or cover for the provision of banking or related services to these operations) in the United States.
Instead, the gap left by these players has created a specialized industry of cannabis insurance brokers, covering everything from "seed to sale" in a piecemeal approach. Two examples: Colorado All Green Insurance, which "has been supplying Cannabis Insurance Solutions since 2009," and Cleveland-based Cannasure Insurance Services, which "offers marijuana business insurance for growers, physicians, dispensaries, collectives and more in medical and recreational marijuana states."
Norm Ives, the cannabis program manager for Mosaic Insurance Alliance, says that, in Washington state, "the only two markets currently offering effective product liability coverage for the recreational markets as required under Washington state law are United Specialty Insurance, through a program offered by Next Wave, and James River." He also says Attorney General Sessions' comments critical of the industry "have dramatically shrunk coverage supply."
Mike Aberle, senior VP at Next Wave Insurance Services, is a California-based managing general underwriter and program administrator who runs the firm's CannGen subsidiary. It offers specialized cannabis insurance programs in any state that has legalized the business. He says the biggest challenges are the regulatory uncertainty combined with underwriters' general lack of knowledge of the industry.
Cash management is just never as good as electronic financial management.
Bob Morgan, chair of Cannabis Industry Practice, Much Shelist
There is a constant need, Aberle says, "to educate both the retail insurance broker and policyholders." This can be difficult given the constantly shifting nature of the regulatory regimes and the players in the space. He says these factors make it "challenging to maintain and support a constantly evolving industry."
Coverage for What?
While Morgan says violent crime is lower in marijuana businesses than in other similar businesses, "primarily because of all the cameras and other security that the businesses have in place, which discourage crime both for the facilities and the general area," there are a host of unique, industry-specific issues that present risk.
Perhaps most importantly, Morgan focuses on the banking issues that have created cash orientation for the industry. This arrangement, Morgan says, "creates both increased theft exposure and records that are not as good. Cash management is just never as good as electronic financial management." The constantly shifting regulatory landscape also makes risk identification more difficult he says. And, as Ives notes, those requirements vary radically from state to state, magnifying the insurance complexity.
Perhaps the single most significant exposure is product liability. The state of Washington requires marijuana licensees to maintain product liability insurance as a condition of licensure. In a Bloomberg report on the industry, one attorney asserted marijuana-related product liability litigation "is likely to include suits for physical injury arising from intoxication and suits for physical injury arising from long-term effects including addiction. It also will include consumer suits alleging deceptive and improper marketing, such as campaigns targeting minors… Companies selling marijuana for medical use could be subject to the same sorts of claims asserted against makers of conventional prescription drugs, such as failing to warn about side effects."
At a recent Colorado murder trial, a man who murdered his spouse faulted the manufacturer of the cannabis edibles he had ingested. He said he had not been warned ingestion "could lead to paranoia, psychosis and hallucinations." This seemingly supports this conjecture. (The court rejected the defense, and the defendant pleaded guilty and was sentenced to a 30-year term. The defendant's family filed a civil suit in 2016 against the manufacturer of the cannabis candy.)
Other coverages are what you would expect: crop, theft, fire, business interruption and employment practices liability insurance. Aberle says even in more traditional coverage areas "the products are new and there are many unknowns," which exacerbates the underwriting challenges.
Morgan says traditional coverages like D&O and EPLI can be difficult to obtain for a stand-alone cannabis business. "To evade some of the restrictions on marijuana businesses," he says, "some operators are dividing their operations into separate companies, typically putting all of the real estate and hard assets into one company, paraphernalia sales into a second company, and the [illegal under federal law] cannabis dispensary into a third separate company…If the cannabis business is a subsidiary of a larger holding company that includes non-cannabis businesses, these types of coverages are often obtainable."
Ives says the biggest problem he sees is "carriers purport to offer the coverage but include exclusions for any products that contain cannabinoids, essentially negating the value of any such coverage in the marijuana space."
Good people don't smoke marijuana.
Jeff Sessions, U.S. Attorney General
Similarly, Aberle cites a competing product liability policy "knowingly sold to a marijuana business that excluded 'psychoanalytics that cause mental or physical impairment,' which seems to exclude from the scope of the coverage the primary product they were seeking to insure."
Aberle stresses the coverage you are buying "is all what the form says," and he believes Next Wave has built the better mousetrap. He says it's "the oldest and largest program in the industry" based on modified ISO forms and is "dominating the market."
Ives agrees it's "critical that the insured understand the precise scope of the coverage they are purchasing. The devil is in the details here." At the end of the day, he says, the old adage applies in spades: "Buyer beware."
Sinder is The Council's chief legal officer. ssinder@steptoe.com
Gold is a Steptoe and Johnson associate. cgold@steptoe.com