Flying High
The aviation industry was hit hard by the pandemic. But things don't look much easier moving forward.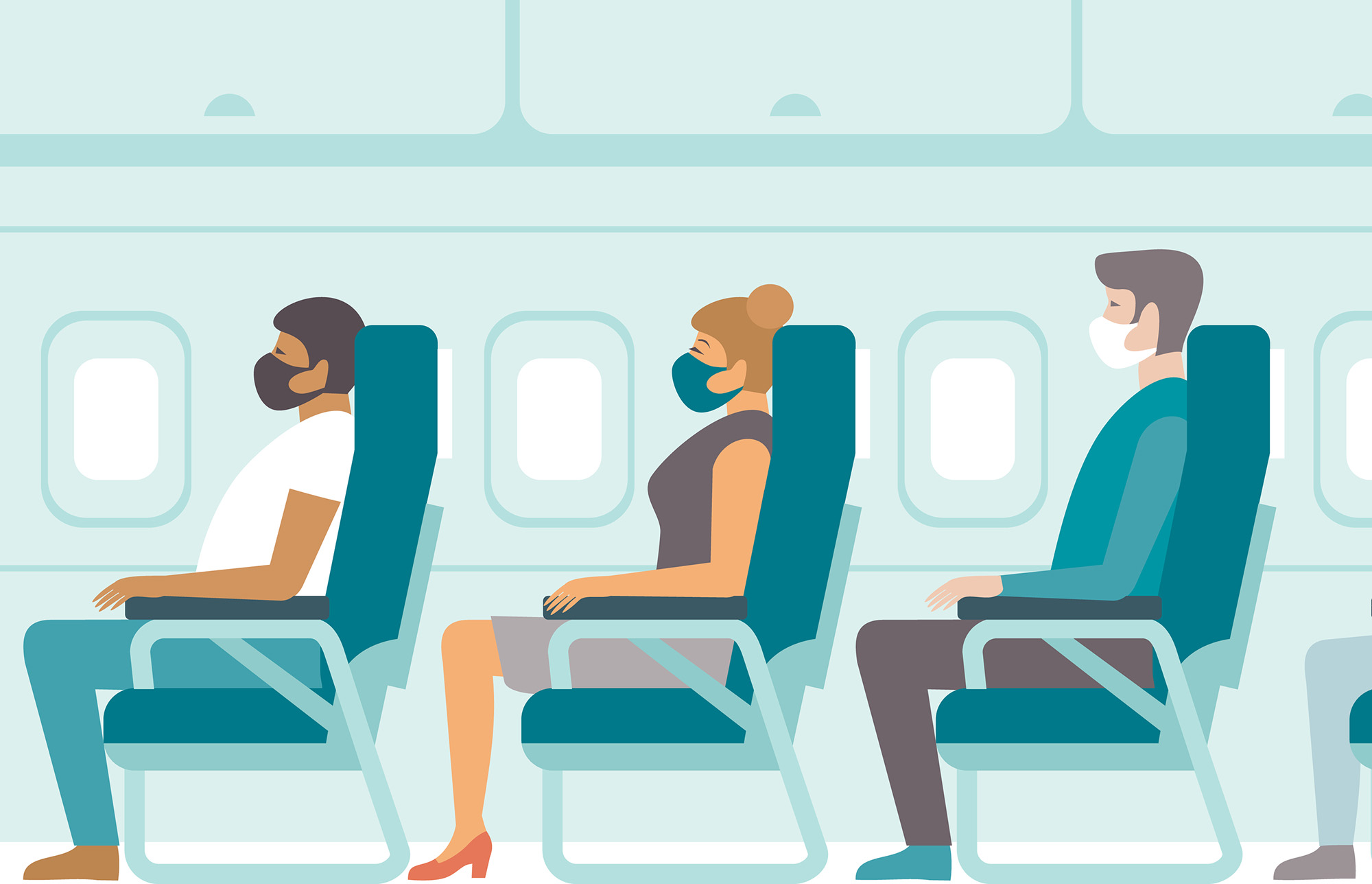 Thanks to increased vaccination rates in developed countries, many industries are beginning to see some light at the end of this dark tunnel.
One of these is certainly the aviation industry, which had been forced to ground many of its assets and to stop its passenger transport services due to critical global health and travel restrictions.
The International Civil Aviation Organization estimated that the pandemic led to a 60% decline in the number of global passengers from 2020 when compared to 2019. In fact, the aviation industry saw the number of monthly passengers drop from 350 million in January 2020—including both international and domestic travel—to less than 40 million in April, representing a decline of almost 90%. Many regions were affected differently, with Asia Pacific and North America seeing an initial 75% decline in total seat capacity, while all other regions – such as Africa, Europe, Latin America/Caribbean, and Middle East – tumbled further to over 90%.
Halfway through 2021, the number of global passengers remains 45% lower than its equivalent in 2019. But domestic travel has given the aviation industry some breathing room with the number of monthly passengers trending upward.
Insurers, however, are on alert for some additional risks that the aviation industry will be facing during the reopening phase.
Perils from Parked Fleets
Border closures and local lockdowns played a major part in the grounding of fleets; however, some airplanes were temporarily banned from travel long before the pandemic started. For example, Boeing's 737 Max was grounded in early 2019 after two deadly crashes, reportedly caused by manufacturing issues. Similarly, another type of Boeing airplane, the 777, was forced to remain grounded earlier this year due to reliability issues with its Pratt & Whitney engines, one of which caught fire during a United Airlines flight headed to Honolulu.
"Every airline has had parked aircraft procedures in place for a variety of reasons—fleet upgrade, change in demands or in route structure," said David Warfel, North America head of aviation at Allianz Global Corporate & Specialty. "During COVID, some airlines were more efficient than others with their parked aircraft strategy. Some airlines used it to their advantage for routine maintenance; others were much more efficient by having only a few grounded aircraft; while, some others, had large groups of aircraft that were parked."
In addition to being proactive in the development of parked fleet procedures, airlines were also extremely responsive in protecting their fleets from weather-related losses. Unfortunately, despite these best practices, the summer weather season did not bode well for aircraft fleets within the US. "By our estimation, various aircraft fleets have sustained upwards of $200mn in storm damage this summer mainly from hail events with also some reported tornado damage from the recent hurricanes. Hurricane season technically ends on November 30th so we are actively monitoring all weather events and coordinating with our insureds regarding aircraft relocation procedures," said Warfel. In fact, despite being a hot topic in the news, airlines were very proactive in trying to manage the situation by moving their fleets around to avoid hurricanes, storms or any sort of issue from inclement weather, according to Allianz's "Aviation Trends Post COVID-19" report.
Rise in Replacement and Maintenance Costs
Taking advantage of the lack of passengers and of the infusion of cash by their respective governments, many airlines took the opportunity to retire a portion of their fleet earlier than planned and to replace it with newer, safer, and more fuel-efficient aircraft. For example, as stated on their website, United Airlines has recently placed an order for 200 new Boeing 737 Max planes—which returned to service in March, but have suffered another setback due to a production-related electrical grounding problem—and 70 Airbus A321neo aircraft.
While new aircraft have improved safety features and are more fuel-efficient and environmentally friendly, due to the onboard technologies, the cost of the aircraft and of its individual components drastically increases replacement costs which can have large effects on insurance policies.
"The risk comes from bringing on new aircraft that are worth $150 million-$250 million while replacing older aircraft valued at $10 million or less," said Warfel. "So, the issue is the dramatic increase in the value of the individual assets, but also the increased value of their new technologies, making the cost of repairs substantially more than what it was a decade ago."
In addition to the increased replacement costs, shortages and delays within the supply chain are also causing maintenance costs to surge. In fact, as manufacturers are focusing on large scale production of newer aircraft, there is little supply for spare parts for maintenance and repairs, according to Warfel.
Highly technical replacement parts for newer aircraft also makes it more difficult for planes to move to a repair facility when something breaks. In the current environment, airlines are dependent on expert technicians flying into wherever that aircraft is in order to assess the situation and make repairs. However, with the ongoing travel restrictions and lack of replacement parts, technicians and experts are in high demand. "We're hopeful that the supply chain situation will subside as manufacturers learn to adapt to the new normal and as travel restrictions, at least in certain countries, are dropped," said Warfel. "It is something that we think will be relatively short lived, but it is absolutely an issue that we're faced with right now."
Investments in Remote Work and Passenger Services Increase Cyber Risks
The financial losses caused by the pandemic on the aviation industry had a significant impact on airlines' investments in IT & Telecom (IT&T) platforms. As revenues dropped approximately 60% in 2020, airlines continued to allocate 5.07% of their revenue to IT&T spending; however, because of the decrease in revenues, the absolute value of investments in IT&T dropped from $50 billion in 2019 to $22 billion in 2020.
Despite the setback, the aviation industry is set to continue IT&T investments in major programs. The International Society for Aeronautical Communications, or SITA, estimated that airlines are aiming to make the check-in process completely touchless by 2023. To do so, airlines' investments aim to improve the passenger experience via kiosks, mobile applications, and web-based online services, which are a top priority for 97% of airlines, according to SITA's 2020 Air Transport IT Insights report. In addition to customer facing investments, airlines want to invest more in work-from-home capabilities for their non-flying teams, with 86% of airlines working to develop in-house virtual and remote IT services.
While the improved infrastructure for work-from-home capabilities and the increased IT&T competences are beneficial for an improved customer experience, these initiatives also present new opportunities for cyber criminals. In fact, according to Gallagher's Plane Talking Q1 2021, the aviation industry will need to adjust quickly to new digital and security platforms to decrease the risk of cyber attacks. From an internal operations perspective, IT teams will be required to be much more security-conscious as remote working will cause thousands of new devices to go live. From a customer perspective, the increase focus on digital applications and IoT-based platforms can bring unique dangers because, in an integrated ecosystem of IoT devices, an attack to one device could become an attack on the whole ecosystem.
The increased focus on cyber risks is particularly concerning when looking at the increase in frequency and severity of cyber claims from other industries. In fact, according to the Council of Insurance Agents & Brokers' Q2 2021 Commercial P/C Market Index, cyber premiums increased a record-high 25.5% over the previous quarter, led by "a rise in ransomware attacks, combined with lackluster risk management protocols and lack of employee training." Based on such data, for many industries, the digital transformation has brought new cyber risks which have caught both insurers and insureds by surprise.
As the world's borders reopen and travel picks up across the globe, the aviation industry is set to jump start its operations once more. However, the sabbatical year brought by the pandemic has highlighted a new set of challenges for the aviation industry and for its insurers. The two industries will need to work closely to avoid unnecessary losses—predictable and unpredictable.