Come in, We're Open
Can insurtechs help their clients survive the new normal?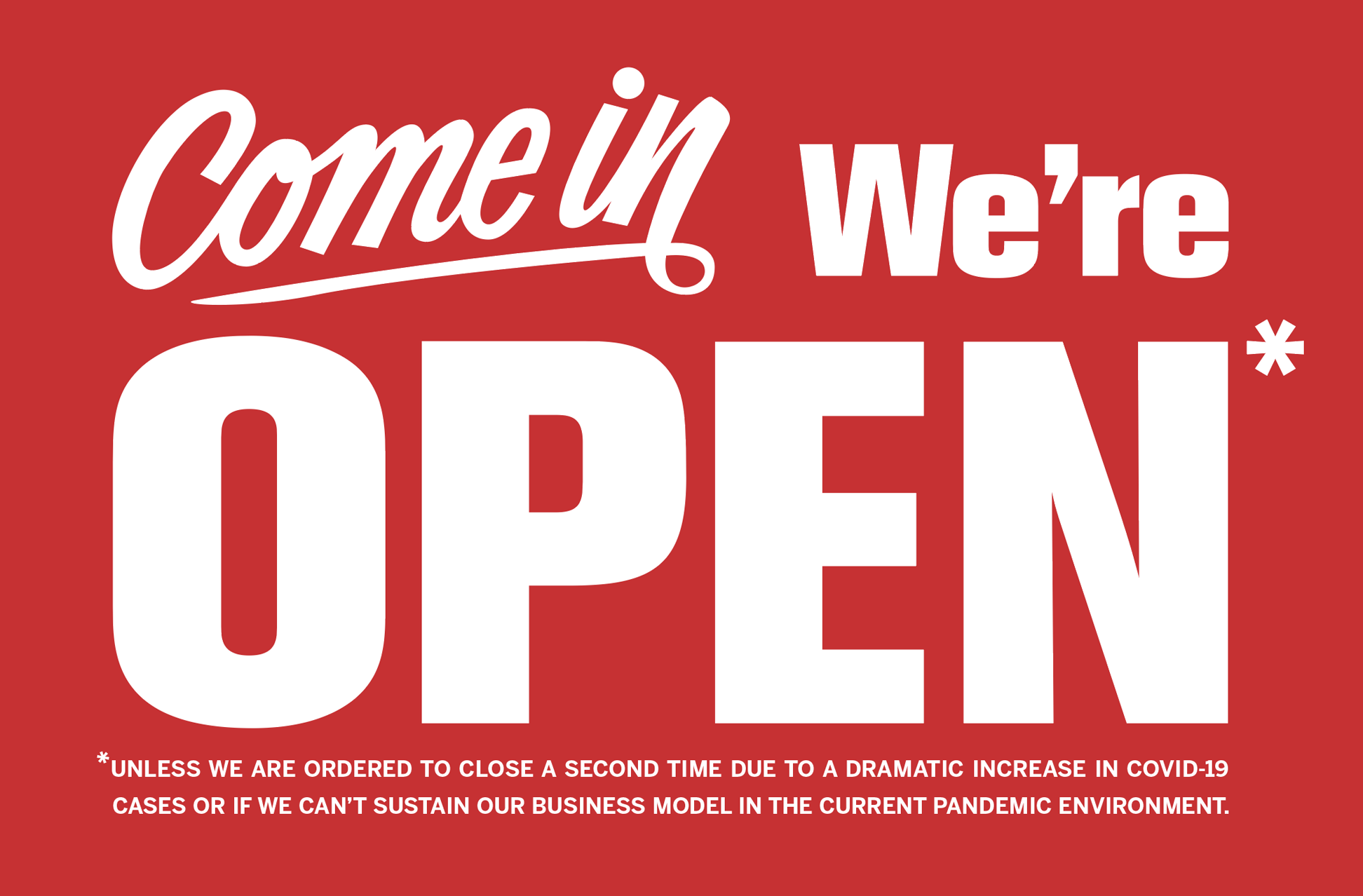 The future had to shelter in place this spring.
Growth-focused insurtechs, whose digital technologies have been revolutionizing the small-business market, faced a new reality as the coronavirus pandemic forced huge numbers of their customers into survival mode.
For Slice Labs chief executive and co-founder Tim Attia, that meant making the tough choices needed to pilot a rising five-year-old business through a sudden stall while keeping an eye on the opportunities that may arise as the pandemic reshapes the business of risk—in short, act like a corporate manager for the present but think like a startup for the future.
With the pandemic dragging on and unemployment reaching record levels, businesses small and large face tough choices.
The National Bureau of Economic Research estimated in May that 42% of the recent layoffs would result in permanent job losses.
For insurtechs, the pandemic highlighted one built-in advantage: the digital world, their home turf.
"The startup world is very different when you hit this type of environment," Attia says. "It's about being an operator. You're not the co-founder; you're the CFO or the CEO or the COO. When you're in that role, you have to operate. Operating means making decisions that any mature company would have to make, not just startups."
Businesses small and large have been facing tough choices as the pandemic has dragged on around the country and state-mandated shutdowns have driven unemployment to record levels, with millions of jobs shed by small businesses such as restaurants and retail shops.
Insurtechs had to downshift, retrench or refocus as they sought to help their customers through the crisis where they could. Among other insurtechs that faced the same decision, Slice was forced to cut staff due to the market changes and lower expected growth.
Amid all the uncertainty, though, Attia says startups as well as established players need to take the time to rethink the future and how to meet new demands brought on by widespread economic and societal changes.
"Initially," Attia says, "you have to just operate, and then after that, you have to take the opportunity to ask the question, 'How are things going to look on the other side?'"
That question encompasses both the risk of failure and new opportunities for the insurtechs that can weather a possible sector shakeout and a more difficult investment environment. Those that survive will have to adapt to address a new landscape of risk after the crisis subsides.
Economic Impact
"Unprecedented" seems an understatement for the pandemic's economic toll.
By mid-May, nearly nine out of 10 small businesses had experienced a moderate to large negative impact due to the pandemic, the U.S. Census Bureau reported. A total of more than 40 million unemployment claims were filed through late May, according to the Labor Department. In April alone, payrolls fell by 20.5 million, sending the unemployment rate soaring 10.3 percentage points to 14.7%.
The job losses came as small businesses struggled to save money wherever and however possible in order to survive, and that meant layoffs.
"At the small business level, it's more visceral because you have a much closer relationship with your employees," says John Swigart, CEO and co-founder of workers compensation startup Pie Insurance. "When you're in a small business of 10 people or five people, it's heartbreaking. Many small businesses don't have much of a safety net in terms of savings that they can operate their business without revenue. Really, they don't have choices."
The National Bureau of Economic Research estimated in May that 42% of the recent layoffs would result in permanent job losses.
"Any business that is a service business, if they're surviving, they may let their employees go," says Jeffrey Robinson, academic director of the Center for Urban Entrepreneurship & Economic Development at the Rutgers University Business School. "People aren't making decisions about closure at this moment. Three months from now, if you don't see your business coming back, that's where the decisions will be made. Then we'll see the real impact."
Insurtech Value Props
The pandemic highlighted one built-in advantage for insurtechs: the economic dislocation and social distancing pushed society and business deeper into the digital world, and that's their home turf.
"More insurance companies were moving online, but now this is going to really give advantages to the companies who are digital natives or born on the internet. Nobody is going to want to walk into somebody's office," Robinson says. "All the innovations that people have been admiring the insurtechs for are now coming into fashion."
Any innovation that helped small businesses preserve cash was welcomed this spring.
Digital agency AP Intego, which offers pay-as-you-go workers compensation for customers it reaches through partners such as Intuit's QuickBooks, Square, Clover and Toast, saw an 18% increase in new policies in April.
People aren't making decisions about closure at this moment. Three months from now, if you don't see your business coming back, that's where the decisions will be made. Then we'll see the real impact.
Jeffrey Robinson, academic director, Center for Urban Entrepreneurship & Economic Development, Rutgers University Business School
"We are writing a lot of new business because there has never been a better time for the small business to look to optimize their cash flow and that's where we step in with our pay-as-you-go solution," says Steve Hauck, co-managing director of AP Intego. Customers were switching from traditional policies, requiring upfront payments, to policies whose premiums are adjusted to actual employment at each payroll cycle.
While that new business is certainly a silver lining, it didn't totally offset the overall decline in premiums caused by the widespread layoffs. Hauck says the company expects its full-year results to come in essentially flat after declines in April and May, with a return to growth in 2021.
Amid the crisis, AP Intego has been working aggressively to help its customers—65,000 small businesses nationwide with employee counts ranging from two to about 20.
"We are taking our aggregated leverage with the carriers and getting the carriers to extend a grace period that allows them to keep coverage through the crisis," says Hauck.
Saving money was the key concern for businesses hoping to endure the crisis. Some businesses, such as janitorial services, were seeing more demand, and IT-focused businesses were proving resilient, but most small businesses struggled.
"In general, we're seeing reductions in payroll across the board," Swigart says. "What that does, effectively, is reduce their cost immediately for their workers compensation insurance."
For Pie, whose average customer has eight to 10 employees, the shutdowns brought a lull in what had been strong growth for the startup founded in 2017.
"We were expecting to add a lot more people at the company this year with substantial growth," Swigart says. "We have scaled back what we thought we were going to do and adjusted our hiring, but we have not had to make substantial cuts. We are adjusting to a lower gear, basically, but still going forward."
Pie focused on reaching out to its customers to adjust policies to reflect payroll reductions, to set up payment plans and payment leniency when necessary, and to arrange good-faith deposits to help small businesses prevent their policies from lapsing. Even as Pie reduced its direct advertising, its agency channel continued to grow.
"My hypothesis on that is the agents are doing even more than they typically did before," Swigart says. "Maybe they're more aggressively out there looking to try to save money for their customers, adjusting payrolls as they hear from customers, and getting out to the market to see what they can do."
Next Insurance, which provides coverage for solo and small businesses, announced a 25% premium reduction in April for customers of its general liability, professional liability and commercial auto coverages and subsequently extended that into May. Next was also setting aside more than $250,000 that had been earmarked for its first national advertising campaign to commission work from small businesses under its "Built by Business" initiative.
"One of the things we're continuing to learn about our customers is that they are incredibly nimble and creative," says chief operating officer Sofya Pogreb. "Many of them talk to us about how they have been creative with shifting their operations, with going online, with moving into adjacencies that they weren't doing business in before."
Next's focus on providing affordable policies online positions it well in the current environment and going forward, Pogreb says.
"People are looking for more affordable, more flexible insurance options. Some of them are pausing or canceling their policies temporarily while others are looking for a more affordable option," she says. "This is where we think we are positioned well, because affordability is one of the key pieces of our value prop. We see people coming to us from maybe more costly providers."
Shakeout
It's not just their small-business customers looking to conserve cash. New and established insurtechs may find funding more difficult themselves.
"The insurtech landscape right now has been pretty heavily impacted," says Noorjit Sidhu, senior ventures associate for Silicon Valley-based accelerator Plug and Play. "The picture we had before this crisis was that insurtech funding was falling generally. It was moving pretty significantly toward the later stages, concentrating on a fewer number of deals."
Total first-quarter insurtech funding dropped 54% to $912 million from the 2019 fourth quarter, according to the "Quarterly InsurTech Briefing" from Willis Towers Watson and CB Insights. The year started off strong but slowed quickly as half the funding in this year's first quarter was raised in the first five weeks of the quarter.
January, for instance, brought two big funding deals—auto startup Clearcover announced a $50 million Series C funding round at the start of the month and insurance marketplace Policygenius a $100 million Series D funding at month's end.
As the second quarter got under way, a survey by Plug and Play showed the pandemic had slowed the fundraising timeline for nearly four of every five startup founders. More than half said they were postponing fundraising, and others were seeking other forms of capital, such as grants or debt.
The startup world is very different when you hit this type of environment. It's about being an operator. You're not the co-founder; you're the CFO or the CEO or the COO. When you're in that role, you have to operate. Operating means making decisions that any mature company would have to make, not just startups.
Tim Attia, chief executive and co-founder, Slice Labs
Good ideas, however, can still draw investments. That's particularly true in the small-business space, where new technologies allow insurers and startups to serve low-margin, high-volume customers more profitably.
"We are seeing more requests, demands around tools for the SMB [small and medium business] space," Sidhu says. "Insurers are not just looking to cut costs in this environment; they are also looking to grow, which is something we find among several of our partners."
Future growth for insurtechs will depend on whether they have enough cash on hand or can get access to new funding, as well as their ability to provide products that offer real value.
"The people that come out of the other side are largely going to be driven by those that have the capital resources to do so, and then we'll be back to what business models are really the enduring business models to build value over time," Swigart says. Pie, for instance, announced $127 million in new financing and capital commitments at the end of May.
Overall, the small-business market has drawn a lot of entrants in the past few years, and they will face even stronger competition for funding and customers.
"Just the small-commercial space is $140 billion," Pogreb says. "There are a lot of players, and one wonders whether the pandemic will drive us to a little bit of a shakeout in this space. I think we're beginning to see signs of that."
Runway
For its part, Next came into the year with substantial resources, having raised $250 million in a Series C round from Munich Re last year, bringing its total funds raised to $381 million. While Next has seen a reduction in new premiums and revenues, that funding has enabled it to retain all of its staff.
"We are very, very well capitalized and have multiple years of runway," Pogreb says. Next is using that runway to launch new products, add new states and shift its business model from MGA to carrier.
"Our vision is to be a one-stop shop for small business," Pogreb says. The company's most recent product addition was workers compensation coverage, and Next is looking to add contractors tools coverage within inland marine as well as hired and non-owned auto coverage as an option for commercial auto.
"Product expansions, state expansion is definitely on our list of priorities," Pogreb says. "We are pursuing carrier licenses in almost all states and have been starting to shift our business over to our carrier paper. This is a priority for us as well."
In workers compensation, Pie is expanding its agency footprint and rolling out a new purpose-built platform for its agency partners. The company, which was operating in 34 states and Washington, D.C., was moving ahead with plans to add Wisconsin and, more significantly, Florida. Pie says just over 50% of its submissions now get an automatic decision and its goal is to raise that figure to above 80%.
"Our value proposition still really resonates," Swigart says. "We create an easier experience for the customers and for the agents."
Looking ahead, Hauck says AP Intego is investing heavily in research and development, including a potential pay-as-you-grow general liability product, to better position itself for the economic rebound. The post-pandemic economy may see a flourishing of startups as happened after the 2008-2009 financial crisis, Hauck says.
"The good ideas will come back as startups," Hauck says. "We want to be there for the new idea generation and be tuned to the entrepreneur."
While Slice started with home-share insurance, it has broadened its scope to develop digital products for insurers through Slice Insurance Cloud Services; to provide data and risk insights through Slice Mind; and to offer pay-per-month cyber coverage in conjunction with AXA XL. Slice is considering expanding its home-share coverage to make it more of a home-based business policy since, for many of those customers, short-term rentals are just part of their overall business.
For Slice, thinking like a startup includes hosting virtual "hackathons" with insurance industry partners to envision what the future of risk might look like for small business, how current products can be adapted to fit those risks, and what new products may best fit the new landscape.
"The part that we are interested in now is how we will work with these carriers, our customers and our own products to make sure we can protect people and small businesses in this new environment as people go back to work and as things return to normal," Attia says.
Taking a wider view, Attia says there may be opportunities to address the kind of business interruption that has devastated small businesses across the country.
"If you look at a small business right now, I would assume they're primarily worried about staying in business," Attia says. "That would be number one. Once they get through that, it will be top of mind that they don't want to end up here again."