Coffee Talk
Visiting an ASL Starbucks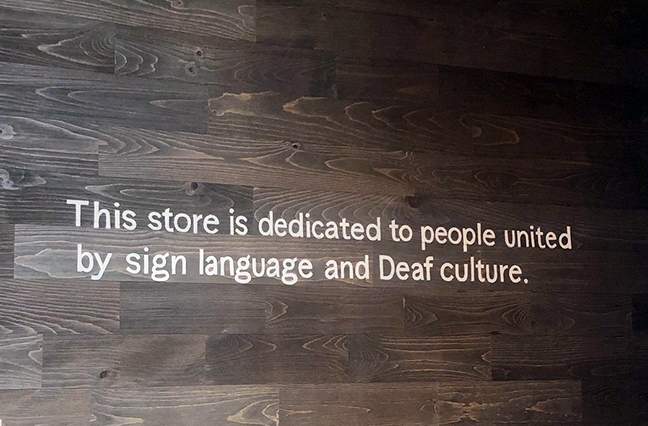 Just a couple of blocks from the hustle and bustle of Union Station and the Capitol Building in Washington, D.C., lies a Starbucks on H Street.
Big deal, right? But this particular store stands out among the other 80+ Starbucks locations in the District in a way you may not have thought possible. One visit there, however, and you'll begin to see its uniqueness. The H Street Starbucks has no music playing in the background, very little vocal chatter and baristas taking orders through sign language.
Located near Gallaudet University, the renowned educational institution for the deaf and hard of hearing, the H street Starbucks enlists the expertise of a staff that is fluent in ASL (American Sign Language.)
Gallaudet University (@GallaudetU) is an educational institution for the deaf and hard of hearing located here in Washington DC. Just around the corner is a signing Starbucks—meaning all the staff there is fluent in ASL. Let's go visit. #LeadersEdgeUntapped pic.twitter.com/hPrMNabM2r

— Leader's Edge (@LeadersEdgeMag) December 14, 2018
Inspired by our December feature, Untapped Talent, I wanted to check out this new ASL Starbucks and learn more from the deaf community. At first glance, the coffee shop looks like any other Starbucks, but a closer look reveals subtle ASL artwork and graphics adorning the walls. Some of the artwork and signs even go so far as to teach customers certain signs for ordering and basic communication in ASL. If you don't know any sign language, like myself, you are handed a tablet with a writing utensil to submit your order. I received my drink just a minute later when my name flashed on a monitor. My inaugural trip to this new ASL Starbucks was a rewarding experience.
All right, we're here! This is the quietest Starbucks I've ever been to, but it's definitely not the least busy. The tables are filled with students toting backpacks and laptops with Gallaudet University stickers. #LeadersEdgeUntapped pic.twitter.com/8mhj4j1vwY

— Leader's Edge (@LeadersEdgeMag) December 14, 2018
A store like this allows for more connection and interaction between the deaf and hearing communities, which got me thinking about the surrounding community. In another recent Leader's Edge article, Verna Myers, vice president for inclusion strategy at Netflix said, "If you're going to have diversity, you're not going to have effectiveness unless you've got the inclusion part. Because if you put a bunch of people together and they're different but they don't know how to really work across differences, it's not going to work." Echoing her advice, this Starbucks allows for inclusion at the marketplace. This experience didn't just allow me to interact with the deaf community as a hearing person, but also as someone with Dyslexia, who at times also has a communication barrier.
And that's a wrap—back to the office we go! Thanks for creating an environment that caters to the deaf & hard of hearing community (& for the good time), @Starbucks. Cheers!

Check out Untapped Talent on this month's Leader's Edge! https://t.co/ReYRQUIGaP#LeadersEdgeUntapped pic.twitter.com/7GKCejCIDo

— Leader's Edge (@LeadersEdgeMag) December 14, 2018
For more tweets from Zach's trip, check out his takeover on Twitter.