Still Hot Through August
Insurance mergers and acquisitions are up 15.5% from this time last year.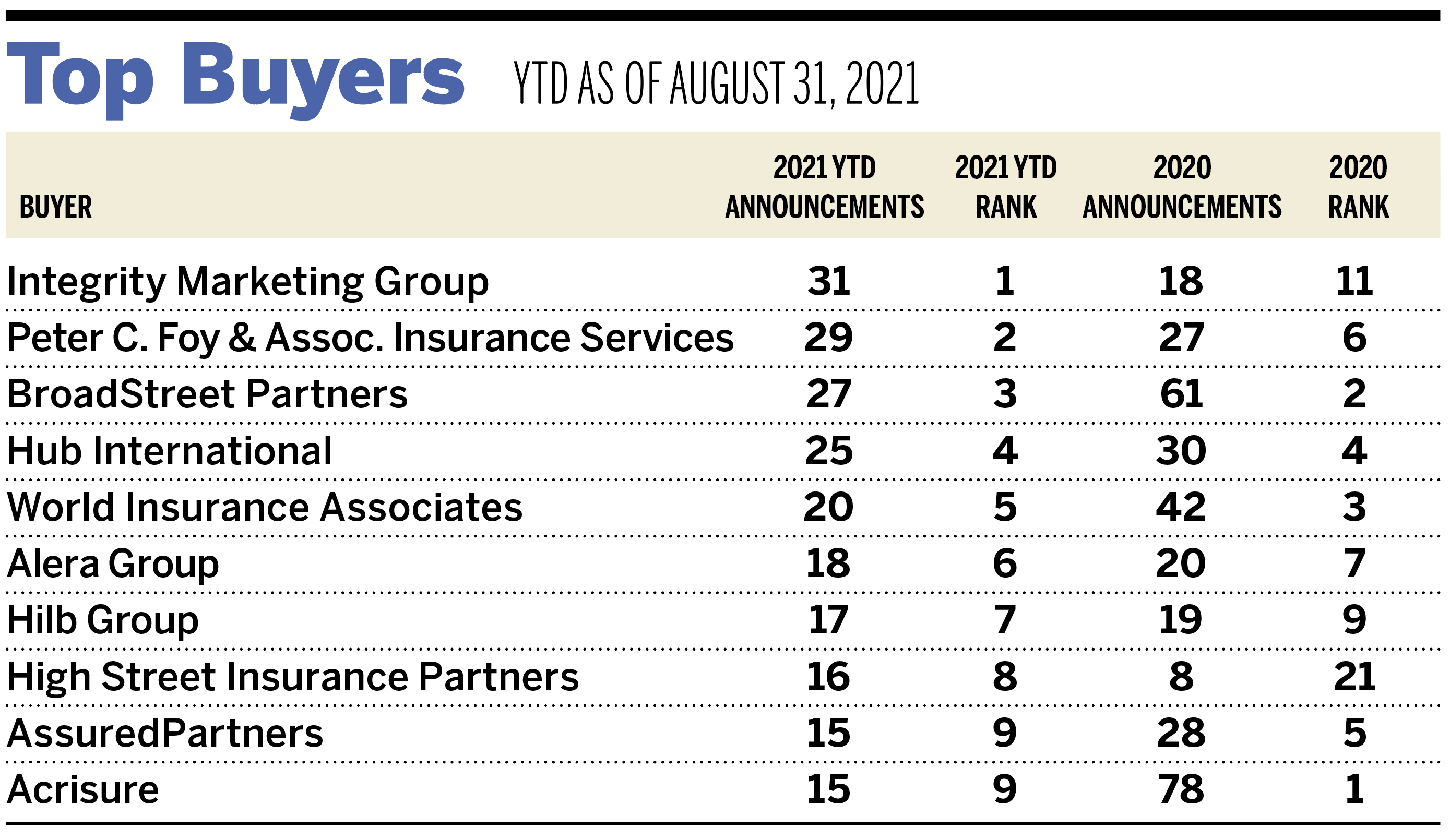 Through Aug. 31, 2021, we have observed the most significant year ever in terms of deal activity.
Activity is being driven by seller concerns over potential federal capital gains rate changes and an appetite from the broader investment community for investments in the insurance industry. Buyer demand picked up last summer after the initial slowdown caused by COVID-19.
There have been 425 publicly announced merger or acquisition transactions in the United States so far in 2021. Total announced U.S. transactions have increased by 15.5% compared to this time last year. We anticipate the gap between 2021 and 2020 will widen as deal activity reaches its hottest point in the fourth quarter.
Private-capital backed buyers accounted for 308 of the 425 transactions (72.5%) through August, while independent agencies have held steady at 14.4% of the total deal count. Deal activity in each buyer category has remained proportional to what we have observed over the last three years.
Integrity Marketing Group, Peter C. Foy & Associates Insurance Services, and BroadStreet Partners are the top three most active buyers in the United States so far in 2021, totaling a combined 20.5% of the 425 transactions as of Aug. 31. The top 10 most active buyers completed 213 of the 425 announced transactions (50.1% of total).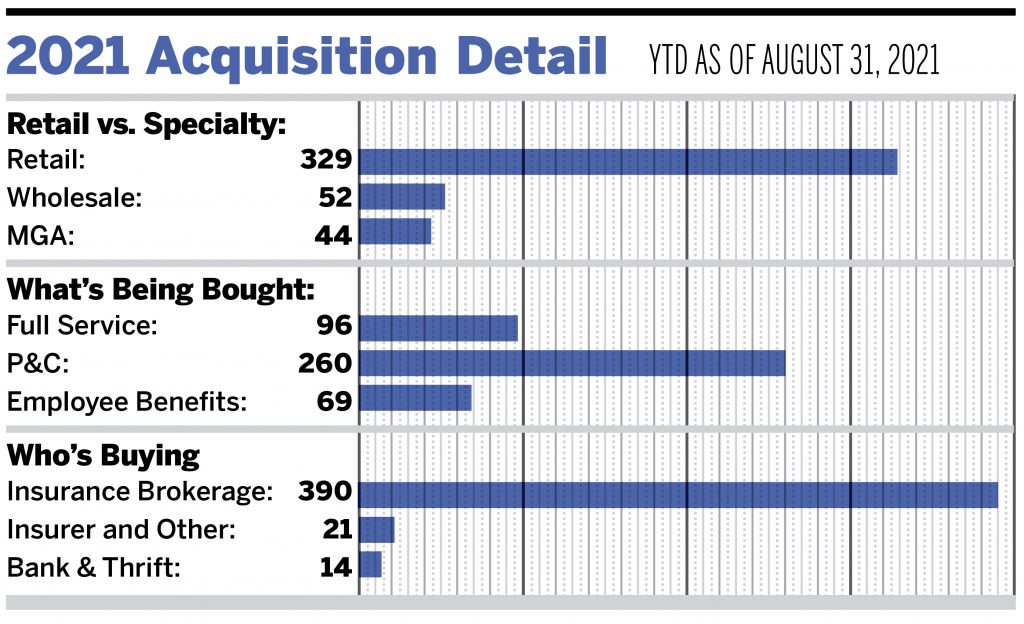 Heavy deal activity is predicted to continue into 2022 as more brokerages continue to execute their acquisition strategies and independent brokerages capitalize on expanded resources and the competitive marketplace. Additionally, we believe there will be a number of transactions targeting a year-end completion that could slip into 2022, as many professional service providers (accounting firms, law firms, tax specialists, etc.) are backlogged given enhanced M&A activity across all industries. We do not believe this will be a feast and eventual famine as the calendar turns.
A few notable transactions announced in August.
On July 23, BRP Group completed its acquisition of The Capital Group (TCG). TCG is a provider of employee benefits and retirement consulting, wealth management, and commercial lines insurance to individuals and small to midsize businesses. The firm reports $12 million in revenue and brings BRP Group's total revenue from acquisitions to $69 million in 2021.
On Aug. 13, Alera Group announced its acquisition of Risk Consulting Partners (RCP). Based in St. Louis, Missouri, RCP specializes in working with private equity firms and assessing risk exposures across their portfolio companies. The firm's capabilities cover more than 20 different industries, including healthcare, construction, real estate, and manufacturing.
Investment banking services offered through MarshBerry Capital, Inc., Member FINRA Member SIPC and an affiliate of Marsh, Berry & Company, Inc.