Mentors Building Momentum
Q&A with Jamie Lee, SVP & Chief Service Officer, Aflac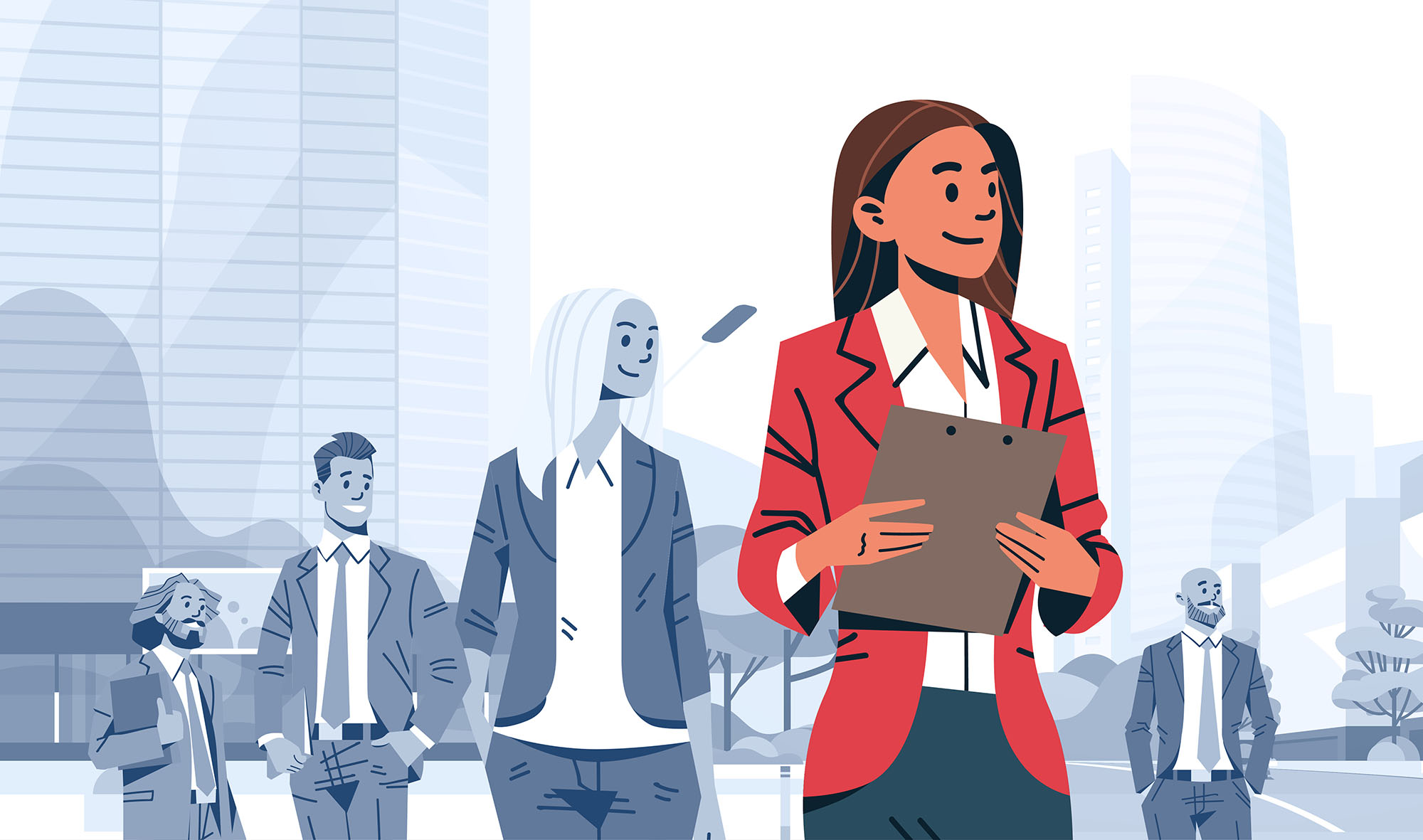 Women outnumber men at entry-level positions across the insurance industry, making up approximately 85% of claims and processing clerks. But female representation in the C-suite falls to less than 20%, according to various research.
Here, we discuss the value gender equity can bring to an organization, from talent recruitment and retention to stronger culture and better collaboration for long-term success.
Q
When a company is committed to fairness, what exactly does that look like?
A
A company committed to fairness emphasizes diversity, ethics, integrity, inclusion and impartiality in all they do. It sets standards and policies and creates supporting programs that demonstrate that commitment in meaningful and consistent ways. I'm proud to work for a company that has talented women and people from all backgrounds at all levels, including management and the C-suite.
Q
What is the Leading Ladies series, and why did you start it?
A
Leading Ladies is a forum designed to help women in their careers at Aflac. It offers a series of sessions, each providing women an opportunity to hear life lessons and experiences from other female leaders across the company. I started the program because I experienced the value first hand of having strong female mentors in my own career – and I wanted to pay that forward.
Q
How do men help women succeed in business?
A
Treat them as you would any other colleague and be mindful of your own unconscious biases that can sometimes present itself in the workplace. Dan Amos (Aflac CEO) and our executive leadership team exemplify this well – setting the standard for the entire company.
Q
What lessons have you learned during your career in insurance?
A
I frequently share these five lessons with others:
1. Relationships come first; results naturally follow.
2. The most important job you have is the one you have.
3. There is value to being "in the slow cooker." Don't move too fast. Take the time to grow and develop in your career.
4. Earn your way up the corporate ladder; don't force it.
5. Keep perspective and don't let your career be the only thing that defines you. Every role you play, personally and professionally, is valuable and should be prioritized.
Q
What advice would you give to your younger self?
A
Learn from both successes and failures. They are equally important and both offer valuable lessons that can shape the type of leader you become.
Q
How can the industry better attract and retain talented women?
A
By ensuring there remains an increased focus on diversity, equity and inclusion across your organization. I also think there is great value in openly sharing data and best practices on corporate DE&I programs, recruitment strategies and leveraging publications such as this one to highlight successes.
Q
Are you seeing change happening at a similar pace in the brokerage community?
A
There has been positive growth and momentum happening in the brokerage community. I am encouraged by recent trends and I expect to see them continue as the industry as a whole increases in diversity.
Q
There are many advantages to diverse and inclusive workforces, not only gender diversity. Are there certain skill sets that you think will mandate faster movement in the area of DE&I in general?
A
Yes. Diversity, equity and inclusion are critical in the core leadership competencies for all companies, especially the soft skills like developing interpersonal relationships, coaching and developing people, and building effective teams. Companies that are prioritizing this will find themselves better positioned for success in the future.
Q
What are the benefits of enhancing awareness to the importance of female leadership and having women 'at the table' so to speak?
A
The more we promote and celebrate the accomplishments of women, it highlights the value of having a diverse workforce. Companies can also emphasize this during insurance conferences and other forums by sharing ways they are developing and leveraging female leaders. We could gain great insight from one another into best practices and what has worked or not worked for other organizations.
Q
Women across the industry are making strides, but there still seems to be a long way to go. What needs to change for continued progress?
A
We can capitalize on the current momentum by bringing more visibility to the difference women are making in the insurance industry. Additionally, I think that as more companies introduce and expand DE&I offerings, this will help increase the focus organizations are placing on diversity across the board.