A Moveable Feast
A technologically challenged industry devours mobile tech. Convenience and client experience improve.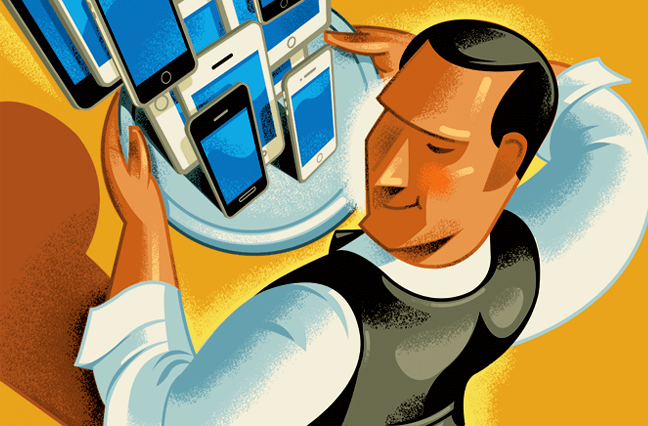 The ubiquitous use of computer tablets, smartphone technology and mobile applications is revolutionizing the business world. Consumers can use their tablet or smartphone to pay their bills at restaurants, deposit money into their bank accounts, or make airline reservations.
IDC, a global provider of market intelligence for the information technology, telecommunications and consumer technology markets, predicts that within two years more Americans will access the Internet with a mobile device than with a wired connection.
While the insurance industry is rarely a leader in emerging technologies, more and more brokers are harnessing the power of mobility. Agents and brokers have widely adopted mobile devices internally to improve staff effectiveness, but they're only beginning to uncover the true value of mobility.
"There's a common notion that the agent and broker industry is full of technophobes, but if you visit a wide number of agencies you'll find this is simply not true," says Christopher Gagnon, director of strategic technology for The Council. "Nearly every producer and agency principal I know carries a smartphone, and they know how to use them. At the staff level, the devices are absolutely everywhere. What everyone is struggling with is how to use them to directly improve the experience of their customers."
Clearly the saturation of mobile technology in our personal lives has affected the presence of mobile devices inside agencies, but integrating them into the business process has been a far more elusive process.
"Consumers are getting used to and want information using whatever device they happen to have handy when they want that information," says Steve Anderson, an insurance technology consultant. "That trend is not going away—it's only going to get bigger."
Some have voiced concern that mobility will ultimately make it easier for prospects to buy their benefits directly from a carrier, bypassing the broker entirely.
"While technology and information access will never replace the expert advice and guidance of a broker, there is reason for concern," Gagnon says. "But this concern is really only valid if agents and brokers choose to not participate in this evolution. In today's fast-paced, multitasking world, consumers tend to gravitate toward the option where they perceive the least amount of friction. Agents have the best product, but that's no longer enough. They also need to provide the best experience."
Evolving Customer Service
Many brokers already take advantage of Web-based technology that allows customers to access their information electronically.
"We recognize that work doesn't just happen from 8 to 5," says Hal Dunning, a principal at Barney and Barney in San Diego. "Clients need access to information 24/7. We give them portals into our agency management system from our website to access what we call 'benefits at a glance.' We need to give them access through smartphones too. We have clients who have employees all over the place. They used to get a piece of paper that told them what their benefits are. We're deploying technology so they can now access this information on their smartphones."
"Data is changing in real time," agrees Stephen Moriyama, senior vice president of Hayward Tilton & Rolapp in Anaheim, Calif. "You can no longer go out there with a portfolio of printouts when you interface with a customer. Information is changing very quickly. To have client information on the fly wherever you are meeting with your customers has become very important, both from a selling aspect and from a servicing aspect."
Barney and Barney has also turned to the iPad to wow clients while streamlining its backroom functions and eliminating the need to print 2 million pages of documents a year. Bill Peartree, another principal at Barney and Barney, says the idea came to him when he was sitting in a client's office and noticed a bookshelf full of his company's binders.
"We were taking up quite a bit of real estate in our clients' offices," Peartree says.
Today, he says, instead of walking into meetings with as many as 10 binders for clients, Barney and Barney agents and brokers instead issue each their clients an interactive iPad.
"They have the ability to annotate the documents as if they had a binder in front of them," Peartree says. "At the end of the meeting, each individual who annotated their respective iPad emails it to themselves and stores the document electronically. Not only has that streamlined the process for our administrative teams internally, but it also streamlined the process for our salespeople and our clients as well.
"When a client comes into that room, they see the iPad set up with the stylus, and in five minutes I can walk them through how to interface with their iPad and use their respective program. They are fully engaged in this. And it's not just the clients. When we are in front of a prospect and they see this, it puts us on the cutting edge."
"When a client comes into that room, they see the iPad set up with the stylus, and in five minutes I can walk them through how to interface with their iPad and use their respective program."
"We're at a turning point in our industry where mobile technology is going to be a major game changer," Moriyama says. "With the proliferation of mobile devices, everything can be stored virtually in the cloud. Consumers are becoming more engaged with this type of connectivity. It's around us every day."
The Producer Angle
In addition to customer service, mobility can have a dramatic impact on new account production. Vertafore and Applied Systems have taken notice and are bringing their market dominance and technical capabilities to bear with several mobility products aimed at producers.
"The speed with which agency system vendors are approaching the need for mobility is encouraging," Gagnon says. "There was a time when it wasn't clear that traditional agency management systems could adapt to advances in business technology. These firms play an integral role in the operation of our agencies, and they are clearly planting a flag in the mobility space."
Vertafore has adopted a strategy of making its solutions mobile-optimized and accessible via a Web browser, equipping producers with tools to help them be more successful in the field. In 2012, the company released a mobile version of ReferenceConnect, an insurance research service that delivers up-to-date content from more than 40 top publishers into a single source.
"Our strategy starts and ends with ensuring our customers are best-equipped with the most innovative technology to meet their client needs," says Euan Menzies, president and CEO at Vertafore. "Whether it is solutions hosted in the cloud, an app on a smartphone or tablet, or an integrated suite of products, we are focused on the mission-critical functions our clients need optimized to ensure they meet their business goals and maintain happy customers. It is not about a single product or service but a complete solution."
Applied Systems is also focusing on mobility solutions aimed at producers with its MobileProducer app.
"We've developed this app to allow producers to access information from the agency management system about their prospects and insureds," says Reid French, Applied Systems CEO. "If you're going to talk to your insured, you can, with a couple of taps on your touch screen, access every one of their policies, the declaration page, and other relevant information without having to log in to the agency system."
Generation Gap
According to LifeCourse Associates, a Virginia consulting firm that helps companies understand generational differences, workers at insurance brokerages are older than the national average. Meanwhile, the millennial generation, those under 30 years old, is underrepresented. Warren Wright, executive vice president for LifeCourse Associates, says his firm calculates 12.5% of the brokerage workforce is younger than 30, compared to the national workforce average of 22%. The generation gap can affect how information is presented to consumers, who often prefer their mobile devices to face-to-face interaction. So it's critical for brokers to adapt to new technology, lest they get left behind.
"That decision maker who is buying from a broker is still probably going to be a [baby] boomer or Generation Xer," Wright says. "But when they ask someone on staff for information or research to help with that buying decision, that person is likely going to be younger, and they are more likely to use new technology. Millennials are on the cutting edge of understanding this new technology. They are really good at finding information fast.
"They say if you don't have a mobile app you're going to be out of business in five years. In business, it's not where you are now, it's where are you going to be."
Barriers to Success
Agencies have some work to do if they want to take full advantage of the power of mobile connectivity. Around-the-clock access to data is useful only when all of the client's information is stored in an electronic format.
"One of the things that has been a real challenge is that agencies need to get their paper files imaged and the data extracted," Dunning says. "Our customers are going paperless, so we have to follow suit."
Compounding this problem for brokers is their position as middlemen. "We are the bridge between our client and insurance companies," Dunning says. "The insurance companies have legacy systems with data that are on old technology. We have to be the bridge between them and our clients, who are not on that old technology."
In addition, getting buy-in from employees is a critical component of any attempt to take advantage of new technology.
"In today's workforce we have everything from people who grew up with an iPhone in their crib to people who never saw an iPhone until five years ago," Dunning says. "The adoption of some of the technology is challenging to say the least. Our iPad initiative wasn't initially adopted 100% across the board because some people were afraid of the new technology. We know that it is a best practice, but we also know that we need to spend time with our people to get them to adopt it because it's change and it's challenging and that's just the reality of today's world and today's workforce."
But that doesn't mean the entire onus is on the employee. Management needs to be unified in support, too.
"I don't think that the business processes within the insurance industry are necessarily unique, but there are a lot of silos, expertise and information around everyone's individual practice areas," says Brian Comerford, director of IT for the IMA Financial Group. "For the technology to advance in a way that is most beneficial to the organization, there needs to be a very clear business alignment. While that shouldn't be revolutionary, a lot of companies have wrestled with it."
The future of mobility for agents and brokers, despite their initial reluctance to adopt the new technology, is looking up. The intersection of need, desire and technical capability is defining a path toward greater efficiency and, ultimately, toward happier customers.