The Call to Insure
Upswings in religious violence bring coverage needs for places of worship.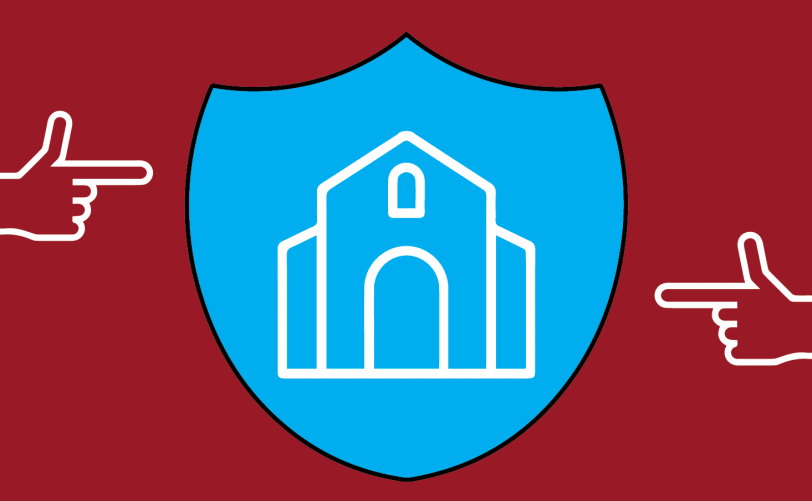 The immediate aftermath of a mass shooting often leaves citizens and politicians in a mass gridlock of gun control versus the Second Amendment.
As Washington continues to debate policy over solutions to help resolve mass shootings, local churches and insurance companies are taking direct action to protect their communities from future devastation.
For many religious institutions, the deadly church shootings of Sutherland Springs, Texas, and Charleston, Va., were a wakeup call to reevaluate their security and insurance. Many churches have turned to religious-based insurance companies for guidance in coverage, cultivating preemptive strategies and safety.
"Over the last two years we have really been working to develop these materials, webinars, and presentations to assist our customers to help them become more aware, to help them become more knowledgeable in what they should do," said Cheryl Kryshak, vice president of risk control at Church Mutual Insurance. "We have received a large increase in calls particularly since the event in Sutherland Springs."
Insurance company Brotherhood Mutual has also seen more demand recently. Assistant Vice President of Marketing Jeff Renbarger says that since January of this year, about 26,000 views on Brotherhood Mutual's website have stemmed from its content detailing information on security and safety in churches.
"Mass shootings sadly have become commonplace in the country now, and so it certainly heightened our awareness of it," a pastor of a D.C. Presbyterian church who wished to remain anonymous said. "Some religious communities, particularly African American religious communities and Jewish religious communities, have been familiar with security concerns for many years. For a church like ours this is something new, and so we are currently in the middle of a process to develop a security plan."
According to the University of Maryland's terrorism analytics program START, religious extremist terrorist attacks have more than tripled since 2000. However, Renbarger says terrorist attacks like these are not the main cause of church shootings. "Today, even though terrorism grabs the headlines, the biggest likelihood for risk in churches still comes from people in the church," Renbarger said. "An attack is always going to come from someone knowing someone in the church, more so… than a terrorist attack."
Even if terrorism is not the main cause of attacks on places of worship, it still seems to push spikes in coverage. According to Paul Felsen of Felsen Insurance Services, Inc., many religious institutions, especially Jewish places of worship, have been investing in coverage since early 2000. "Right after 9/11 there was an increase in premiums because the insurance industry was nervous and skittish on all religious institutions, not just those of the Jewish faith. But now, our clients are affected because they are held to a higher standard." Felson added that these higher standards are similar to the security standards required of a large-scale business, such as a manufacturing plant.
Similar to the large spike in premiums post 9/11, anti-Islamic hate crimes also skyrocketed—from around 50 to more than 500 reported in 2001, according to CNN.
To provide data and recourses to their customers, insurers in this market like Church Mutual, partner with crisis management and security companies to come up with preemptive strategies. While covering insurance costs is what companies in this market do, they also try their best to consult their clients into practicing safety to prevent future accidents, Kryshak said.
Church Mutual advises churches to lock most doors (except the main entrance) and invite law enforcement to do an assessment of the building. Ushers can also play a vital role in safety and security in church. "Train the ushers to be the first line in defense," Kryshak said. "They are the individuals who are welcoming people. They are shaking their hands, they can get a sense of really understanding the people that are coming in; being aware of those behavioral points."
In addition to offering risk prevention strategies, insurers in this sector also allow places of worship to customize their coverage for special events and charity work. "We have a large Sunday dinner every week in which we serve a lot of unhoused folks in the neighborhood, and they've provided an additional insurance rider to cover that event," the D.C. Presbyterian pastor said. "So, I think they seem to be aware and sensitive to the particular needs and activities of churches." Felsen also added that with the high costs of security, the Department of Homeland Security holds a grant program for some religious institutions to apply for.
Church attendance generally spikes during spring and Easter, and both churches and their insurers know this. More and more places of worship are planning extra security measures in anticipation for the worst-case scenario, and insurance companies are stepping up their game to assist.
"We believe that in most cases you can't stop the armed intruder," Kryshak said. "However if you are preparing ahead of time and recognize some of those behaviors, [you] could stop a person from going forward with a plan or poor decision."