Mightier Than the Sword
Insurance has a role to play in protecting schools from mass shootings.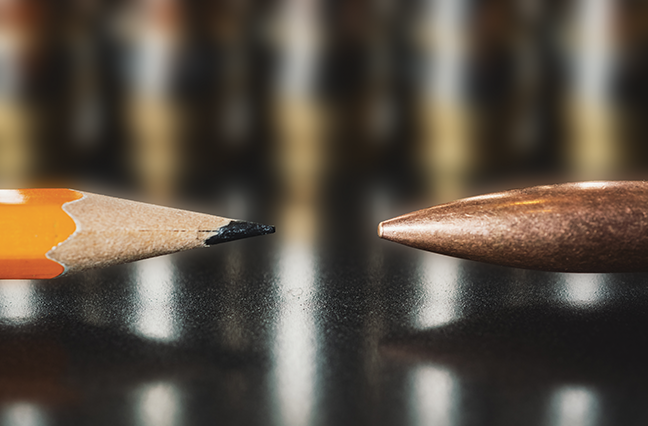 Like many of his colleagues in the insurance industry, Paul Marshall remembers a time when students routinely kept firearms in their cars or pickup trucks in the high school parking lot.
"In Ohio, we went rabbit hunting and squirrel hunting," Marshall, managing director of active shooter/workplace violence insurance programs at the McGowan Companies, recalls. "We had guns in the trunk. It's what everyone did."
That's unthinkable today, of course—just as it was inconceivable a few decades ago, when Marshall was still in school, that the insurance industry would ever offer something called "active shooter" coverage for school districts across the United States.
The policies emerged a few years ago as insurers and educators realized that most general liability policies either didn't cover or weren't sufficient to address the enormous costs associated with a mass shooting.
The availability of the policies drew widespread attention from school administrators after a Valentine's Day shooting at Marjory Stoneman Douglas High School in Parkland, Florida, left 17 dead and 17 injured.
"We had a tenfold increase in the number of inquiries, submissions and quotes," says Marshall. In May, after the second major school shooting of the year—at a high school in Santa Fe, Texas—the company provided more than 300 quotes to agents and prospective clients.
The scope of active-shooter policies varies, but many offer medical payments or death benefits to victims along with an array of crisis management services such as grief counseling and media consulting for the schools. One element of the coverage is drawing particular notice: highly detailed security assessments designed to reduce the chances of a shooting spree.
Robert Hartwig, former head of the Insurance Information Institute, says those assessments are consistent with the industry's centuries-old mission of not just protecting people and institutions against financial losses after a crisis but helping them reduce or avoid the losses before they occur.
"Increasingly, what businesses want from their insurer is not just basic, pure insurance protection. What they want is some help with risk management," says Hartwig, now director of the Center for Risk and Uncertainty Management at the University of South Carolina.
Business Community Backlash
In recent months, the insurance industry has been drawn into the national debate over what can be done to reduce the frequency and severity of school shootings.
Within days of the Parkland shooting, a well-organized group of student survivors joined gun control advocates to push business leaders, including insurers and bankers, to reevaluate their relationships with gun owners, dealers and manufacturers.
Among those prominent in the campaign was New York Governor Andrew Cuomo, who suggested the insurance and financial industries' relationship with the National Rifle Association and similar organizations "sends the wrong message to their clients and their communities, who often look to them for guidance and support."
Maria Vullo, New York's financial services superintendent, sent a letter to insurers and bankers reminding them of the business community's history of taking leadership positions "in areas such as the environment, caring for the sick, and civil rights in fulfilling their corporate social responsibility."
Gun safety, Vullo said, is another issue that warrants guidance from the business community. "Our insurers are key players in maintaining and improving public health and safety in the communities they serve," Vullo wrote. "They are also in the business of managing risks, including their own reputational risks, by making risk management decisions on a regular basis regarding if and how they will do business with certain sectors or entities."
Vullo's department fined Lockton Affinity $7 million for selling "Carry Guard" liability insurance to NRA members and fined a subsidiary of Chubb Group Holdings $1.5 million for underwriting similar coverage. Vullo said the policies "unlawfully provided liability insurance to gun owners for certain acts of intentional wrongdoing and improperly provided insurance coverage for criminal defense."
This summer, the NRA filed suit against New York, saying the state's actions are endangering the group's survival. The organization said it lost its own insurance coverage, including media liability coverage, from an unnamed carrier and has been unable to replace it. The suit alleges the state's actions also could "deprive the NRA of basic bank-depository services…and other financial services essential to the NRA's corporate existence."
The NRA has lost numerous business relationships since Parkland. Chubb and Lockton severed their ties, and other companies, including MetLife and several airlines and rental car firms, ended discount programs for NRA members. Dick's Sporting Goods announced it would stop selling assault-style rifles and joined Walmart in ending sales to customers younger than 21.
Meanwhile, Citigroup announced it would no longer do business with companies that sell firearms to people under 21, and Bank of America said it would stop lending to companies that manufacturer military-style weapons. Gun control advocates pushed for credit card companies to join PayPal, Apple Pay, Square and Stripe in prohibiting the use of their services for any gun transaction.
Homeowners insurance policies also have drawn scrutiny, with advocates of gun control calling for insurers to treat firearms as an "attractive nuisance" liability risk similar to a swimming pool or a large dog. The rationale is that carving out possession of firearms as a separate risk would prompt homeowners to take additional steps to reduce the likelihood that their weapons are used in mass shootings.
Hartwig says he doubts homeowners policies will ever be restructured to reflect the presence of a gun in the house. From a regulator's perspective, the data don't support an extra charge, he says.
"If the claims experience does not warrant that firearms be treated separately and distinctly, the question is why would the insurer do that. The insurer cannot charge a premium unless that premium is a reflection of actual risk," he says. "As a practical matter, what is being proposed that insurers do? Would insurers be required to continuously and constantly monitor millions and millions of policy owners to ensure that 24/7/365 their guns are locked up?"
Rather than restructure all policies, Hartwig says, carriers are more likely to address the issue on a claim-by-claim basis, responding to any court decisions holding a gun owner liable for a weapon used in a mass shooting. A typical homeowners policy carries a maximum liability limit of $100,000. "An insurer may determine that in an instance like this it is simply easier to pay the policy limits," he says.
The insurance industry's primary focus in the gun safety debate remains, at least for now, on the active shooter policies.
Duty of Care
Like Hartwig, brokers and agents see the coverage as a concrete way for the industry to make a difference in improving safety in America's classrooms.
"We think we should always be looking at how we as an industry can provide solutions that are preemptive and supportive rather than just dealing with the aftermath and the impact of something happening," says Alistair Fox, deputy CEO of JLT Specialty Credit, Political and Security Risks Division.
Given the number of shootings in the United States, Fox says, there's "a duty of care" for insurers to help schools minimize the risk. His firm's coverage evolved from terrorism policies it provides in Europe and the United States.
Hartwig says the policies similarly evolved to focus on prevention after the 9/11 attacks in the United States. "Very quickly the market recognized that, while insurance coverage was necessary, it's best when the insurance product is coupled with a service that would help lower the likelihood of a terrorist attack occurring or potentially at least lowering its severity," he says.
Chris Parker, an underwriter who leads Beazley's political violence, terrorism and kidnap and ransom team, says his company has talked to prospective clients in school systems with varying levels of preparedness. They share one thing in common, though—"a desire to have responsible consultants involved in this and getting their wisdom and experience."
Harry Rhulen, former CEO of Frontier Insurance Group, is co-founder of Firestorm, a crisis- and risk-management firm that works with a half-dozen major carriers to assess and improve security for its school clients. He believes insurers can play a decisive role in reducing school violence.
"There are lots of ways for the insurance industry to get involved," he says. "It's about thinking proactively and holistically about the risk management process as opposed to just looking at it from an indemnification standpoint. That's a big change in the thought process."
The industry has a large stake in resolving the issue, from a social leadership as well as a business standpoint, Rhulen says. "This issue crosses every single line of insurance when you talk about casualty, even property," he says. "There is no part of insurance that is immune to this situation."
Marshall believes the policies spur school systems to work harder on security. "That which we pay for, we pay attention to," he says.
Although still relatively rare, shootings are now becoming a routine exposure for agents to discuss with school officials at renewal time, according to Nate Walker, a senior vice president at Special Markets Insurance Consultants (SMIC), an AmWINS Group company.
SMIC has insured schools since 1985 and began offering active shooter coverage in 2014. "Historically, we've covered students and athletes—sports, events, all of the stuff that is deemed fun," he says. "We never thought we'd be involved in something like this."
Sadly, the policies advertise themselves whenever another school is attacked. "After every event, the phones ring," Walker says.
First Look vs. Last Stand
The moment, outside a high school in Santa Fe, Texas, was unexpected but, sadly, unsurprising. A TV reporter, conducting an all-too-familiar round of interviews with survivors of a mass shooting, asked 17-year-old Paige Curry if there was ever a point during the chaos that she told herself, "This isn't real. This would not happen at my school."
No, Curry said quietly, her eyes averted from the camera. "It's been happening everywhere," she said. "I've always kind of felt like it eventually was going to happen here too."
Her comments, replayed repeatedly on cable news and social media this spring, caught the attention of many Americans, including Firestorm's Rhulen.
"If I could bottle what she said and feed it to every school board in the country, I would," he says.
The Santa Fe shooting was the 16th of the year at a U.S. school during school hours, according to an analysis by The Washington Post. Since the assault at Columbine High School in Colorado in 1999, there have been an average of 10 shootings a year at U.S. primary and secondary schools, killing at least 141 students, educators and others and injuring 287 more. Since Columbine, the analysis found, more than 215,000 students in U.S. schools have been exposed to gun violence. The figures do not include shootings at colleges and universities.
Rhulen, whose company responded to the Virginia Tech shooting in 2007, says too many school officials are in "disaster denial."
"The biggest problem we have with schools and with school administrators is they don't believe it's going to happen to them," he says. "None of them are running around with their hair on fire thinking, 'I'm next.' And if you don't have that sense of urgency, your school very well could be next."
Rhulen says schools typically focus on hardening their facilities—securing doors, setting up cameras to monitor entry points and hallways, adding school resource officers. "All of those things are necessary," he says, "but they are all 'last stand' technology. They're designed to limit the number of casualties. They are in no way prevention oriented."
Insurers work with consulting firms like Firestorm or with local law enforcement agencies to establish what Rhulen calls "first look" technology, such as programs to monitor social media and anonymous reporting systems for students, faculty and others who see signs of trouble.
"Social media is one thing we have introduced," Marshall says. "We think that is going to be very effective because 30% of all perpetrators in a school shooting leave some sort of social media trail. By studying that, we're able to come up with solutions that we hope will stop and prevent shootings and save lives."
Beazley's Parker says behavioral threat assessments help schools develop a clear process for responding to signs of trouble. "If you notice changes in people's behavior, what do you do about it? If you overhear someone saying,
'I'm going to go kill so-and-so over a bad exam result,' what do you do about anonymously reporting that?' Once it is reported, who monitors those reports? Who acts on them?"
Rhulen's company has published a free guide for school districts to help them strengthen their prevention and security. He encourages educators and parents to use it as a starting point for discussions about a school district's readiness. Church Mutual Insurance and others also offer guidance at their websites, as well as online training programs.
"Most behaviors of concern in the beginning are very subtle," Rhulen says. "It's not like Johnny wakes up this morning and says, 'Oh, I think I'm going to bring a gun to school today and shoot up my classmates.' That's not how it happens."
Shifts in behavior are typically incremental, Rhulen says, and attacks typically involve months of planning. A student experiencing bullying at school or trouble at home may lose interest in schoolwork, with grades gradually declining.
The student may become more withdrawn. He may be seen looking at websites that are violent or involve guns. Those are things that teachers, staff and students need to be trained to look out for, Rhulen says.
"One of the first things we see after any of these events is the Facebook page of the perpetrator, and they are generally holding a weapon," says JLT's Fox. "There are consistencies in the background of the individuals who do these things and patterns in their behavior ahead of acting."
Schools can put those lessons to work, he says. "There are always anomalies; however, there are always common patterns to these events. Understanding this may increase our ability to identify a problem before it actually manifests into a violent event."
Rhulen says it's essential for schools to ease the reporting process at schools and encourage participation. "No one wants to be a tattletale, and no teacher or staff member wants to report a fairly innocuous change in behavior that they might chalk up to just normal teenage angst," he says.
Under Firestorm's systems, school officials, mental health counselors and others regularly monitor reports and intervene when necessary.
Hartwig cautions against creating watch lists that violate privacy and unfairly mark a student for the rest of his school career. "It's a risk management issue, but it is fraught with legal land mines," he says. "It's likely that, from district to district and state to state, the approach to this will vary tremendously."
"It's tricky, isn't it?" Fox says. But he and others say it can be done successfully. "After an event, you'd be heavily criticized if you had a concern and you had not acted on it. It needs very, very careful handling."
Arming Teachers
After the Parkland shooting, President Trump promoted the idea of arming "gun-adept" teachers to help defend against attacks. The insurance industry's reaction to the proposal has been mixed.
EMC Insurance is the largest insurer of schools in Kansas, one of more than a dozen states that allows school personnel to carry guns under certain conditions. In a letter to its agents, EMC said it wouldn't insure schools that arm teachers, calling it a "heightened liability risk."
Parker agrees that the presence of firearms could affect the cost or even the appetite for insuring the risk. "When we ask questions about security, it's focusing on how we keep a gun out of the workplace or out of the school," he says. "If the gun is already there, it is a different proposition as far as the risk is concerned." That said, Beazley doesn't have a position on arming teachers and wouldn't rule out insuring a school that allows concealed weapons.
Church Mutual Insurance is also staying out of the debate. "We'll let public policy go where it goes on that one, and we will be prepared to insure teachers whether armed or unarmed," says Ed Hancock, the company's chief underwriting officer.
Tory Brownyard is president of the Brownyard Group, a program administrator that specializes in providing insurance to the security industry. His company has turned down coverage for schools planning to arm teachers. "Unless the teacher is a retired police officer or former law enforcement, we would have a hard time accepting a risk with armed teachers," he says. "We just don't feel there is the adequate training there."
However, Brownyard says his opinion has changed over the many years he has given interviews since the shooting at Columbine.
"In the past, I would say putting a firearm in a school is unwarranted, that these shootings are rare occasions and by putting a firearm in a school every day in the hands of a security guard, you're really increasing the chances of something very bad happening," he says. "Now, as the father of two school-age children, I do feel better with a security guard at a school with a firearm, assuming the security guard is properly trained and vetted."
Marshall says McGowan currently does insure schools that have teachers who have been trained to carry guns as employee resource officers and also provides coverage to churches, car dealerships and other places that have an armed individuals on site. He has no problem with seeing that expand. "It's not unique to education," he says.
Marshall doesn't believe arming teachers will increase the risk of a shooting, as some critics of the idea contend. "I don't think there's any data that's proving that out," he says. "There's no actuarial data. It's more of a political, knee-jerk reaction on their part. In our opinion—of course, we're the underwriter, so we get to have an opinion on this—we think a properly trained resource officer will make the school a safer school."
Rhulen thinks it's unwise to put teachers in that role. "It's absolutely a horrible idea," he says, pointing to a New York City Police Department study of situations where its officers fired guns. About 80% of the shots failed to hit their intended target.
"And that's with a trained police officer," he says. "Think about it in terms of Mr. Smith, who's not a trained police officer—this is a guy who went to school to try to help people, to try to educate our youth—and now he's going to get into an armed firefight with a student who has a mental illness? The whole thought process around it makes no sense."
Hartwig says the idea is likely to be handled differently in each state. "I would expect the insurers would go through a vetting process for this," he says. "Who? How many? How well trained are they? What is their experience? What are the criteria for the use of a weapon? How is the weapon stored during the day? And many other questions that would affect the willingness or likelihood of an insurer to offer such a policy and what it might cost."
The Parkland Effect
After every major school shooting since Columbine, there is a renewal of the debate over what America should do to address the violence. Then there's another shooting.
Brokers and agents who sell active shooter coverage sense there's something different about the public's reaction to the assault in Parkland.
"Normally, in two weeks people forget about it. They have the attitude that it's not going to happen to me; it's going to happen to someone else," Beazley's Parker says. This time, though, it appears the focus has remained, he says.
"More people are taking notice. More people want something done about it."
Rhulen hopes that's the case but isn't so sure it will last. He says his firm's research shows the media's focus on shootings has shortened in recent years. "What you see is it's about 22 to 23 days from the time of a shooting to the time it drops out of the media," he says.
Parkland was an exception and stayed in the news much longer, Rhulen says, but the coverage of the next major shooting—in Santa Fe, Texas—faded more quickly than the typical 22 to 23 days.
Given the increase in calls to insurers about active shooter policies, it is clear school officials are thinking about their own vulnerabilities more. "We have more clients wanting clarity over coverage from their GL carriers," says Parker, who encourages clients to get those answers in writing.
Although still relatively new, many of the policies have added new features as schools and carriers reevaluate how coverage can fit potential needs. "As we're going along, more and more schools are asking, 'Can we do this? Can we do that?'" Parker says.
At Beazley, Parker says, he expects coverage to expand to cover things like construction of memorials for victims and replacement of lost tuition fees for private schools affected by violence.
As a result of security assessments, Brownyard expects more schools to add school resource officers, metal detectors and security systems. "Unfortunately, it's becoming an expense that's going to be necessary to protect the children," he says.
Marshall concurs. "Society, I think, is going to change and allow this," he says. "Kids will say, 'Yeah, I've got to walk through a metal detector in the morning to go to school. I just do.'"
Premiums also have undergone changes since the policies were introduced, with costs falling as more competitors join the field, similar to the dynamic seen in terrorism and cyber-security coverage.
At McGowan, Marshall says premiums can be priced at about 50 cents to $1.50 per student, depending on the level and type of coverage. "Our minimum premium is $1,200 for a small charter school for a $1 million policy," he says.
Walker says budget-conscious school districts often have a misconception that coverage will be expensive and are surprised they can afford it. A recent quote for $1 million of coverage for a private school in the Orlando suburbs with about 350 students amounted to $1,500 a year, he says.
Unlike many companies, Church Mutual provides coverage for "catastrophic violence response" as part of its GL policy. Hancock said it was added at no extra charge after Columbine. It pays $50,000 per victim and $300,000 per violent incident.
Hancock thinks other companies will begin offering a basic level of coverage in their GL policies. "I think and I hope you will see the industry provide more insurance products that respond regardless of fault, whether it's medical payments or catastrophic violence response coverage," he says. "There is a need to compensate both the innocent victims and bystanders in these shootings and provide a more effective response to let the school districts get on with their lives."
As the policies continue to evolve, Hartwig says, insurers need to introduce the topic with their clients. "This is where a broker, an agent, demonstrates value," he says. "Sometimes they have to have a conversation that the client may not want to have because they don't even want to think about something like this. But the client in many cases would probably be relieved if the agent or broker broaches the topic and has a solution at hand that is reasonably priced and can explain how it complements their existing coverage."
The status quo probably isn't a wise choice for schools that don't have some sort of coverage, Hartwig says. After a crisis, a school district can face millions of dollars in expenses. "If there is a shooting on your premises, you are almost certainly going to be on the receiving end of lawsuits, whether you're a school, a religious institution, a retail establishment or an employer," he says.
Marshall encourages agents to talk to local media about the coverage available to let local officials and parents know there is expertise available through insurers. School officials will welcome the discussion, he says. "Each of the clients we talk to as an insurer feels better off than before they spoke to us," he says. "That doesn't always happen to us in insurance, right?"
Hartwig says brokers and agents need to educate themselves on available products and ensure they can access a market in which the products are available. Then they need to have that uncomfortable discussion with a client.
"Tragically," he says, "the agent or broker need only point to a recent newspaper."