Baltimore: Old Is New Again
Baltimore balances its rich history with modern sensibilities.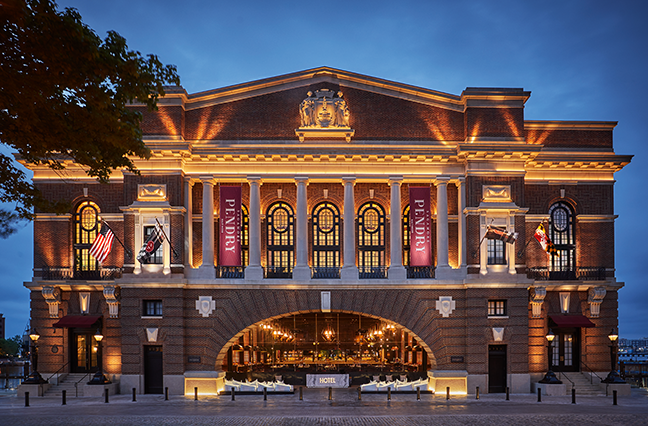 Nancy and Bill Devine have been running Faidley's Seafood in historic Lexington Market, the oldest continuously operated market in the country, since the 1960s.
The Baltimore icon dates back to 1886, the year Nancy's grandfather, John Faidley Sr., opened the restaurant. They still keep their fish on ice stalls. Miss Nancy, as she is called, still makes each of the crab cakes, 6.5 ounces of jumbo lump Chesapeake Bay blue crab meat, by hand. As Nancy's daughter, Damye Hahn, says, "Baltimore is booming and growing, but we anchor old Baltimore." Indeed revitalization plans are in the works for Lexington Market, which will incorporate environmental design strategies in a new modern building.
Faidley's and Lexington Market embody the ongoing transformation of Baltimore, balancing its rich history and culture with modern sensibilities. Kevin Plank, CEO of Under Armour, is playing a pivotal role. As co-founder of Sagamore Development Co., he is spearheading one of the largest urban renewal efforts in America at Port Covington, a mixed-use redevelopment project. Plank opened the Sagamore Spirit Distillery there on the 235-acre parcel of Baltimore waterfront property last April with the purpose of resurrecting traditional Maryland rye whiskey. He plans to make Port Covington the home of a new headquarters campus for his sports apparel company, too.
Plank is also a co-owner of the new Sagamore Pendry Hotel. Situated on the harbor in Fell's Point, the boutique hotel adds a "gritty luxury" mix of historic and modern to the upscale hotel scene, which includes the Four Seasons Hotel Baltimore and The Ivy Hotel, an exquisite inn located in a beautifully restored brownstone in Mt. Vernon.
While traditional fresh seafood from the Chesapeake Bay will continue to live on at Faidley's (Hahn says they plan to be around for generations to come, welcome news for fans of possibly the greatest crab cake on earth), the city's innovative culinary scene is developing a national reputation. In 2015, Baltimore landed in the number-two spot on Zagat's "Top 17 Food Cities" and made Thrillist's "7 Most Underrated American Food Cities." There are two restaurants that have been showcasing bounty from the bay and nearby farms for years that can be credited with raising Baltimore's culinary profile. Chef Cindy Wolf's Charleston, which Baltimore magazine has rated the number-one restaurant in the city year after year, and Chef Spike Gjerde's Woodberry Kitchen. Gjerde, who now has six restaurants, won the James Beard Best Chef: Mid-Atlantic award in 2015, and his farm-to-table restaurant was a semifinalist for outstanding service in 2017.