What a Long, Strange Trip
From Apple commercials to insurance epiphanies, stardom takes a while.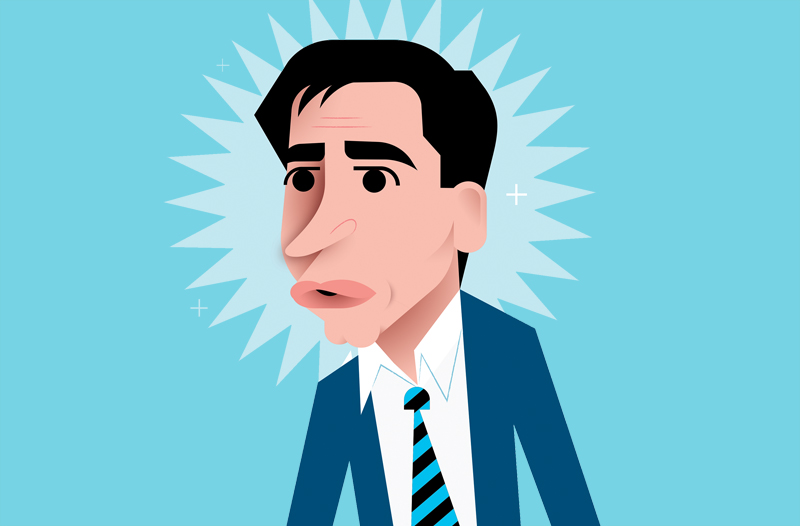 Justin Long has been in a lot of movies without busting into stardom, though he has played red carpet arm candy for three famous girlfriends:
Drew Barrymore, Amanda Seyfried and, currently, Kate Bosworth. He's the guy who played the Mac in the Mac versus PC TV ads for six years, and he voices lead rodent Alvin in four recent animated Chipmunk movies.
Long looked 19 for years, but now that he's 44 and looking 35, he's had bigger jobs, including a starring role as an ambitious young insurance lawyer in 2019's surreal dramedy The Wave. In that, he plays Frank, a newly minted hero at the office because he has found a way to avoid paying out a $4 million life insurance policy to the family of a fireman by reframing a heart attack as a suicide. In the lively conference room scene, greedy colleagues gush with joy. "We won't have to pay back a single cent!" one enthuses. Says another: "And thanks to you they won't see a penny!" Frank goes on a bender to celebrate, gets a bad drug, and suffers weird hallucinations that change his life. An elegant—and ethical—ending ensues.
The son of a philosophy professor and an actress, Long began his acting career at Vassar College and has worked steadily ever since. Along with his actor brother Christian, he started the celebrity interview podcast "Life Is Short with Justin Long" in 2019. Right now, he's on the cusp of reaching beyond journeyman fame with the release in late 2022 of Barbarian, a vacation rental horror story. With its 92% score from Rotten Tomatoes and a worldwide haul of $45 million against a $4.5 million budget, it could finally earn Long a star on the Hollywood Walk of Fame. The Chipmunks already have one.