Wanderlust: Antarctica  
The world's last great wilderness is within reach.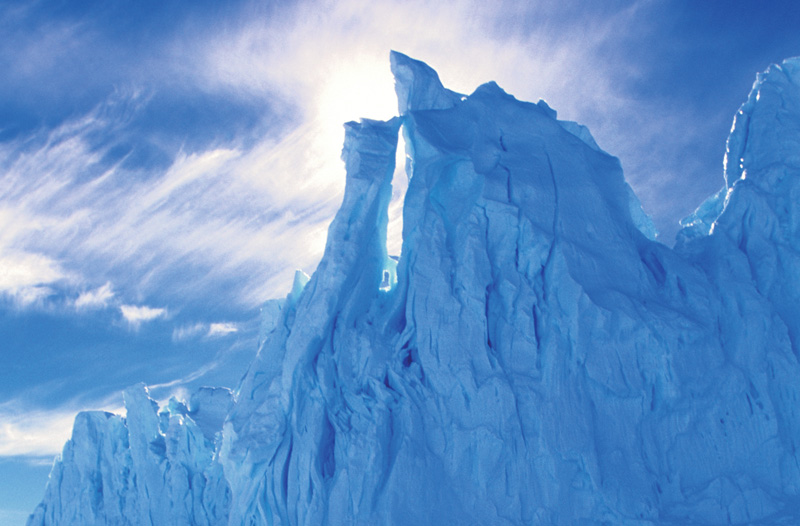 It's hard to put into words just how awe-striking a spectacle Antarctica is. Those who return from a trip often struggle to describe the other-worldly landscape, the fearless wildlife.
The mountains here are more striking than expected, the cliffs more indomitable, the glaciers more imposing. It's a place all humans should visit, because it puts us in our place like no other land, proving once and for all that Mother Nature—in her wildest, most inspiring form—is the true queen of the hill.
When to go: Cruise lines typically visit during the Antarctic summer months, November to March, when temps are surprisingly comfortable between 20° and 50°F.
Currency: U.S. dollars are accepted at the souvenir shop and post office on Port Lockroy, as well as euros and British pounds.
Language: English is all you need on board the ships, but it helps to know Gentoo to better understand the Antarctic locals.
Companies to consider: Silversea Cruises, Seabourn, Hurtigruten, Abercrombie & Kent
Even though Antarctica feels like the end of the world, even though it's the driest, coldest landmass on Earth, even though it's a place where winds can race across the frozen tundra stronger than a Category 5 hurricane—you need to experience it yourself. And thanks to numerous cruise lines with Antarctica itineraries, from rugged expeditions to luxurious small ships, the world's last great wilderness is within reach.
Those who do make this journey not only obtain unbeatable bragging rights over their friends. They also bear witness to an ever-shifting maze of hand-sculpted icebergs, a wild menagerie of creatures both bold and curious, and ethereal panoramas of blue and white mystically changing shades in the long light of extended sunshine. Let's not beat around the bush: this is the trip of a lifetime.
The Remotest Of Destinations
This trip of a lifetime covers a lot of miles, for Antarctica is about as far-flung a destination as you can achieve without leaving the planet. Earth's southernmost continent is 620 miles from the tip of Argentina, for which cruises set sail from Ushuaia—a resort town on the Tierra del Fuego archipelago—from November to March. This is the Antarctic summer, a time when the sun bravely shines until late at night and temperatures surprisingly hover above freezing, making it easy to stroll along the promenade of your ship after dinner to catch penguins frolicking, whales breaching and seals lounging on the rocky shores.
On the way to Antarctica, every ship must navigate the infamous Drake Passage. When calm, the "Drake Lake" is a breezy, 48-hour journey. But, the waters are rarely calm. This is where the Atlantic, Pacific and Southern seas converge, forming currents that are not hindered by any nearby landmass, creating what some call "the choppiest waters in the world." Thankfully, due to advanced stabilization techniques on modern cruise ships, a wide choice of anti-nausea medications, and plenty of high-quality Malbec brought on board before leaving Argentina, you'll pass through "Drake Quake" in one piece and often stronger for the effort.
Once clear, your captain will begin to pick his way through extraordinarily stark landscapes and cacophonous clans of wildlife. Antarctica isn't a place where set itineraries work to perfection—weather conditions dictate where and how you traverse the icy maze, and captains must improvise on the go. But that's part of the charm: you never know quite what you'll encounter.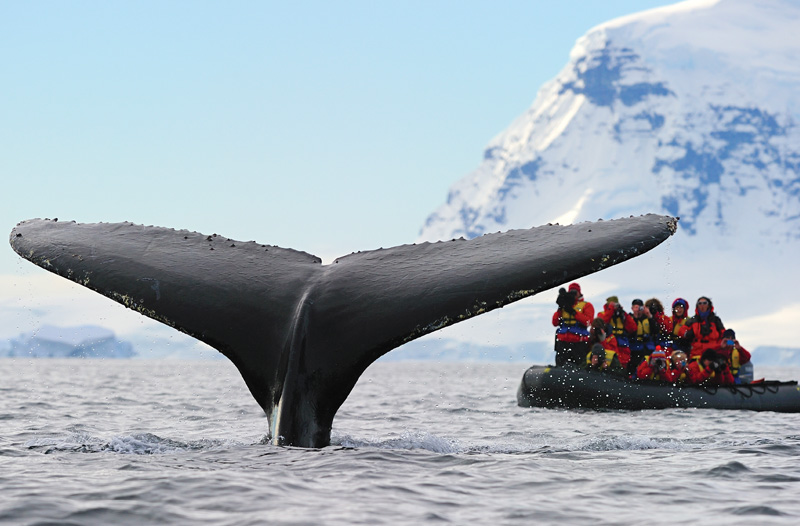 Things Will Get Wild
There is a bit of certainty within this voyage of uncertainty. You will visit the main islands on the itinerary—you just need to take indirect routes to arrive. Once close, you'll typically get around via a Zodiac or RIB (rigid inflatable boat), launching from your anchored ship to maneuver close to whale pods and into wind-shaped coves before landing ashore. Once on shore, the wild welcoming committee takes over.
The Southern Ocean's krill-rich waters make Antarctica a never-ending smorgasbord for animals great and small. Humpback, blue, orca and minke whales glide silently through the water, their mouths open in perpetual feeding bliss, occasionally popping up out of the icy depths just yards from your ship. Sunbathing elephant seals lounge on rocky outcrops with regal panache as if posing for the dozens of photos you'll surely snap. Albatrosses, shearwaters, sheathbills and other birds with really cool names swarm the skies in perpetual motion. And penguins, well, they're everywhere.
It's estimated that more than 12 million penguins call the Antarctic Peninsula home, including Adélie, gentoo, king, rockhopper, emperor and many more. Depending on when you visit during the Antarctic summer, you might witness these sublime creatures courting each other, emerging from eggs and waddling with cute abandon, or molting their downy fuzz. Whichever life stage you find them at, they will be extremely loud and incredibly rank in the best possible way. Because that's nature at its rawest—untouched, unspoiled, unforgettable—and that's Antarctica.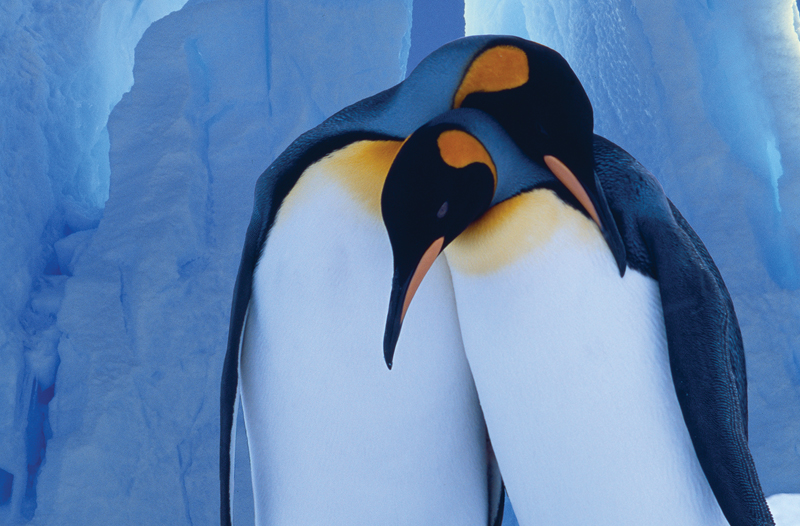 Cruise Corner
Most cruise ships embark from Ushuaia or Buenos Aires, with itineraries ranging from 10 days to nearly a month. The captain charts a course either east to the Falkland Islands or south via the South Shetland Islands and then toward the 1,000-mile-long Antarctic Peninsula, often stopping at the following highlights along the way.
Falkland Islands > Many voyages visit the charming Falkland Islands, a British territory where a population of around 3,300 live off a thriving fishing scene. This is your last chance for culture before continuing on, so visiting the local pubs, chatting with residents and learning about Antarctic exploration at the Historic Dockyard Museum is highly recommended.
Cierva Cove > The maneuverability of the RIBs is crucial at Cierva Cove, located on the west coast of Graham Land. This cathedral of ice is made of arches and icebergs glistening at a million angles, along with the ever-present promise of massive ice chunks calving from the glacier's face. When the RIB's engine is turned off, you can hear the surprising fizz of long-trapped oxygen escaping to the surface.
Lemaire Channel > Wedged between Booth Island and the Antarctic mainland, this narrow passage is surrounded by soaring, ice-plastered mountains that shelter the waterway. With the exception of orcas spy-popping their heads out for a look around, the sea is calm and reflective, creating a photographer's dream location. In fact, early explorers would spend so much time here taking hundreds of photos, the channel is nicknamed Kodak Gap.
Elephant Island > The strangest thing you'll encounter here is not an animal or natural wonder: it's the nearly 10-foot-tall bronze bust of Captain Luis Pardo. Pardo, along with Ernest Shackleton, helped rescue the crew of the Endurance in 1916 in what is considered one of the most amazing stories of human survival ever recorded. The bust is oddly surrounded by hundreds of penguins as if they're giving homage or occasionally attended by one of the thousands of elephant seals that give the island its name.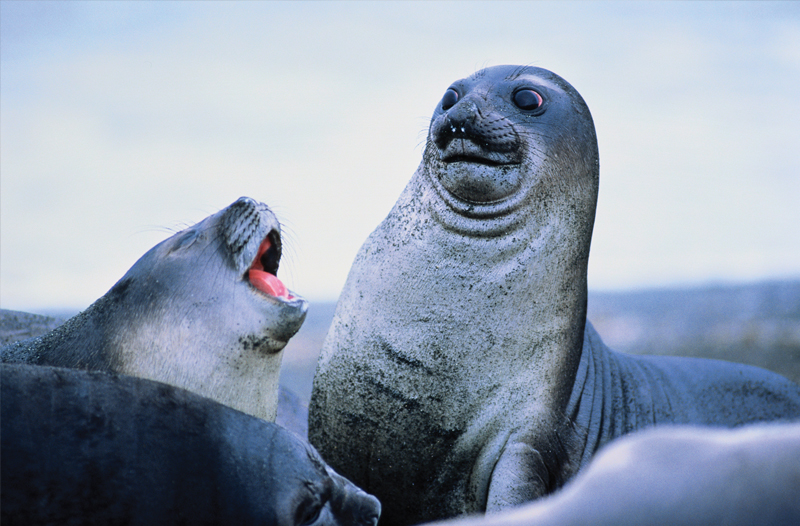 Deception Island > Unlike other islands here, ring-shaped Deception Island is the exposed caldera of an active volcano that last erupted in 1970. The resulting battle between fire and ice creates a mesmerizing landscape, one you can feel firsthand when you land on the steaming black volcanic shoreline, the sand warm to your touch due to underground geothermal activity.
Port Lockroy > Originally a World War II-era base set up on Goudier Island, Port Lockroy's claim to fame is its post office. Even though it's surrounded by a colony of gentoo penguins that live and nest in the building itself, it still functions as both a post office and museum maintained by the United Kingdom Antarctic Heritage Trust. The museum houses a fascinating glimpse into what life was like here in the 1950s, complete with old groceries and hand-painted pinup girls on the walls.