Wanderlust: America's Wonderlands
Now is the perfect time to visit America's national parks.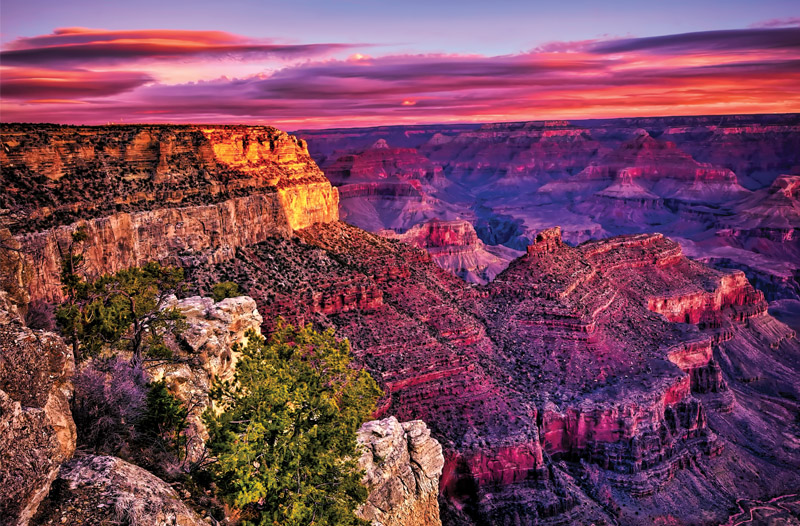 When you come face to face with one of America's 63 national parks, your mind can struggle to accept the stunning landscape before you.
The towering granite cliff, the thunderous waterfall, the massive bison—every direction you stare, every trail you hike is packed with awe.
Now is a brilliant time to explore the iconic wildlife, natural wonders and pioneer history of these natural treasures.
During COVID, many travelers hit their closest national parks due to the wide-open spaces and fresh air they provide. Since then, global travel has reopened, so people are going elsewhere. The parks are now emptier than usual, giving you more space to appreciate the astonishing scale and embraceable solitude. Whether you spend two weeks traversing every trail of one massive park or park-hopping across state lines to fill your Instagram page, every moment spent in these wondrous places will change you for the better.
When to go: Whenever and as often as possible. Most national parks are open year-round, though some northern parks may close off sections in times of excessive snowfall.
Currency: U.S. dollar
Companies to consider: Globus, Tauck, Princess Cruises, Celebrity Cruises
Restrictions: Check park rules before you go. Timed entries, fire restrictions, and advance registration rules may be in place.
The Big Ones
When considering which national parks are worthy of your hard-earned vacation time, America's very first one should rank high on your list. Sprawling across Wyoming, Montana and Idaho, Yellowstone National Park was officially recognized in 1872 by President Grant thanks to its volcanic-powered geysers and hot springs, rugged mountain peaks and placid, pristine lakes.
The park is overwhelming when first seen, in all the best possible ways. Grizzly bears and wolves prowl throughout the rugged peaks, while herds of elk and bison, some the size of Volkswagen Beetles, graze in the flower-dotted meadows near the ring road. Instagram pics could never do justice to such iconic sights as Lower Falls and massive Yellowstone Lake—they demand to be taken in with your own two eyes. And Old Faithful, that most punctual of geysers, not only shoots out thousands of gallons of boiling water every 74 minutes or so but also gives you a moment to marvel at the sheer force of the geologic powers that have shaped our world.
Not too far away, Yosemite National Park does not spread out as far as Yellowstone, but it makes up for it in sheer vertical grandiosity. Like many places in California, Yosemite is filled with well known celebrities, albeit these are of a geologic nature. Yosemite Falls, the highest falls on the continent, plummets 2,424 feet down with a mighty rush and roar. Half Dome, a burly, granite beast, rises 4,737 feet high, casting long shadows over the surrounding forest. And El Capitan towers in the north side of the valley, the mammoth monolith beckoning climbers and gawkers alike to show their respects.
Next on your list should be the grandest park of all. Nothing prepares you for your first glimpse of Grand Canyon National Park. Sure, you catch snippets of it here and there during the drive to the visitors center. But once you step up to Mather Point on the South Rim or Angel's Window on the North Rim, only then does the epic size of this ancient piece of art make your knees buckle a little. A mind-boggling one mile deep and up to 18 miles wide, the massive chasm feels bottomless at first, its sun-striped canyon walls never-ending. To best appreciate this labyrinth of stone, water and beauty, spend as many days as possible here. Each one could include a new adventure: you can race through in a whitewater raft propelled by the whitecaps of the Colorado River; hike famous trails until your phone overflows with pictures; sit astride a friendly mule, descending deeper into the limestone depths; or soar through the sky in a helicopter.
Zion National Park—another twisting, captivating gorge—is often considered a kindred spirit of the Grand Canyon due to its size: 15 miles long and a half-mile deep. But in contrast to the Grand's harsh, stony exterior, Zion is astonishingly alive with lush vegetation. Gardens hang near tiny grottoes, and the mesa top is adorned with wildflower meadows. Floral scents follow you as you hike downriver through the park's prized possession, the Narrows—a mesmerizing section of steep Navajo sandstone walls, often ignited in a thousand shades of orange by the afternoon sun—rising up a thousand feet around you as you trek through the clear Virgin River.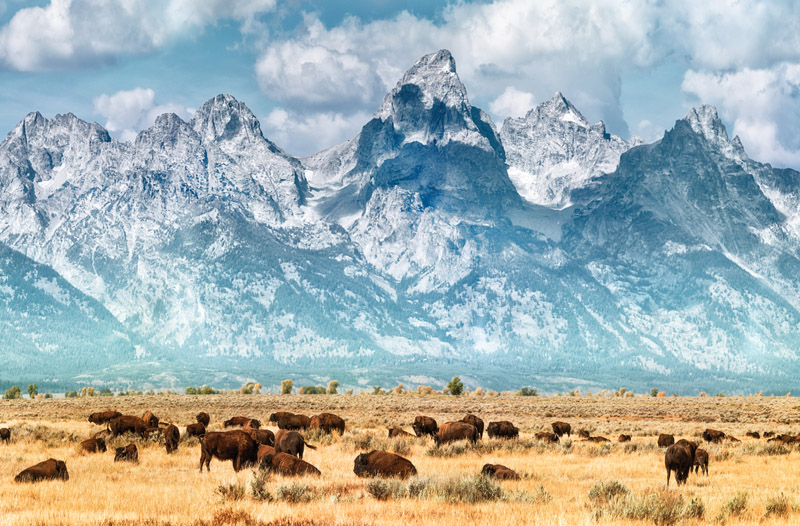 Smaller Parks with Big Rewards
While the A-list parks already mentioned get all the attention, the country possesses another 59 options for you to enjoy. Many of these are geographical neighbors you can visit together or even add to another vacation to give your travels some much-needed natural splendor.
For example, after spending time in Los Angeles, checking out the sign at Griffith Park and spending way too much money on Rodeo Drive, you can hop into your convertible and drive two and a half hours to Joshua Tree National Park, where curious yucca trees and their distinctive clusters of spiky leaves grow along twisting roads throughout the desert landscape. Or you can travel an hour northwest to Ventura to board a ferry to Channel Islands National Park, where you can kayak through a sea cave or hike to a picturesque lighthouse.
For those spending time in Chicago, if the wind gusts become too much for you, scenic state parks and historical sites are nearby. At Indiana Dunes National Lakeshore, just an hour's drive away, you'll discover 15 miles of powder-perfect Lake Michigan beaches along with three of the world's biggest sand dunes. You'll find history south of Chicago at Abraham Lincoln National Heritage Area, where you can visit Lincoln's log cabin and learn more than you ever thought possible about our 16th president at the Abraham Lincoln Presidential Library and Museum.
History-heavy national parks are all around Boston, which only makes sense at the birthplace of the American Revolution. You'll practically trip over historical landmarks on the walking tour of Boston National Historical Park, home of the Bunker Hill Monument, the Old North Church and the Paul Revere House. And within a few miles from town, you'll find the home and impressive stone library of one of our nation's founding fathers at the Adams National Historical Park in Quincy, or you can trace the paths of Union and Confederate soldiers at Minute Man National Historical Park in Lexington.
Yet most people visit national parks not for history but to see Mother Nature at her most majestic. If that describes you, then you're in luck while visiting the foggy coastlines and dewy forests of the Pacific Northwest near Seattle. Due to the region's rainy climate, the perpetual mist of Olympic National Park creates a thriving home for moss, which covers trails, rocks and even entire trees with an emerald, velvet carpet that is quite magical to behold. You'll find yourself looking down a lot while hiking here but not at nearby Mount Rainier National Park, where the glaciated volcano's majestic peak rises nearly 14,000 feet and keeps your eyes bent skyward for hours on end.
Tour Corner
Just like cruises are a great way to experience multiple destinations in one trip, national parks tours can help you check off several big names from your bucket list in one sweet go. Plus, tours most often come with accommodations, meals and transportation right to the heart of each park, giving you time to explore on your own. Here are a few to consider.
The Bold & the Brewtiful: Mid-Atlantic America by Design > This tour from Globus begins and ends in Washington, D.C., but covers a lot of ground in between and includes many samples of local craft beers. You'll spend most of your time in Shenandoah National Park, exploring the trails and caverns with park naturalists and rangers. With multiple nights staying at the historic Greenbrier Resort in White Sulphur Springs, West Virginia, this tour will surround you in splendor.
Spirit of the Desert: The National Parks of the Southwest > Tauck has a long history of giving travelers more than expected, and that continues here. Not only will you explore Arches, Canyonlands, Bryce Canyon and Zion National Parks; you'll also take off on two flightseeing adventures over both Capitol Reef National Park and the Grand Canyon. As an added bonus, you'll spend two unforgettable nights staying on Grand Canyon's North Rim. Just imagine waking up to that!
Alaskan Cruise Tours > Several cruise lines, such as Princess Cruises and Celebrity Cruises, combine a seven-day cruise through Glacier Bay National Park with an extended land tour. The land tour typically whisks you through the state's amazing forests and mountains by train to arrive at a wilderness lodge near Denali National Park, where you'll spend several days hiking and flying around the highest peak in North America.