V.I.P. in Puerto Vallarta
Puerto Vallarta, Mexico, is full of history and romance and prime for making memories.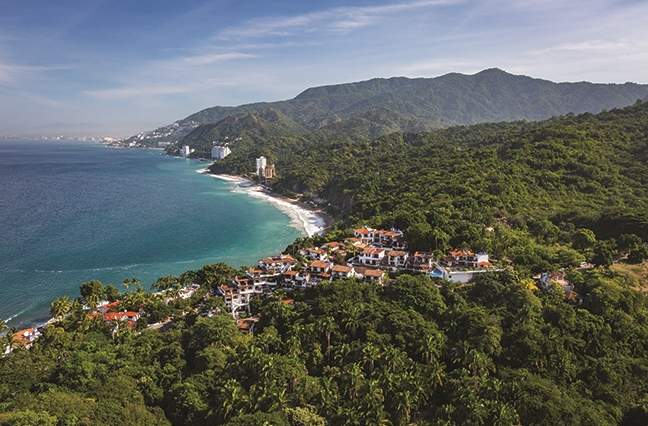 This year, Puerto Vallarta celebrated 100 years of being a municipality and 50 years of being a city.
But 1964 is when this then-remote fishing village made its debut on the world stage. That was the year the movie The Night of the Iguana, directed by John Huston, was released. Filmed on location at a nearby beach in Mismaloya, this tropical slice of the Pacific Coast of Mexico was a star.
As is now legend, leading man Richard Burton and actress Elizabeth Taylor began an affair during filming. As a gift for her 32nd birthday, he gave her a villa perched on a hill in town, Casa Kimberly, and bought the casita across the street for a pool, connecting the two by a bridge modeled after the Bridge of Sighs in Venice. Not only did they fall in love with each other, they also fell in love with Puerto Vallarta, using the villa as a place to escape and entertain friends during their on and off romance and putting the seaside city on the tourist map.
Taylor sold the property after Burton's death in the 1990s. Hotelier Janice Chatterton bought the two homes, which had suffered decades of decay. She restored and expanded the complex, which opened as the Casa Kimberly hotel at the end of 2015, a luxurious stucco and Mexican tile enclave of nine magnificent suites, each named after one of Taylor's movies. Most have private terraces that offer sweeping views of the Sierra Madre Mountains, a cascading tangle of lush jungle, and Banderas Bay, a 62-mile stretch of beaches anchored on the north by Punta Mita and on the south by Cabo Corrientes.
Many people who fly into Puerto Vallarta head straight from the airport north to the Four Seasons Punta Mita, where the beaches of the Riviera Nayarit are more pristine. With the opportunity to make memories where Dick and Liz did, you'd be remiss not to spend a few days at Casa Kimberly, an exquisite base for exploring the cobblestone streets and architecture, taking a four-wheel drive tour of the mountains, and boating to Huston's beach hideaway for a day of snorkeling, kayaking and swimming.
Puerto Vallarta has also become one of Mexico's top gastronomic destinations, much of the credit due to chef Thierry Blouet. In 1987, this Frenchman fell in love with the city (there's a pattern here) while working at the Camino Real hotel, when resort fare defined the culinary scene. Seeing an opportunity, he opened Café des Artistes, a nouvelle cuisine French restaurant in El Centro. He was the first to start bringing food in by air: vegetables from Mexico City and the state of Mexico, as well as seafood and imported meats from Guadalajara.
Dining at Café des Artistes and other chef-driven restaurants, like The Iguana and Trio, is a must. However, some of Puerto Vallarta's best food can be found in the most casual places—Pancho's Takos for tacos al pastor to go, Joe Jack's Fish Shack for fresh fish sandwiches and Mexican craft beer, and Café de Olla for traditional fare like queso and chorizo with freshly made tortillas.