Steve Hearn, CEO, Ed
We respectfully retired Mr. Cooper and Mr. Gay. Then it was, "What do we call ourselves?"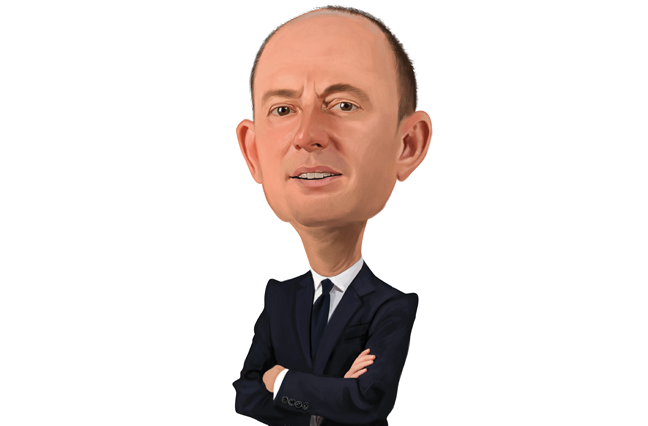 Q
What was it like competing in the Antarctic Ice Marathon?
A
You fly onto Antarctica and sleep in a tent. And one morning you wake up and go for a marathon. Fifty people did it. I came in eleventh.
Why on earth would a reasonable person do such a thing?
Up until a few years ago, I didn't run at all. In January, I entered this thing called the World Marathon. We run a marathon on each of the seven continents in seven days. It starts in Antarctica, then goes through Chile, Miami, Madrid, Marakesh, Dubai and Sydney.
Have you always overcompensated?
I guess I'm pretty driven. Running does many things for me. I put my running shoes in my suitcase, and that means I get to run in some amazing places. I recently ran in New York, Dubai and Hong Kong.
Were you athletic growing up?
Definitely not. My father was a mechanical engineer for Nestle. I grew up in Canada, in the United States, in Africa, Asia, Switzerland, the U.K., all over. It was wonderful—an incredible, privileged upbringing. But it made you a really useless sportsman. I didn't play a lot of ice hockey in Tanzania.
It must have been difficult socially.
In my Tanzanian boarding school, I was the only English kid, and I showed up with a Canadian accent.
When did you settle in London?
Having grown up around the world, my base throughout my working career has been London. It remains my favorite city.
Why?
I think it's a very cosmopolitan city, possibly the most cosmopolitan in the world. It's full of a long and rich history, but it's also modern. And you can eat pretty well.
What do you like to do when you're not working?
Besides running, my other passion would be motorcars. I'm a bit of a gear head.
Big collection?
Not by American standards. I've got about 10 cars.
The highlight?
The 1958 Austin Healy 106. It's red and pretty. It's not the most valuable car. It's not the fastest car or the most practical car. And it breaks down every time I drive it. That's part of its appeal.
What's the most interesting thing in your office?
Two kilos of whey protein mix.
What about Cooper Gay's recently changing its name to Ed? Why?
We respectfully retired Mr. Cooper and Mr. Gay. Then it was—"What do we call ourselves?" We thought of mythical gods, street names in London, where Churchill was born or buried. All insurance people know that the industry started with guy in a coffee shop named Edward Lloyd. Today he'd be called Ed.
What keeps you in the industry?
I love it, I do. I spring out of bed in the morning. I have a passion for it, and I think I'm OK at it.
Who was your most influential business mentor?
Richard Titley, the deputy chairman of the Sedgwick Group, a proper, thorough professional. He showed me you can achieve by being yourself and by being good. I aspire to that.
What gives you your leader's edge?
Hard work and luck.
The Hearn File
Favorite Beatle: Paul McCartney. "No, I'm not a Wings fan."
Favorite Vacation Spot: The French Alps."Sitting on the balcony after a day of skiing—there isn't a better place for me."
Favorite Band: AC/DC
Favorite Actor: Robert DeNiro
Favorite Book: Any travel guide