Robert Harrison's St. Louis, Missouri
St. Louis is a great big little city.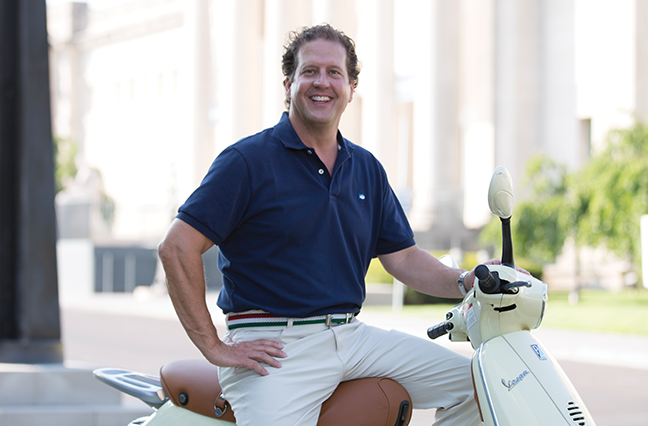 Robert Harrison, Chairman of the Board/President, The Daniel and Henry Co., shares his big little city.
Vibe >> St. Louis is a great big little city. Home to many wonderful old companies, it has a thriving startup community with an abundance of available capital to invest in innovation and bioscience companies. Many St. Louisans return home because it's a family-friendly city with easy commutes and wonderful education.
Restaurant scene >> Our restaurants are a mix of classic and trendy. From ethnic cuisine to food trucks to award-winning chefs, St. Louis is a foodie haven. We are fortunate to have restaurateur Zoe Robinson, who has spent decades creating special dining experiences. Her newest place, Billie-Jean, named for her parents, opens this fall and is sure to become one of my favorites.
Favorite old-school eats >> Another Robinson restaurant is I Fratellini, in the suburb of Clayton. It's a hideaway, a classic Italian restaurant that smells great when you walk in and makes you feel like you're in Venice. Order the grilled zucchini appetizer and red pepper and spicy sausage lasagna, a festival for your taste buds.
Watering hole >> The bartender at the French bistro Bar Les Frères is a pro. It's warm and inviting inside in the winter and terrific for outdoor drinks in the summer. It is also another one of Robinson's restaurants.
Stay >> The business hub of St. Louis has moved west to the City of Clayton, where The Ritz-Carlton is the place to stay. It has a great bar for a nightcap and is within walking distance to dozens of restaurants and shops.
Thing to do >> Experience Forest Park. Opened in 1876 and the site of the 1904 World's Fair, the 1,300-acre park is home to five major cultural institutions: Saint Louis Art Museum, Saint Louis Science Center, Missouri History Museum, Saint Louis Zoo and The Muny, an outdoor musical amphitheater (1,500 of the 11,000 seats are free). There is also the Jewel Box, an art deco conservatory that is open to the public.
Outdoors >> Again, Forest Park is the place to be. I go there to bike the six-mile paved loop. You can rent a paddleboat and cruise the lagoons. There are rugby, archery, softball and baseball fields, and a tennis center. You can play golf on two courses, skate on an outdoor rink and fish in the lakes. A bonus is the spectacular views of St. Louis, Washington University and the museums.