Something Old, Something New
New Orleans melds tradition with modern touches.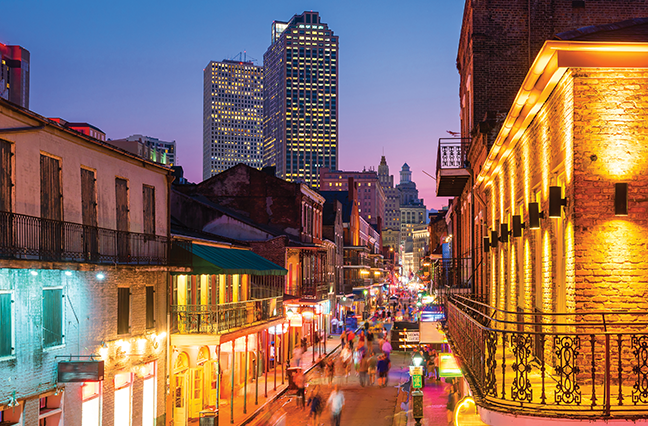 A painting of a dour woman in early 20th century dress greets you as you exit the elevator on the 12th floor of the Pontchartrain Hotel in New Orleans, which was recently restored to its former glory. A cigarette dangles from her mouth, an Old Fashioned from her hand, and the words "Hot Tin" are painted in cursive across the canvas, all obviously recent additions. It is a hilarious harbinger of the rollicking good time to be had at the hotel's new rooftop bar, Hot Tin, a reference to Cat on a Hot Tin Roof, written by former guest Tennessee Williams. It could also be a metaphor for New Orleans, which has hit its stride when it comes to melding the old with the new.
Along with the reopening of the historic Pontchartrain Hotel in the Garden District, last year the Ace Hotel New Orleans was opened in the Central Business District. The former is a trip down memory lane. The latter is an oh-so-hip addition to the city. Both have become magnets for locals as well as visitors, who are drawn to their clubby bars and restaurants.
New Orleanian Cooper Manning, the eldest son of quarterback Archie Manning, is one of the investors in the Pontchartrain Hotel, so it's no surprise that the $10 million makeover included the return of the Bayou Bar, where the New Orleans Saints football franchise was christened in 1969. Patrons sip whiskey in the dark-wood tavern that features murals of the bayou. Mile-high pie is once again served in the Caribbean Room, where jackets are required. Blueberry muffins are back on the menu at The Silver Whistle Café (now made by the Willa Jean bakery, part of the Besh Restaurant Group, which manages the restaurants). Still, the hotel feels of the moment. There is a modern elegance to the rooms in the circa-1927 building, and with a 270-degree view of the Mississippi River and downtown, the party at Hot Tin never seems to stop.
At the Ace Hotel, an $80 million overhaul of the 1928 art deco building, a former furniture store, preserved architectural elements like the oversize, multi-paned windows and Corinthian pillars, which dot the lobby and the hotel's popular restaurant, Josephine Estelle. The New York design studio of Roman and Williams worked its magic on the interiors, maintaining a sense of place while giving the hotel its signature retro cool. Palmetto murals in the restaurant were salvaged from the New Orleans Opera House. Guest rooms have armoires painted with bayou landscapes. Some even have Martin guitars and turntables. Not to be outdone by the Pontchartrain Hotel, the Ace also has a rooftop scene that revolves around the small pool and a bar, Alto, that cranks out frozen drinks and craft beers.