Singing the Praises of Singapore
Singapore is a blend of colonial heritage, culinary fusion, and stunning natural settings.
A captivating hybrid of colonial heritage and visionary city planning, the small island nation of Singapore has mass appeal on many fronts.
WHEN TO GO Situated practically on the equator, Singapore is hot and wet for most of the year. The driest months are May through July, but you might find that the occasional downpour offers respite from the humidity.
CURRENCY Singapore dollar (SGD): $1 = 1.35 SGD
LANGUAGE Though English is the official business language and universally understood, you'll also hear Chinese, Malay and Tamil spoken throughout.
COMPANIES TO CONSIDER Kensington Tours, Intrepid, Celebrity Cruises, Royal Caribbean
Its mega-multicultural population numbers five million-plus residents, creating a fusion of experiences, arts and flavors that beautifully combine to enchant all who visit.
For first-timers to Asia, Singapore is the ideal place to dip your toes into the continental waters. Not only is it clean, green, safe and easy to navigate, not only does it boast a year-round tropical climate due to its one-degree of separation from the equator, but it's also filled with some of the most friendly, English-speaking locals, who are always willing to help you enjoy their nation. And enjoy it you will.
Stunning architecture, distinctive neighborhoods, innovative parks, eclectic shops, five-star hotels and arguably the most intriguing culinary scene in the world, the city-state is a playground for foodies, explorers, nature lovers and the globally curious. It's the kind of place that connects passions and dreams to real-world experiences. Here are some of those experiences to look forward to.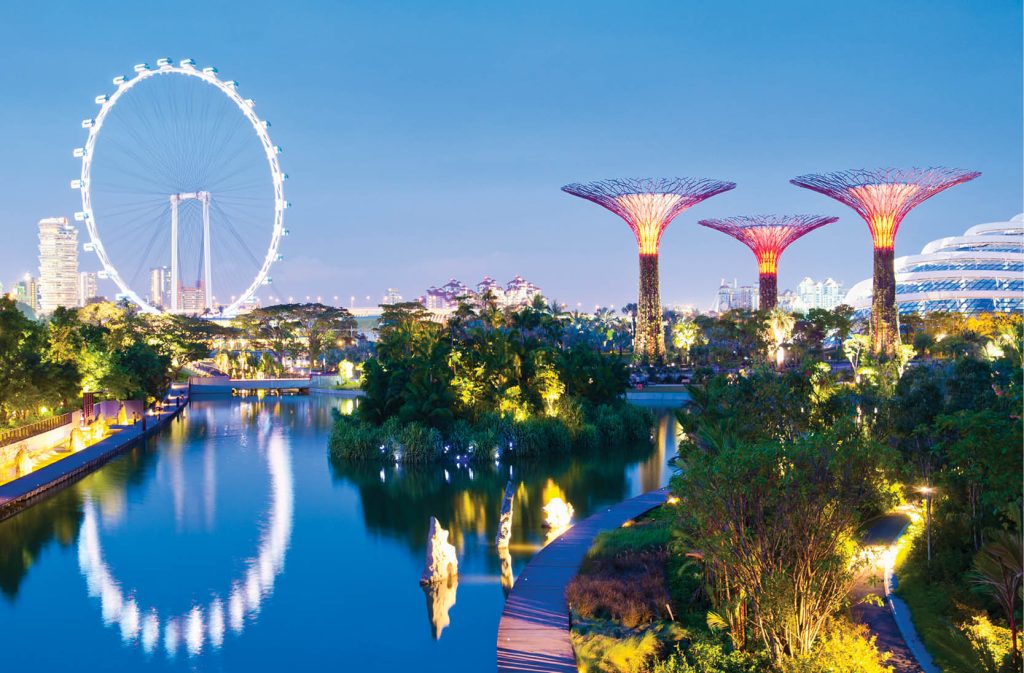 Welcome to the Neighborhoods
Singapore seems to house countless mini-cities within its borders, each a vibrant ethnic enclave that reveals yet another cultural building block of the city. Centuries of immigration have made the island a melting pot of Chinese, Indian, Malay, Arabic and Western influences, each a vital ingredient to the country's culture, which you can discover firsthand while exploring its diverse neighborhoods.
While much of Singapore is Chinese these days, historic Chinatown retains much of its traditional charm despite being unashamedly geared toward tourists. Browsing the restored shophouses here is fascinating, for you'll find everything from plastic Buddhas to dried seahorses. For something of a more educational nature, the Chinatown Heritage Museum houses faithfully recreated bedrooms, kitchens and street scenes from the late 19th century, offering a provoking glimpse into a less affluent past.
Little India, another popular neighborhood just north of the Singapore River, is one you'll smell before stepping into. The pungent aroma comes from an array of spice shops and restaurants that draw gastronomes from all over. Your other senses will be activated here as well, especially if you taste the local delicacy, fish head curry, or set your eyes upon the area's mesmerizing architecture, from the Corinthian pillars of the Abdul Gafoor Mosque to the 15-meter-tall Buddha statue in the Temple of a Thousand Lights.
The Malay heritage of the city can be traced back to the Kampong Gelam neighborhood. One of the city's oldest urban quarters, Kampong Gelam is named after the long-leaved paperbark tree, or gelam, which was once used to make boats and medicine. The star attraction here is the massive, golden-domed Sultan Mosque, one of Singapore's most important religious buildings. For local history, head straight to the Malay Heritage Centre, the building of which was once the royal seat of the Malay sultans in Singapore.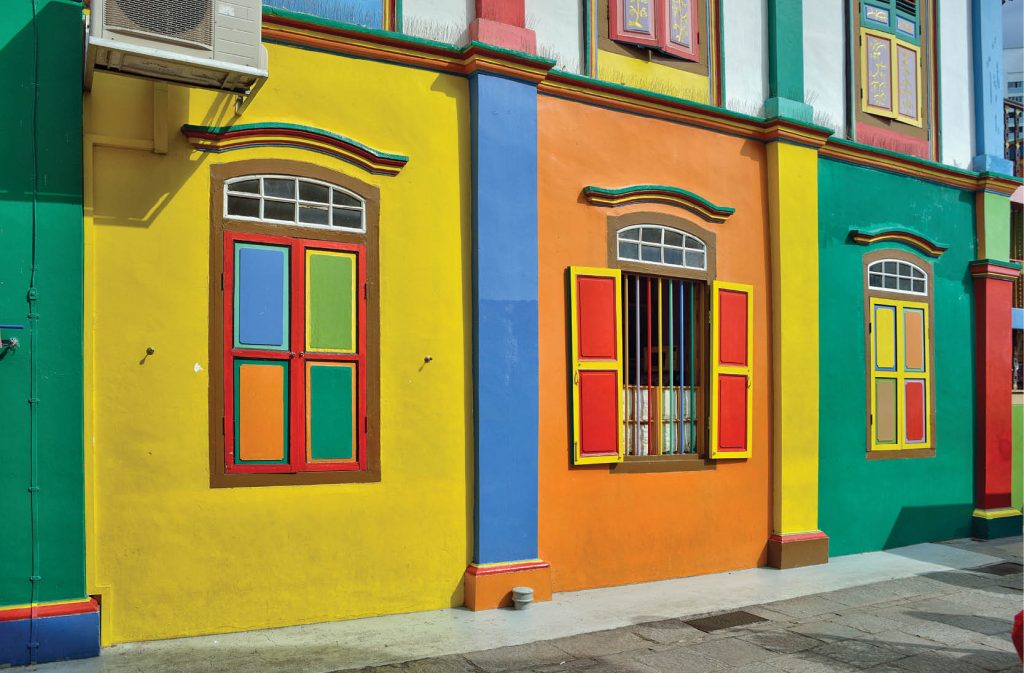 A Walk in the Park
Singapore surprises visitors with its enthusiastic embrace of Mother Nature. Often called "The Garden City," its forward-looking sustainability initiatives are on full display every which way you look, from the greenery-covered skyscrapers to its 300-plus nature preserves, an impressive feat considering the city is only 281 square miles.
There are numerous ways to appreciate the nature on display. Amble high above lush green foliage on the Treetop Walk, an 820-foot aerial, free-standing suspension bridge at MacRitchie Nature Trail & Reservoir Park—just be careful of the long-tailed macaques and monitor lizards. Find a wide range of migrating birds, as well as the world's rarest mangroves, at Sungei Buloh Wetland Reserve. Take a five-kilometer hike through three major parks on the Southern Ridges Walk, which also includes the undulating curves of the awe-striking Henderson Waves bridge. Or simply stroll around the 182-acre Singapore Botanic Gardens, a UNESCO World Heritage Site.
This relationship between city, nature and the future is best appreciated at Gardens by the Bay, home to three soaring and surreal Supertrees. These whimsical sculptures range from 25 to 50 meters in height and are illuminated at night in a spectacle of light and sound. Here you can also enjoy the world's largest grass greenhouse, a mist-filled landscape of rare vegetation called Cloud Mountain with unobstructed views of the beautiful Marina Bay district from the 50-meter-tall observation deck. In short, it's a very cool place.
Savor the Scene
Eating is more than a necessity in Singapore—it's the national pastime. The country's multicultural makeup has shaped an ever-evolving confluence of culinary talents and flavors, creating a foodie scene beyond compare.
Nowhere is this confluence more on display than at Singapore's iconic hawker centers, a recent addition to the UNESCO List of Intangible Cultural Heritage. Resembling a mix of a food court and a street market, hawker centers are buildings packed with endless rows of food stalls. The longer the lines, the better the food, and you'll struggle to get food better than this. Here you'll find everything from Malaysian cuisine to Indian curries to spicy Thai noodle bowls…even a few Michelin stars.
That's Singapore in a nutshell, and it will leave you craving more. There's just so much to experience in this surprisingly modern, ecologically responsible, multicultural city-state that it's difficult to do it all during one visit. But trying to experience it all is half the fun.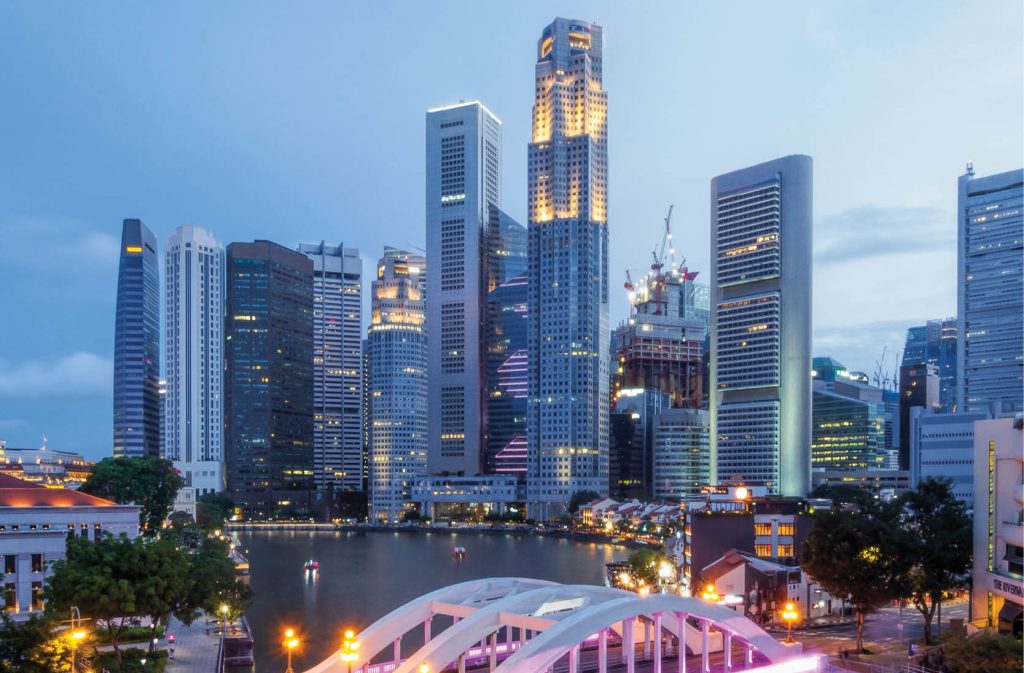 With over 200 hawker centers sprinkled throughout the city, you'll have no trouble finding a place to stop for a mouthwatering bite. In each one, you'll find an eclectic collection of items to order. Here are savory and sweet favorites to aim for.
Kaya Toast & Soft-Boiled Egg > A quintessential breakfast, kaya is a sweet jam generously spread on warm, buttered toast and accompanied with a savory soft-boiled egg.
Hainanese Chicken Rice > One of Singapore's national dishes, the chicken is poached at sub-boiling temperatures, with the resulting stock mixed with garlic, pandan leaves and ginger to cook the rice.
Chili Crab > Another one of Singapore's famous national dishes, this dish is made by cooking mud crabs in a signature sweet, salty and slightly spicy chili sauce.
Carrot Cake > This is not your grandma's carrot cake. Instead, the dish is steamed rice flour, water and radish cooked into a rice cake, then stir-fried with eggs and occasionally pork lard.
Ice Kacang > The perfect dessert to wash down any meal at a hawker center, this shaved ice concoction is covered in a variety of sweet syrups and condensed milk, with jellies and red beans buried at the bottom.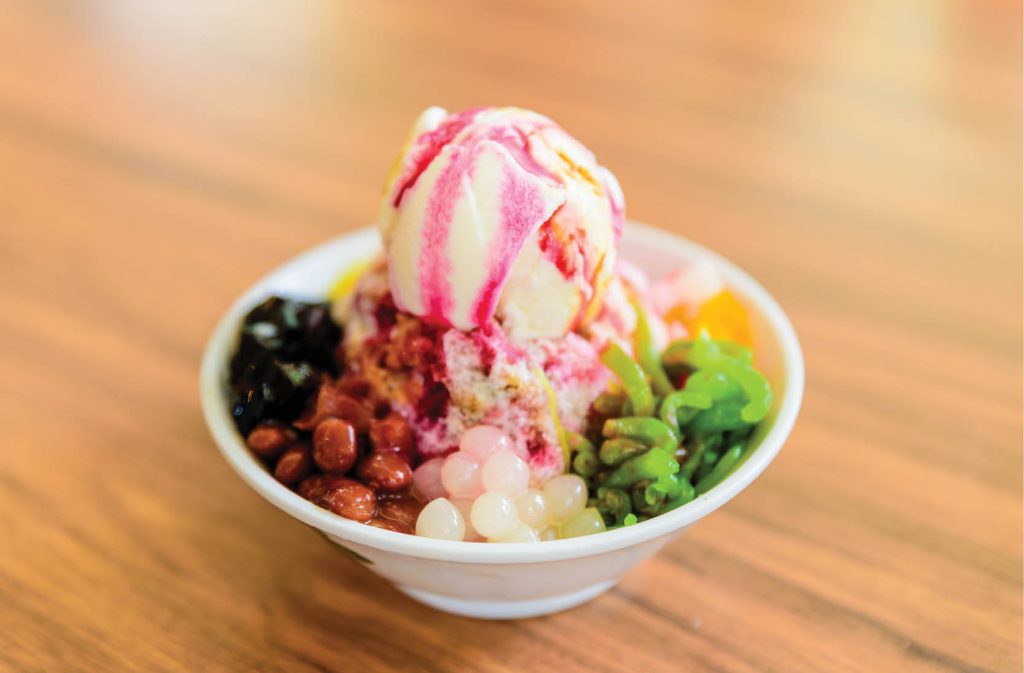 Boasting two world-class cruise terminals, Singapore is a frequent stop on itineraries that also feature exciting countries like Thailand, Vietnam and Cambodia. Here's our list for top cruise ports to pair with your journey to Singapore.
Phuket, Thailand > This island paradise, pronounced "Poo-KET," is called the Pearl of Thailand. And once you walk upon its pristine beaches and dive into its crystalline blue water, you'll understand why. Don't miss exploring the karst islands of Phang Nga Bay in a longtail boat.
Ho Chi Minh (Phu My), Vietnam > Even though many locals still call it Saigon, HCMC is a bustling metropolis where you'll find picturesque pagodas, incense-filled temples, war museums and possibly one of the most peculiar tourist attractions: a massive dragon carpet inside Independence Palace.
Hanoi (Halong Bay), Vietnam > While the manicured courtyards, the ornate shrines and St. Joseph's Cathedral stand out when you visit Vietnam's millennium-old capital, it's the cruise past the limestone cliffs of Halong Bay that will be etched into your memory forever.
Hong Kong, China > One of the most unusual and breathtaking cities in the world, this vibrant, energetic metropolis is the definition of "where east meets west." Be sure to hit the Temple Street Night Market to grab your souvenirs and take the tram up to Victoria Peak for unbeatable views of Hong Kong's iconic skyline.