David Paddison's Savannah, Georgia
Savannah is a small, distinctively southern town that has a cosmopolitan, big-city feel.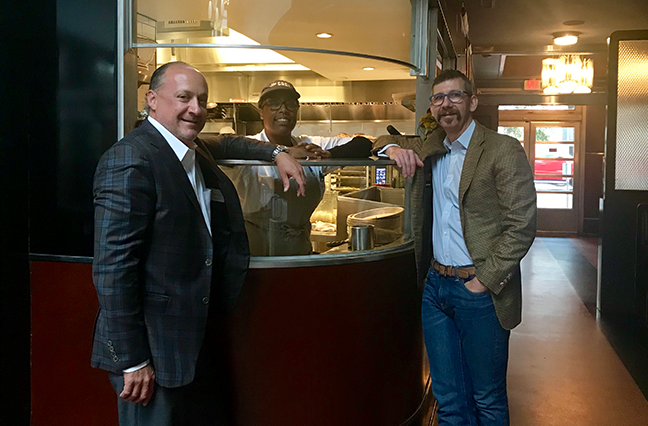 David Paddison, President of Sterling Seacrest Partners, shares Savannah's secrets.
What's to love >> Savannah is a small, distinctively southern town that has a cosmopolitan, big-city feel. We have one of the largest Landmark Historic Districts and the largest Army installation east of the Mississippi [Ft. Stewart, covering 280,000 acres]. 10,000 SCAD (Savannah College of Art and Design) students from around the globe live and study in downtown. Gulfstream Aerospace manufactures its exclusive corporate jets here, and the port is one of the fastest-growing in the world. And nearby are incredible undeveloped barrier islands and uninhabited beaches.
The book >> Midnight in the Garden of Good and Evil, or "the book" as we call it, was an interesting story that elevated Savannah's reputation as a quirky town with outrageous characters and tales. While there's an element of truth to this, what makes Savannah special is its authenticity. We are not afraid to embrace our strengths and weaknesses as a city. There is a spirit here that draws people in.
Dining scene >> From the unique Sundae Cafe at Tybee Island to ethnic restaurants like Thai fusion masterpiece The Vault Kitchen and Market and the Persepolis Lounge and Grill, which serves amazing Persian cuisine, there's something for everyone. Savannah is known for its terrific barbeque, which can be found at local notables Blowin' Smoke Southern Cantina, Sandfly Bar-b-q and BowTie Barbeque Co. Our sea-to-table offerings are equally outstanding. My favorites are Tubby's Tank House and Fiddlers Southside.
Favorite new restaurant >> The Grey. It is a marvelous re-imagination of a Greyhound bus station, and the food and service are magnificent. Mashama Bailey (routinely recognized as one of the nation's top chefs) always surprises us with her creative renditions of traditional Southern favorites. Her aged bone-in ribeye is the best I've come across. Sunday night dinner at the front bar is our family favorite, but deciding between the gourmet hamburger and the classic pastrami sandwich is always a struggle!
Classic eats >> Elizabeth on 37th in a restored turn-of-the-century mansion is hands down my favorite restaurant. My wife gets mad if I entertain here without her! The owners are there nightly to provide the type of world-class dining experience that makes you feel like royalty. I let my good friend and master waiter Kim Tuttle surprise me when I am there. She knows what I like and never disappoints.
Cocktails with clients >> We usually start at Local 11Ten, which is around the corner from our office. It features a rooftop bar, and the service is always spot on. Then, we're off to either The Grey or The Wyld, which is located on the coastal area near Isle of Hope. It's especially fun when there is a full moon and a high tide.
Stay >> With incredible furnishings and appointments, experiencing our historic district in one of the grand row houses is the way to go. I recommend a historic bed and breakfast like the Gastonian or the Foley House Inn. Our equally fabulous hotel offerings include the Mansion on Forsyth Park, the Bohemian Hotel and The Marshall House.
Don't miss >> Touring our one-of-a-kind restored historic homes in the Landmark Historic District. I'm partial to the Owens-Thomas House and the Davenport House. There are also walking tours that cover everything from Savannah's classic architecture to the story of our black heritage and the Gullah Geechee community.
Things to do >> There is always something happening no matter what time of year it is. My favorite things to do include the Savannah Music Festival in March (17 days of music from around the world in some of the most intimate venues you've ever experienced), a night at historic Grayson Stadium watching the wildly entertaining Savannah Bananas baseball team, or a world premiere at the SCAD Savannah Film Festival.
Outdoors >> Being able to enjoy the outdoors is one of the things I love about Savannah. There are plenty of golf, tennis and boating clubs. We have a vibrant running community (it's a beautiful city for running). We also have places to cycle, paddleboard, kayak and fish on the natural barrier islands of Ossabaw or Little Tybee.