Royce Cross, CEO, Cross Insurance
I think we're all Stephen King fans. First off, he put us on the map. He's been very generous.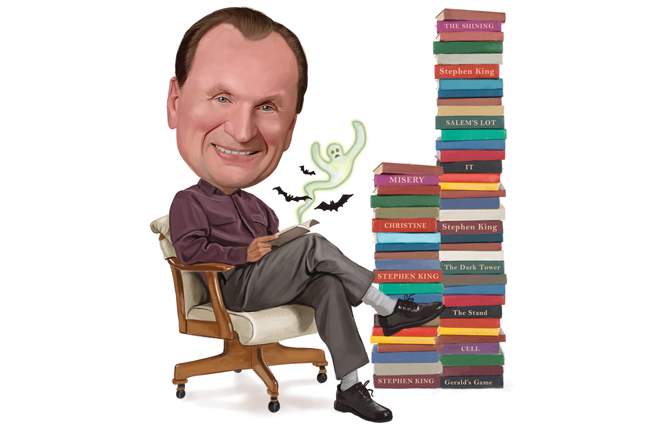 Q
Your company seems to forever be in acquisition mode. Is that true?
A
We've bought an agency every year for close to 35 years. We've purchased more than 100 agencies over the years.
Was that always the plan?
We've always found it exciting to acquire. We never had a plan that the agency would be as big as it is today. It's been opportunistic.
What's that process like? What are you looking for in a prospective acquisition?
Middle-market commercial agencies, high-net-worth agencies, surety agencies a while ago. Up until the early '90s we were purchasing agencies right here in this area. That dried up. In the first decade of the 2000s, we went to New Hampshire. In 2010 we went to Massachusetts.
Do agencies seek you out?
Constantly. We get contacted all the time. The overwhelming majority are people who seek us out.
Your father, Woodrow Cross, founded Cross Insurance in 1954. Did you always expect to work with him?
No, but I did grow up in the business. My father started it in our house. He would go out to see customers, and I would go with him. When I got my learner's permit, I would drive for him.
Did you think this was what you would do someday?
No, I didn't. After school, I had a job lined up. I was going to get married. Then I fell off a ladder and broke my heel. My dad said, "Why don't you go down to the office and try it out. If you don't like it, you can walk out." That was June 1970.
And your father still comes to work every day?
My father is 98 years old. He's at work at 7:00 in the morning and stays every day until 5 o'clock. He's the chairman of the board.
Do you expect to be doing this when you're 98?
People ask me, "When are you going to retire?" How am I going to retire? I've got a 98-year-old father here.
What was it like growing up in Bangor?
I was a World War II baby. I got new schools all the way through. Bangor was a lovely town. I delivered newspapers, caddied at the golf course, mowed lawns.
Are you obligated to be a Stephen King fan if you live in Bangor?
I think we're all Stephen King fans. First off, he put us on the map. He's been very generous on things like the hospital, the library. He also has a passion for baseball. He built a beautiful Little League stadium here in Bangor. I would match our Little League stadium against anyone's.
What do you like to do when you're not working?
When I'm not working, well, I work just about all the time. If we have a day off, I like to go down to the camp with my family. It's on Green Lake, about 12 miles away. I also work with a church youth group just about every weekend.
Your son also works with you. I would imagine not too many people work with their father, son and brother.
And nephew. Plenty of people would think I'm nuts.
How do you make it work?
We respect what each person does. I look forward to coming to work every morning. I enjoy being around my family. In our spare time, that's what we talk about. We just find it very exciting.
What's kept you in the business for so long?
I really like the people I work with. I can't imagine what I would want to do other than be in the insurance industry. I consider myself very fortunate to be in it.
What is something people you work with would be surprised to learn about you?
One thing that has surprised people about me is that I like Disney World. We've gone to Disney a lot. I took my son when he was growing up. I'd go on the rides and do everything.
How would your co-workers describe your management style?
I'd like to think they feel our company is a place where they can be creative and have a career path.
You've been in this business a long time. What do you like to pass on to others?
People come here to protect every asset they've ever accumulated. And they entrust it to us. It's a tremendous amount of responsibility. You need to take that seriously and approach the business accordingly.
What gives you your leader's edge?
A lot of times people will reach a plateau in their business. And they're content with their level of success. And that's fine—I'm not being critical of anyone. We enjoy building. I guess our leader's edge would be the size of the business and how we've grown the business. We've never leveled off, never plateaued, and probably won't.
The Cross File
Age: 63
Hometown: Brewer, Maine
Family: Wife, Louise (married 44 years); father, Woodrow; son, Jonathan (vice president at Cross Insurance); brother, Brent; nephew, Woodrow Cross II
Last Movie: "Let me tell you the next movie I'm going to see. My grandson asked me to see the new 'SpongeBob SquarePants' movie."
Wheels: 2014 Cadillac XLR