Raising Arizona
Scottsdale, Arizona is an up-and-coming wine destination.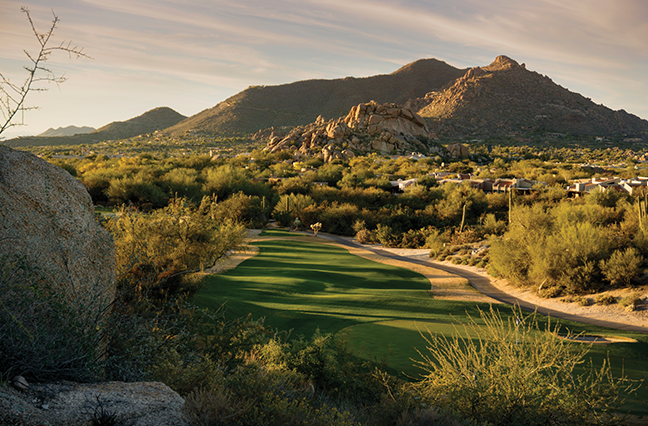 To paraphrase Lana Bortolot in her recent Wine Enthusiast article, "Raising Arizona: Outsider Wines Travel to New Heights," as producers in the sun-drenched state push the envelope with high-elevation wines, it's time to take a serious look at Arizona.
While Arizona is a relative newcomer to wine production—Gordon Dutt opened the state's first commercial winery in Sonoita in 1979—Spanish Jesuit priests actually planted the first grapes in Arizona soil when they came to the area as missionaries in the 16th century. Dutt, a scientist at the University of Arizona, conducted early research on the soils and climate zones of Sonoita, a high-altitude basin surrounded by the Santa Rita, Huachuca and Whetstone Mountains, and found them to be similar to Burgundy's conditions. Most of the more than 90 wineries in Arizona produce grape varietals from France, Italy and Spain. But Arizona wines are not "fruit forward," says Kent Callaghan, whose award-winning wines have been served at the White House. "They are dense, burly wines that age well and, in our case, need age," Callaghan. "The wines tend to be distinctive and tend to be high quality."
If you love wine and are visiting Scottsdale, you should tack on a couple of days to explore the vineyards and wineries in the Sonoita and Willcox American Viticultural Areas, most of which are just a three-hour drive from Scottsdale (see below for three more quintessential Arizona side trips you can take in three hours). But you don't need to leave the city to taste Arizona's innovative wines. The five wineries that have tasting rooms in Old Town have recently launched the "Scottsdale Wine Trail." You can download a map at scottsdalewinetrail.com. Also raising Scottsdale's profile as a wine destination is FnB, one of the city's top restaurants. Co-owner Pavle Milic's curated wine list, which includes some of Arizona's best vintages, helped FnB earn a James Beard Award nomination for Outstanding Wine Program.
In other news, Scottsdale's reputation as the posh place to stay in the Sonoran Desert is aging well. The Phoenician has completed its largest refurbishment since opening in 1988. The lobby, shops and restaurants have been remodeled, and a complete rebuild of the spa is on track to be finished by the end of December. Hotel Valley Ho just upgraded its swanky mid-century modern rooms and suites. And the Andaz Scottsdale Resort & Spa, which opened in December 2016, garnered a spot on the Condé Nast Traveler 2017 Hot List.