Printing's New Dimension
3-D printing—the next industrial revolution.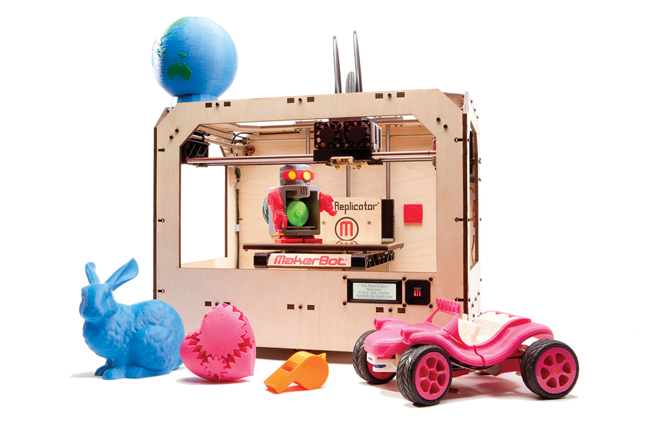 When it comes to printers, the choices have been limited to inkjet or laser, color or black-and-white.
Soon, you may have to think about whether you want just a traditional two-dimensional printer or one that adds height to length and width. Already, three-dimensional printers that create solid objects one layer at a time are being used to build models, toys and prosthetics.
In the not-too-distant future, we may be printing everything from aircraft parts, to cars, houses and human organs. Would a scale model help in getting a better deal for your client? Your 3-D printer will make one in the office from a digital design.
The widespread adoption of 3-D printing may represent the biggest change in manufacturing since Henry Ford started mass-producing Model T's. The technology, which has been developing over the last couple of decades, is also known as additive manufacturing because it builds things by adding one very thin layer at a time rather than removing material through machining.
Until now, 3-D printing has mostly been limited to building models for design and engineering shops, but that is changing rapidly. For instance, researchers at European aerospace company and Airbus parent EADS have been building prototype aircraft and bicycle components using titanium powder melted in a specific pattern with lasers one layer at a time to gradually form a complex part. The advantages include being able to build components that weigh less and use much less raw material. Three-dimensional printing can reduce the weight of aircraft components by two thirds, according to EADS, and each kilogram of weight reduction can save $3,000 a year in fuel costs,
Three-dimensional printing also makes it possible to build highly complex components that are difficult to manufacture using traditional methods, such as casting or machining. In medicine, General Electric is looking at 3-D printing to make ultrasound probes, or transducers (the part that touches your skin), which consist of a dense array of elements that convert electrical signals into ultrasound waves. Medical equipment is only the beginning as researchers look to bioprinting, or using living cells to print human tissue.
Researchers at Washington State University have used 3-D printing to create bone-like material that can be used in orthopedic procedures, in dental work and as a scaffold for new bone to grow on. In the future, 3-D printing techniques may be used to create replacement human organs. Researchers at Wake Forest have printed kidney cells into a three-dimensional prototype kidney, but much more research needs to be done before that technique is ready for functional and clinical use.
Today, 3-D printers with far more limited and mundane utility, such as creating toys and models out of plastic, are becoming more widely available. A big hit at New York's Fashion Week early this year was a pair of sunglasses printed by a device called the MakerBot Replicator which retails for about $1,800 and can print things such as curtain rings, door knobs, gifts and, of course, sunglasses. Hobby printers such as the BotMill start around $1,000, but you can spend tens of thousands more for machines from 3Dsystems and Stratasys that are meant for designers and engineers.
The market for 3-D printing is expected to grow rapidly. Sales of products made by additive manufacturing are expected to reach $3.7 billion by 2015 and $6.5 billion by 2019, according to consulting firm Wohlers Associates.
SnApp Shots
If you don't want to print objects but simply want to make digital copies of documents, your smartphone can do it for you. A variety of apps for Android and Apple smartphones let you scan documents, convert them to PDF or JPEG format and share them.
The apps work by using the phone's camera to take a picture of the document. You then define the area of the document for the scan, refine it—because it isn't all that easy to take a good photo of a piece of paper—convert it to the proper format and then save it or share it.
Features to look for include the ability to scan multi-page documents as well as whiteboard notes and business receipts and to share documents via email or cloud services such as Dropbox, Google Docs and Evernote. Look for the apps in Apple's iTunes store or Google Play. Some highly rated apps include:
DocScanner, Android,
Apple, $3
Handy Scanner, Android,
free, Pro version $4
Jotnot Scanner Pro,
Apple, $2
Document scanner,
Android, $4
Scanner Pro,
Apple, $7
Tweets We Like
Hagerty (@hagerty)
Westfield Insurance (@WestfieldIns)
The Graham Company (@THEGRAHAMCO)