Phil Collins
SIUs and creepy tin clowns—the colorful side of insurance.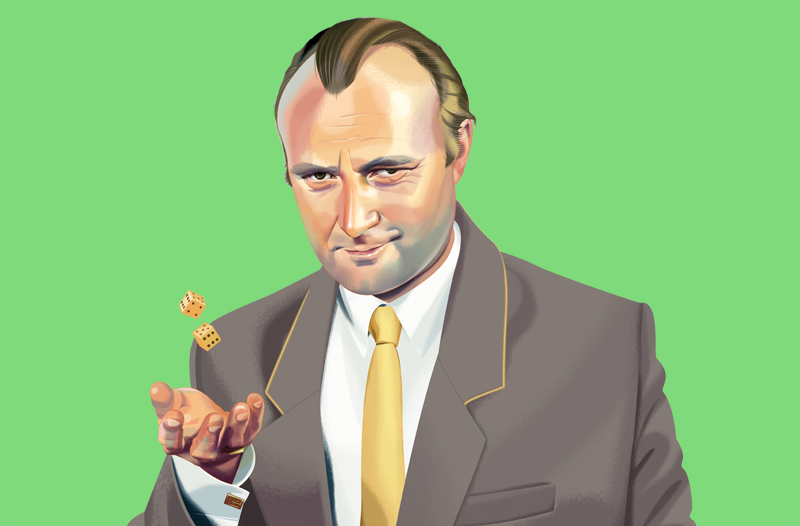 The typical cinematic insurance man is, let's face it, a nerd.
That's not at all true of Roland Copping, the insurance investigator in Frauds, a bizarre 1993 film that almost won the Cannes Film Festival top prize that year. Copping is a snappy dresser, a sadistic prankster, and an evil presence who lets clients get away with insurance fraud but blackmails them ever after from his lurid fun house, populated by creepy tin clowns.
The colorful investigator is artfully played by Phil Collins, yes, that Phil Collins, no nerd himself: frontman of the music group Genesis, a member of every musical Hall of Fame, and the second wealthiest drummer on Earth after Ringo Starr. But Collins, the son of a hopefully more honest British insurance agent, was first trained as an actor, tackling the Artful Dodger in Oliver at the age of 13. As a writer, drummer and singer, he has since collected eight Grammy Awards, two Golden Globe Awards, and one Academy Award for composing "You'll Forever Be in My Heart" for the 1999 film Tarzan.
Now 70 and thrice divorced (with five kids, including actress Lily Collins), he is charging through some mechanical failures. Spinal surgery left him with one dropped foot and a left hand which can no longer hold a drumstick. Feeling decrepit, he retired in 2011, but that didn't stop him from suing Donald Trump last year for the ironic and unauthorized use of "In the Air Tonight" at a mask-free rally or from publishing his aptly named autobiography, Not Dead Yet.
His silky tenor is still intact, and he recently ended retirement and reunited the original members of Genesis for the third time, passing the drumsticks on to his son Nic. In November of this year, he opens the American leg of a new Genesis tour in Charlotte, North Carolina.