Lisa Hawker, Executive Vice President, Employee Benefits Practice Leader, The Hylant Group
I'm a total tree hugger. I have a degree in biology and did master's work in environmental science.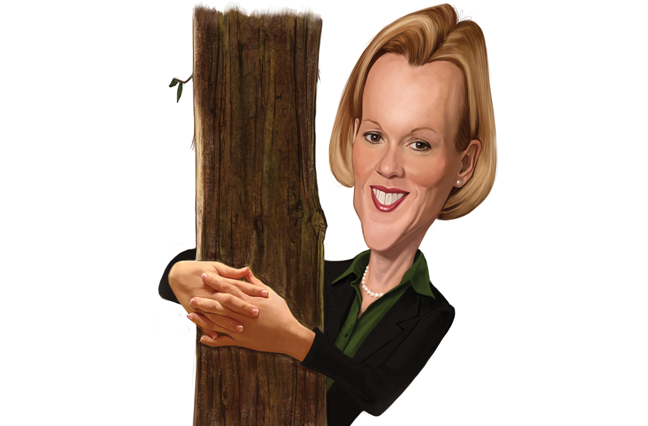 Q
Tell me a little about your business.
A
Hylant is a 78-year-old, family-owned, multi-line insurance agency. We have 14 offices throughout the Midwest and South. Our revenue is nearly $100 million, and we have almost 650 employees.
How did you get into the business?
Through my father-in-law, Bob Hawker. My first job in the business was to redesign a benefits proposal system. That's how I learned the technical side of the business, and Bob was a tremendous mentor in teaching me how to take incredibly complicated concepts and distill them down to something the client could understand. I then spent five years at Marsh during a time of significant transition, and in 2003 I gave birth to preemie twins. It was just a tumultuous time professionally and personally. With the combination of a desire to get back closer to family and the business challenges that were looming within Marsh, I received a call from Hylant. It was just perfect timing.
How premature were your babies?
I was 27 weeks pregnant, so my kids were born 13 weeks early. They spent 71 days at the Cleveland Clinic Neonatal Intensive Care Unit. It's impassioned me to become involved with the March of Dimes.
What do you do with the March of Dimes?
Since 2007 I've been the board chair for the Northwest Ohio division. I took over as Ohio chapter chair on January 1. March of Dimes does research, education and advocacy. So much of my twins' success is attributed to their work. Once I started to learn about all of the things that the March of Dimes did that directly affected my children, I realized, quite frankly, that my twins wouldn't be here without the March of Dimes.
How are your kids doing?
They are fantastic! They will turn 10 this year. They are the epitome of the work that the March of Dimes does.
Thirteen weeks early, sounds real early.
To give you perspective, my daughter weighed 1 pound, 11 ounces, and my son weighed two pounds, six ounces. Neither was even 12 inches long.
That must have been frightening.
It was definitely a very scary time, almost surreal.
Was it a life-threatening situation?
It was. My daughter was in a trauma state—both of them were, but her specifically, when they were born. My daughter had heart surgery at five days old. That's nothing that you ever imagine happening to you. I'm glad that we can tell a good story about the March of Dimes and the impact they're having on the lives of children everywhere.
What do you do in your down time?
At this point my hobbies revolve around my children. The whole family skis and snowboards.
I'm guessing not in Ohio. Where do you go?
Holiday Valley, New York, about an hour from Buffalo, in a little town called Ellicottville.
Do you have a favorite author?
At one point, I would probably have said George Orwell or Kurt Vonnegut. These days I'm reading health care reform journals—they're a lot more boring. Either that or I'm reading Harry Potter out loud to my kids.
What is something people would be surprised to learn about you?
Probably that I'm a total tree hugger. I have a degree in biology and did master's work in environmental science. I did wildlife rehabilitation for almost a year in Naples, Florida, at the Conservancy of Southwest Florida. I never thought that from 1996 to today I would spend all that time in insurance. But I absolutely love it.
What do you love about it?
The challenge. It's so intricate and complicated. The ability to walk clients through complex legislation or the strategy of how to help their employees brings an amazing sense of purpose. I'm kind of a geek when it comes to that stuff.
If you could change the industry, what would you do?
We need more collaboration, especially in health care. It's a very dysfunctional environment we have right now—from a political standpoint and from an industry standpoint.
What gives you your leader's edge in this industry?
I think its flexibility, that ability to look at things from a different angle. Sometimes I'm too out there. Sometimes people have to grab me by the ankles and pull me out of the stratosphere.
The Hawker File
Age: 40
Hometown: Perrysburg, Ohio
Family: Jon (married 15 years in September); children: Katelyn and Jackson, both 9
Last Book Read:Extraordinary Ordinary People: A Memoir of Family, by former Secretary of State Condoleezza Rice ("I thought it was fantastic. I've always had tremendous respect for her.")
Wheels: 2009 Nissan Rogue ("I will eclipse 100,000 miles in three years.")