Over-The-Rhine
Cincinnati's Over-the-Rhine district has emerged from near desolation.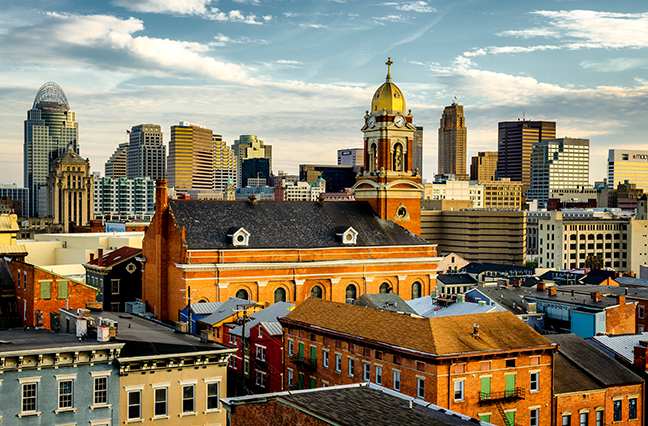 "In its distinctive ambience, we may compare Over-the-Rhine to New Orleans's French Quarter, New York's Greenwich Village, Washington's Georgetown, Philadelphia's Society Hill, even to Boston's Beacon Hill.
Except for Over-the-Rhine, each of these districts now constitutes a focal point of its city, a source of its urban pride. They were all slums once." John Clubbe wrote this in his 1992 book, Cincinnati Observed: Architecture and History. Once a bustling neighborhood of German immigrants and a treasure of 19th-century brick Italianate and German revival architecture, Cincinnati's Over-the-Rhine had fallen into decay, socially and literally, by the early 1990s. It had a reputation as one of the most dangerous places in the United States and was named one of the 11 "most endangered" places in the country by the National Trust for Historic Preservation.
In 2003, recognizing "the whole city has a stake in Over-the-Rhine," Mayor Charlie Luken and leaders of the corporate community formed the Cincinnati Center City Development Corporation, a private, nonprofit, real-estate development and finance organization. Since then, more than a half-billion dollars has been invested or leveraged in OTR, as the neighborhood is known, rescuing historic buildings, rehabilitating parks and developing vacant lots. "Cincinnati's chief claim to urban distinction," as Clubbe called it, is once again a source of urban pride.
Over-the-Rhine is a livable community with a ton of cool things to do. Stop for a coffee at Collective Espresso, which sources beans from the best roasters in the country. Eat old-fashioned donuts made from scratch at Holtman's Donuts. Shop the art galleries and boutiques (this summer Over-the-Rhine Premium Cigars opens, stocking, among others, the IBold, a historic Cincinnati brand known as the working man's cigar). Wander the foods stalls at Findlay Market, the oldest public market in Ohio, which offers plenty of enticing places to grab lunch. Dine at some of the city's most popular restaurants helmed by its hottest chefs (see Please, Sartre and Salazar below). Have an IPA at Rhinegeist, a craft-beer hall housed in the former bottling plant of Christian Moerlein Brewing Co. Sip a cocktail at Sundry and Vice, a turn-of-the-century apothecary-themed bar. Enjoy a glass of wine at Revel Urban Winery, produced in-house and served in a jelly jar, just like in the old country.
OTR is now the cultural heart of Cincinnati, too, many thanks to Ensemble Theatre Cincinnati. The theater, which produces world and regional premieres of works that often explore social issues, "remained an unwavering anchor despite offers to relocate and instead championed the renaissance of Over-the-Rhine," its website says. In 2017, it was joined by the restored-to-former-glory Music Hall, a high-Victorian, Gothic-revival style building that is home to the Cincinnati Symphony Orchestra, Cincinnati Pops Orchestra, Cincinnati Ballet, and Cincinnati Opera. The same year, Cincinnati Shakespeare moved from downtown to the modern new Otto M. Budig Theater, across from Washington Park, where all seats are less than 20 feet from the stage.
At Washington Park, join locals any day of the week for outdoor workouts and yoga and most days in summer for live concerts and open-air markets. All of this fun is just a 20-minute walk from downtown—less if you hop on a Red Bike rental bicycle or take the Cincinnati Bell Connector, an electrified streetcar.