Out of Africa
African safaris can make you feel alive while helping with local conservation.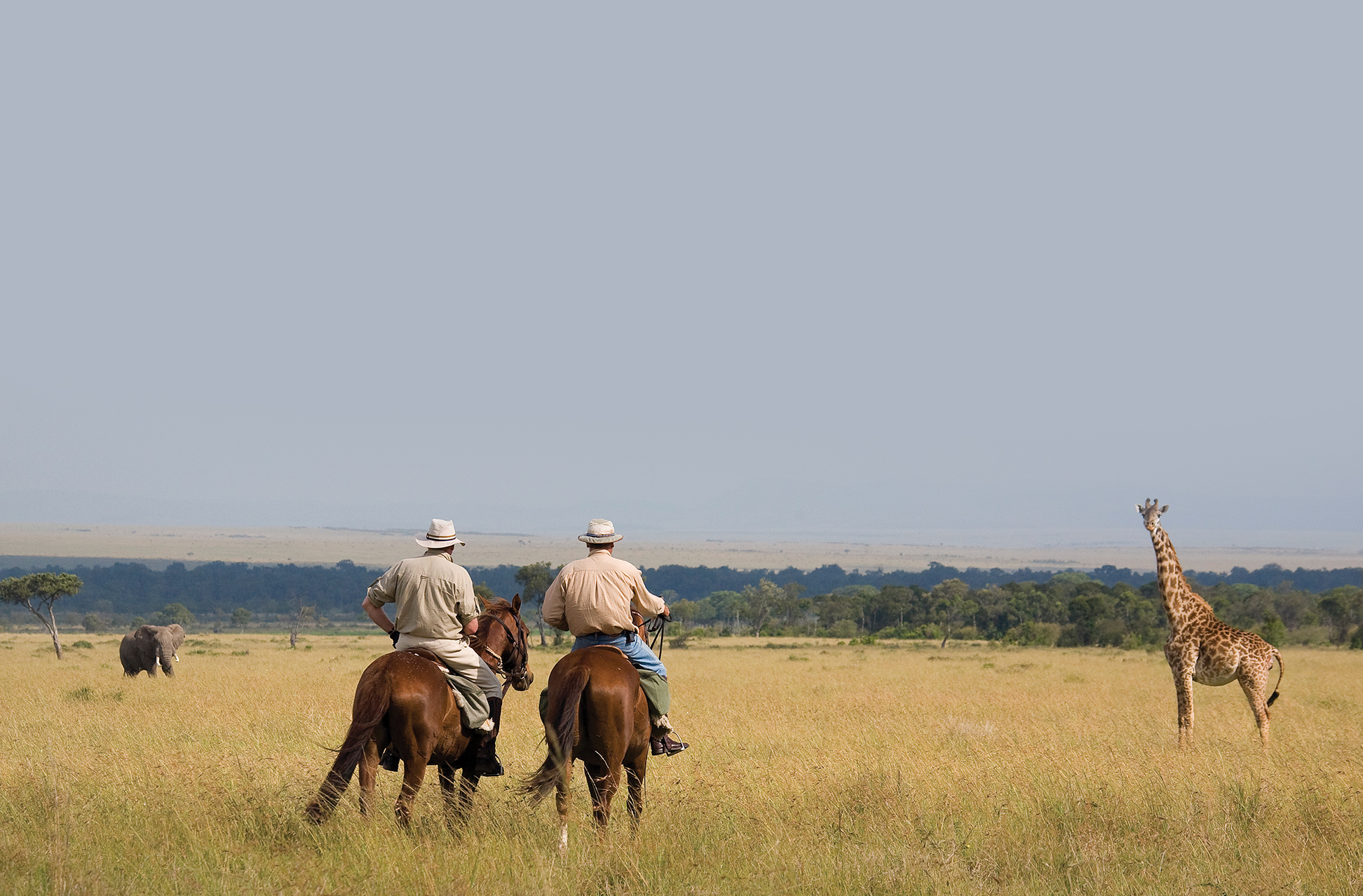 "There is something about safari life that makes you forget all your sorrows and feel as if you had drunk half a bottle of champagne—bubbling over with heartfelt gratitude for being alive." —From Out of Africa by Karen Blixen
Galloping across the plains of the Masai Mara in Kenya on a horse marginally less wild than the thousands of wildebeest, zebras and gazelles racing beside you, hooves thundering, kicking up clouds of dust, certainly makes you feel alive. Upon arrival back into camp, a gin and tonic awaits you at the bar set up under the spreading acacia tree. A chill sets in as the sun goes down. At dinner, you savor several courses you might find at a posh London restaurant, a copious amount of wine, and a spirited discussion of the day. Stars sparkle from horizon to horizon as you set your boots outside your tent to be shined before retiring, falling asleep to the roar of a lion, sleeping like the dead until a friendly voice wakes you in the morning,
"Maji ya moto," Swahili for "hot water." Another day on safari begins.
A horseback-riding safari with Equitours, on which you ride from one remote tented camp to the next, is like a scene from Out of Africa, the movie based on Blixen's life. It is one of the more adventurous ways to witness the Great Wildebeest Migration, explore the surreal landscapes and meet the majestic people of East Africa. But the continent and an elite group of outfitters offer as many exhilarating ways to experience Africa as there are habitats and wild animals. Deep in the bush, watch trees full of monkeys playing at Nomad Tanzania's Sand Rivers Fly Camp in the Selous Game Reserve. Gain an understanding of elephant conservation by joining the Abu Herd at Wilderness Safaris' Abu eco-lodge in Botswana's Okavango Delta. Tick off the Big Five—lion, leopard, rhinoceros, elephant, Cape buffalo—in just a few days from an open-air Land Rover in South Africa's Kruger National Park, using the luxurious Tanda Tula Safari Camp as a base.
Deciding where to go—Kenya, Tanzania, Botswana, South Africa—where to stay—luxury lodges, remote bush camps, under canvas—and how to travel—by horse, Land Rover, foot—will depend on your personal interests, level of comfort and sense of adventure. But one thing is certain: whether you are flying from lodge to lodge in Botswana or exploring private conservancies in "old Africa" while bumping along in a four-wheel-drive vehicle, as Blixen wrote in Out of Africa, "You know you are truly alive when you're living among lions."