Our Washington, D.C.
We couldn't resist tapping into our own local experts to cap off our coverage of Washington, D.C.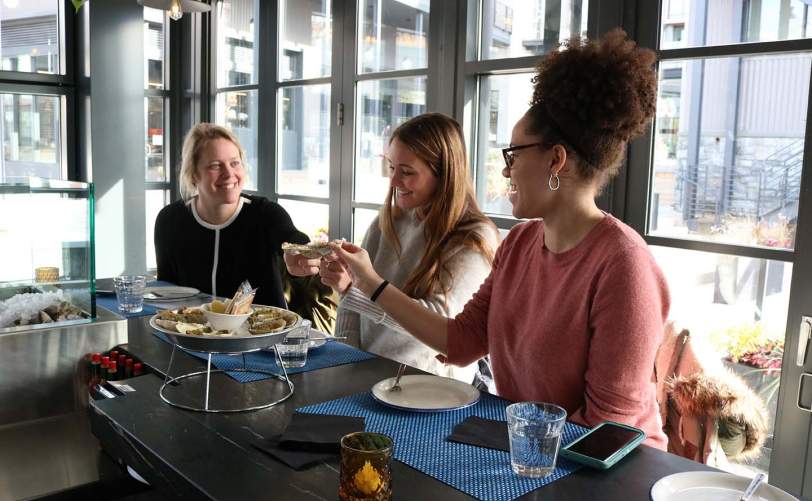 They'll tell you where to go and what to get there. This is your insider list for your next visit (in no particular order). —Editor
Bistro Cacao >> One of D.C.'s finest and niche French restaurants.
Mari Vanna >> Serious Russian dishes both bitter and sweet.
Comet Ping Pong >> Hand-crafted pizza and an assortment of ping pong tables
Penn Quarter Sports Tavern >> A quick meal before attending a sporting event (or even to watch an event there). I just love their fried Brussel sprouts.
The Source >> Layer carrot cake with ginger ice cream. Very thinly sliced and plenty to share.
The Smith >> Grilled chicken sandwich on a sesame baguette with all the works. A meal in itself and absolutely delectable.
Founding Farmers >> Chicken and waffles with homemade syrup. Must leave room for their kettle popcorn.
Tosca >> Outstanding scallops and pasta.
Sticky Fingers >> Infamous bakery treats as well as unforgettable vegan alt-tuna melt and black bean and green chili.
China Chilcano >> Funky, comfortable, artsy fartsy. Try the yummy citrusy Pisco Sour, Aeroporto (a noodly bunch of stir fired veggies with a bite of garlic and spice) and Passion Fruit Chicha Morada.
Beau Thai >> Voted D.C.'s best Thai (casual spot with the best drunken noodles).
Jaleo >> Great Spanish tapas and the perfect G&T.
All-Purpose Pizzeria >> Go-to spot for gourmet pizza and a glass of wine.
Etete or Chercher >> Where to dine on D.C.'s great Ethiopian cuisine.
BToo >> Contemporary Belgian with mussels and waffles.
Barcelona >> A happening cocktail place with a fire pit on the patio.
San Lorenzo >> Superb veal cheeks & polenta.
Tryst >> Best coffee and casual atmosphere with live music in the evening.
Bistro Boheme >> Authentic Eastern European cuisine.
Doi Moi >> Modern take on Asian favorites; anything with caramel fish sauce is a must.
Tabard Inn >> Drinks in front of the fire in the old hotel lobby or dinner in the back.
Estadio >> Spanish tapas, wine or Europe's football—you choose.
S
Tune Inn >> Hands down the best dive bar on Capitol Hill for reasonably priced beer and late night, greasy eats (they have tater tots!).
Indigo >> Hidden gem in NoMa that may have the best and most affordable Indian food I've ever had (don't tell Rasika).
Biergarten Haus >> The most dog-friendly establishment in D.C.!
Trusty's >> Another hidden gem on Capitol Hill that has the best burgers, board games and craft beer (a Hipster's paradise).
Rasika >> For something unique—fried spinach and black cod.
Jack Rose >> Best bourbon spot.
Oyamel >> Best ceviche.
Chez Billy >> For dinner followed by Bar Au Vin by the fire…best date night.
Le Diplomat >> BEST brunch EVER.
Trump Old Post Office >> Excellent whiskey and Kansas City steak. And don't miss the maple-encrusted bacon on a clothesline.
Martin's Tavern >> (Georgetown) John Kennedy's old digs—a historic haute pub that never got old.