Norway: Natural Wonders, Country Traditions, and City Life with Vibes
This long slice of Scandinavian heaven is worth your attention.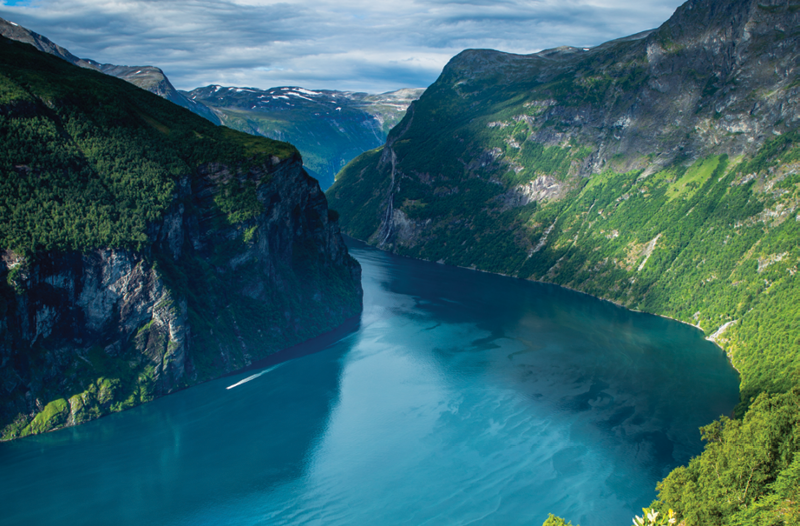 Norway has the same problem as Moe from the Three Stooges, Athos from the Three Musketeers and Ned Nederlander from the Three Amigos.
It's more often thought of as part of a trio of nations—together with Sweden and Finland—instead of a separate entity worthy of your wanderlust.
When to go: The main season runs from May to September, with large crowds in June and July. Early and late in the season, it's easier to find a little peace, but the weather may be less than ideal.
Currency: 1USD ($) = 10.67NOK (kr)
Language: Official languages are Norwegian, Sami and Kven, though English is widely spoken
Companies to consider: Hurtigruten—sailing the Norwegian coast since 1893
Let's set the record straight: Norway is a giant of a destination, one filled with staggering beauty and engaging culture. Its cities are cosmopolitan mazes, where cafés and art galleries are discovered around every corner. Its villages are lovingly nestled on crystal bays, each one boastful of a proud seafaring tradition that extends back to the 8th century. And its natural beauty is everywhere and inescapable, punctuated by mountainous valleys patiently carved by imaginative glaciers.
In short, Norway is a pleasure to visit, explore and experience in your own, personal way. This long slice of Scandinavian heaven is one of the safest countries in the world, where even the wildlife would never harm you (except, maybe, the polar bears on the islands of Svalbard). English is commonly spoken, Tex-Mex is widely available for those who cannot stomach fermented fish, and hiking trails will raise your spirits as well as your heartbeat. Keep reading to discover a few highlights from a country filled with them.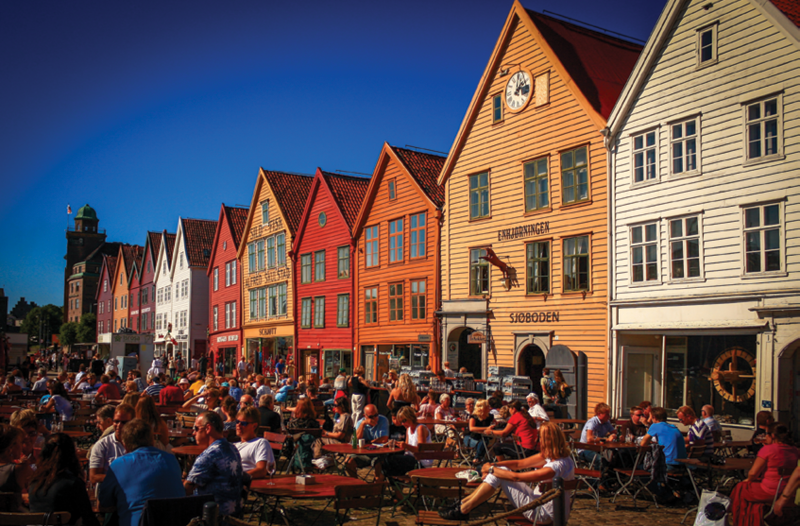 Inspiring Cities
Your first impression of Norway will be through its cities, most likely starting with Oslo. Luckily, Norway's capital is one of the most walkable cities in the world, making it easy to explore from multiple points. Along Oslo's waterfront, you can walk more than six miles without any obstacles or detours, all while enjoying a peaceful fjord on one side and landmarks and food trucks on the other. On this stroll along the harbor promenade, keep your eyes peeled for the Ingrid Alexandra Sculpture Park, watch the changing of the guard at 1:30 p.m. at the great Royal Palace, catch the reflection of the grandiose Oslo Opera House in the waters, and visit the new waterfront museum dedicated to the art of Edvard Munch called, predictably, Munch.
Another long walk from the famous tiger statue in front of Oslo Central Station down to the Renzo Piano designed Astrup Fearnley Museum is filled with unique city wonders. You'll pass the new Deichman Bjørvika, quite possibly the most stunning public library in the world, you can explore the fjord like a true Viking in a traditional Norwegian rowboat, and you can spend some quality time sweating wondrously at the Oslo Fjord Sauna.
For another take on Nordic city life, check out the city of Bergen, located due west of Oslo in the heart of the fjords. Set on the country's western coast, Norway's former capital is surrounded by jagged mountains and some of the country's deepest fjords. While a flight from Oslo will have you touching down in Bergen in less than an hour, consider taking the Bergen Railway instead; this seven-hour journey is considered one of the world's most beautiful train rides, whisking you across one of Europe's highest mountain plateaus and through some of the country's most astounding landscapes.
Once in the city, your first goal is to stroll through Bryggen, a historic Hanseatic wharf that is now a UNESCO World Heritage site. This celebrated relic from when Bergen was a central hub for trade between Norway and Europe is filled with colorful red, yellow and pink buildings now housing restaurants, museums, shops and galleries. For the most wow-worthy view of the wharf—and the entire city—you'll need to go up. Bergen is surrounded by seven mountains and is best appreciated from above. The easiest to summit is Fløyen, just a mere 1,050 feet above sea level and reachable by a six-minute ride on the Fløibanen funicular. For the highest view, take a cable car up 2,110 feet to the top of Ulriken, a "peak" experience with views overlooking the sea, islands, mountains and fjords.

Falling for the Fjords
A fjord is something most people can vaguely picture, but once you experience one up close, you'll realize how truly awe-inspiring they are. Slowly carved by artistic glaciers eons ago, fjords are where the mighty mountains of ice cut deep into the land below sea level, allowing the ocean to fill the space upon its leisurely retreat. The resulting landscape is a series of grand, sweeping vistas full of surreal viewpoints and jaw-dropping waterfalls.
Norway is fjord heaven, and they're all uniquely majestic, though there are a few you simply can't miss. Located in the southwestern part of the country, the Lysefjord, or "fjord of light," is quite popular thanks to two well-trodden hikes—one that takes you to a flat rock jutting out of the cliffside called Pulpit Rock (made famous in Mission: Impossible – Fallout) and the other a 3,500-foot ascent to a famous boulder wedged high above the fjord, called Kjeragbolten. Those brave enough to stand upon the boulder can get a photo they'll use as their main profile pic for the next decade.
The second-longest fjord in Norway, stretching about 111 miles just south of Bergen, is the Hardangerfjord, home to epic kayaking, intense hiking and the impressive 475-foot-high Vøringsfossen waterfall. As for the largest of these inlets, that would be the Sognefjord, "the king of the fjords." According to UNESCO, the landscape around the fjord is "among the most scenically outstanding anywhere," and they know their business. The best way to explore is to settle along the north shore in either Balestrand or Fjærland, both charming villages where you can ride bikes or take boat rides through the fjord to appreciate its grandeur.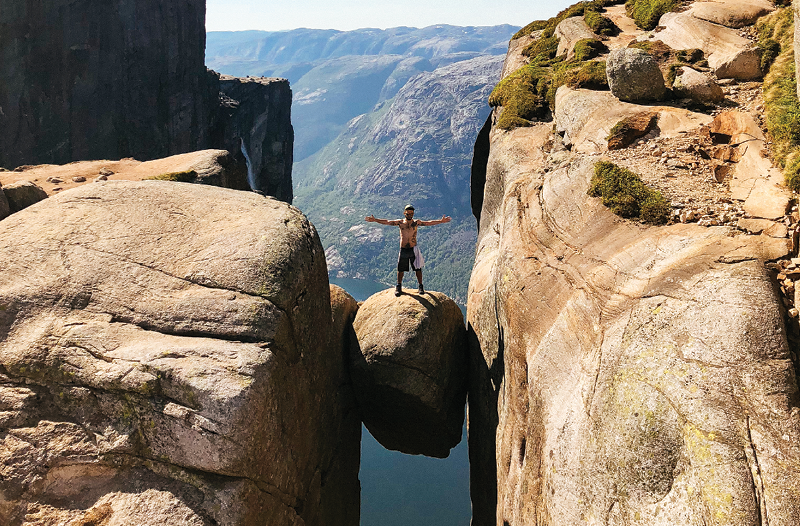 Lighting It Up
Norway's most unique attraction is not a fjord or a city but light itself. In fact, in the northern town of Tromsø, located hundreds of miles within the Arctic Circle, the light doesn't go away for several months of the year. That's because from late May to late July, Tromsø is illuminated by the midnight sun, a perpetual barrage of sunlight from a yellow dwarf star that just doesn't want to call it a day.
The ever-lit skies not only have a way of uplifting everyone's spirits but also give locals and visitors alike a chance to embark on some unique adventures. Runners come here for the Tromsø Midnight Sun Marathon, which begins at 12:30 a.m. and races until breakfast time. And golfers enjoy teeing off throughout the night at courses that stay open 24 hours. Not only do they need to steer clear of the bunkers; they must also avoid the reindeer that often mosey onto the fairways.
When the sun does eventually set and the night's dark canopy claims the sky, another kind of light show often begins. This one is caused by electrically charged particles from the sun colliding with the earth's atmosphere, creating undulating ribbons of green, blue, red and violet that ignite across the heavens, casting colorful reflections against the white snow and rocky peaks around you.
The celestial ballet is better known as the Northern Lights or Aurora Borealis, and they're spotted with great regularity between September and March, when northern Norway is dark from early afternoon until late morning. It's best to travel beyond the city to watch the dazzling display, as far away from light pollution as you can comfortably achieve via snowmobiles, dog sledding or more conventional means. Some hotels even have a wake-up service that will call your room in the middle of the night when the lights erupt, making sure you don't miss, quite possibly, the greatest show on earth.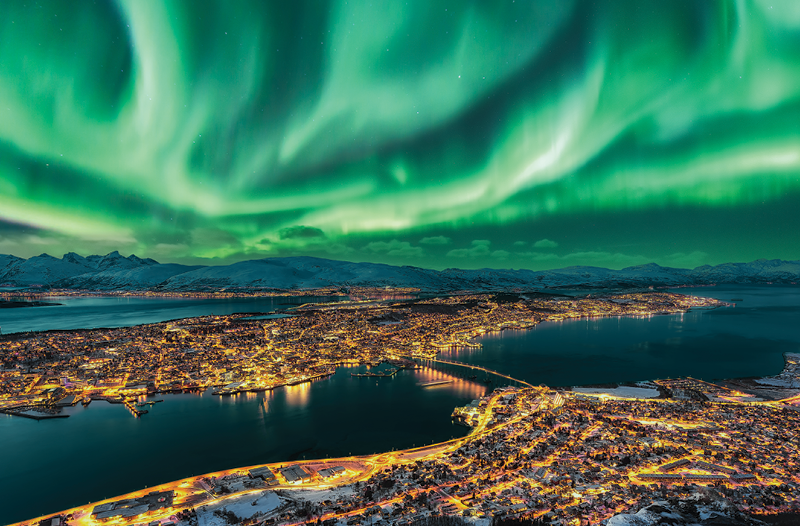 Tasty Treats
Once reliant on reindeer, elk, bear and whale, Norway's culinary scene has branched out to embrace fresh, local ingredients along with some of the highest-quality seafood you'll ever taste. The result is simple food that's both hearty and delicious. Here are some favorites to try.
Rommegrot > A rich porridge made from natural sour cream, it is drizzled with butter, flavored with brown sugar and cinnamon, and served with cured meat.
Brunost > This caramelized brown whey cheese, a little like savory dulce de leche, is traditionally cut into wafer-thin slices and eaten on bread or used to season finnbiff (venison stew).
Torrfisk > Also known as stockfish, this is unsalted whitefish that has been hung outside or air-dried on wooden racks along the coastline.
Kjottkaker > Flatter and more spiced than its rival, the Swedish meatball, kjottkaker is typically fried and accompanied by gravy, boiled potatoes and creamed peas.
Polse i lompe > These hotdogs served in a potato-based tortilla are Norway's fast food of choice. On average, locals eat 100 apiece every year.
Trollkrem > This heavenly concoction of lingonberries, sugar and egg whites whipped to stiff, creamy peaks can also be given an adult twist with a dash of akvavit.
Cruise Corner
Unsurprisingly, the best way to see the fjords and charming seaside villages of Norway is by water. Coastal ferries will give you a few hours of neck-craning sightseeing, but a multi-night cruise on a smaller ship provides a fuller, well-rounded appreciation of this unbelievably beautiful coastline. Here are a few stops you might encounter along the way.
Ålesund, Norway > One of Norway's most beautiful places to visit, Ålesund blends art nouveau with a gorgeous natural setting of mountains, fjords and sea. The town is a gateway to Geirangerfjord, a UNESCO-listed fjord framed by snow-capped peaks and rushing waterfalls.
Kristiansand, Norway > They call Kristiansand the smiling capital of Norway because there's a lot here to smile about. The streets are lined with charming wooden houses and quirky little shops, and it even has fine-sand beaches lined with palm trees.
Stavanger, Norway > This vibrant university town is home to an eclectic collection of merchant shops, historical museums and trendy cafés. On a cruise stop here, most enjoy an easy hike to Pulpit Rock to enjoy stunning views of the Lysefjord.
Molde, Norway > "The Town of Roses" is a charming city filled with blooming gardens and jazz music. Hike up to the Varden Viewpoint to enjoy what's called the Molde panorama, a scenic viewing spot where you can see 222 snow-capped mountains.