Nezih Hasanoglu Jr.
Chief Growth Officer, M3 Insurance, Milwaukee, Wisconsin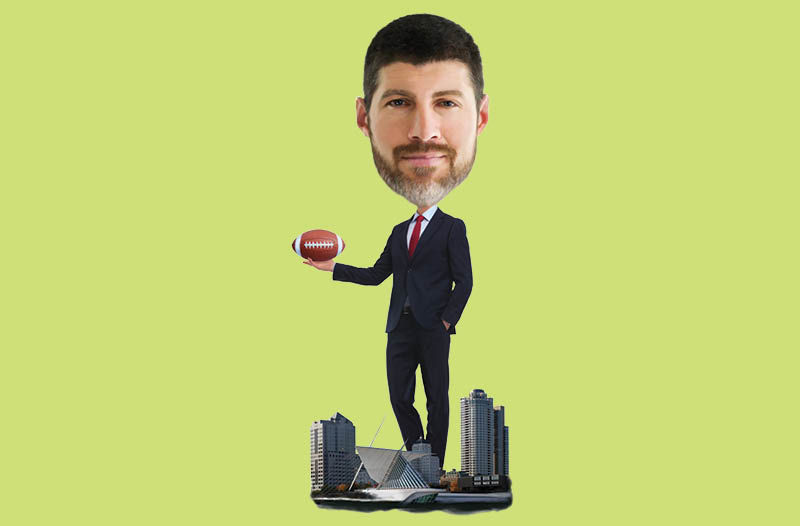 "To some degree, football allowed me to prepare competitively for the career that I ultimately got into."
Q
You didn't pick up a football until you were a sophomore in high school, yet you got a full ride to play wide receiver at Vanderbilt. How does one get so good so fast?
A
My father came over to the states as an immigrant from Istanbul, Turkey. Obviously, in Europe, soccer is a very huge sport. So I played soccer for most of my life. When I got to high school, they kept asking me to try American football. I had a quick conversation with my father, who recommended that I give it a try. I happened to be good at it and was fortunate enough to receive a couple offers. Vanderbilt is not only in a highly competitive conference, but, more importantly, it's a fantastic academic university.
Favorite Vacation Spot: Turks and Caicos ("I'm a big scuba diver, and they've got fantastic scuba diving.")
Favorite Season in Wisconsin: Fall("We get some tremendous color in Wisconsin. It's a really refreshing time in the state.")
Favorite Wisconsin Sports Team: "I'm going to say the Bucks, although we didn't meet expectations this year."
Favorite Musical Group: Dave Matthews Band ("We got to hang out with Dave for a little bit after a concert in 2003. My wife was in the music business at the time, so she was able to get us some backstage passes. I've got high expectations now.")
Favorite Movie: The Gladiator
Favorite Documentary Series: Formula 1: Drive to Survive
Favorite Actor: Tom Cruise ("Old school and does all of his own stunts.")
Three Favorite Places To Take Out-Of-Town Visitors: A Bucks game, the Milwaukee Zoo, The Legends Club for Golf.
Q
It's got to be tough when you play the likes of Georgia, Alabama, Florida and Auburn each year.
A
You could not take any days off. It required a tremendous amount of preparation and focus.
Q
Do you think you take anything from your football experience into your business career?
A
We're in a very competitive industry. I was able to carry over that preparation into my insurance career. To some degree, football allowed me to prepare competitively for the career that I ultimately got into.
Q
You mentioned your dad was an immigrant from Istanbul. Have you been to Turkey?
A
I've been to Turkey several times. I have one uncle who lives there now. It's a phenomenal city. We often catch a soccer game or two when we go back. It's one of my favorite cities in the world.
Q
What would an East Coaster like me most likely get wrong about Wisconsin?
A
It's a very hospitable state. I think of Milwaukee, specifically, as an underrated city. It's got a lot to offer the young professional. It's got major sports teams. It's got a great art scene, great restaurants, and one of the largest music festivals in the world with Summerfest. I think it's definitely worth checking out.
Q
Dale Van Dam, a friend of your father, got you into this industry. Tell me about him and his influence on your early career.
A
There's a lot of great things I can share about Dale. Dale had been tapped to develop our Milwaukee office, and he quickly went on to grow that office. When I started, I got to spend a lot of time in the field dealing with customers and prospective customers and carriers with Dale. So I had a front-row seat with someone who was highly respected not only in the community but in the industry. I got to learn a lot from Dale, in sales and in life.
Q
You've been in the business for nearly 20 years. What has kept you in the industry?
A
The insurance industry is extremely dynamic and intellectually stimulating, and that intellectual stimulation has kept me very interested. You couple that with being part of a company that has a great culture and is continuing to invest and continuing to grow at a rapid pace—that keeps things pretty exciting.
Q
How would your co-workers describe your management style?
A
If I had to pick a word: collaborative.
Q
If you could change one thing about the industry, what would it be?
A
To become licensed in our industry takes, like, a week. I would look to make the licensing requirements lengthier and more formal. I think that could provide some benefit to the overall industry.
Q
What do you think gives you your leader's edge in this industry?
A
No matter what scenario I'm faced with, I try to start from a baseline of is there a model or a template that we can use to build off of. I think that's what gives me my edge. The ability to fall back on a model or a template to start to make decisions from—I think that's important and sometimes underestimated.