Matt Gardner, Founder & CEO, Patriot Growth Insurance Services
"The Latin and Greek roots of the word 'patriot' are both related to the word 'father.'"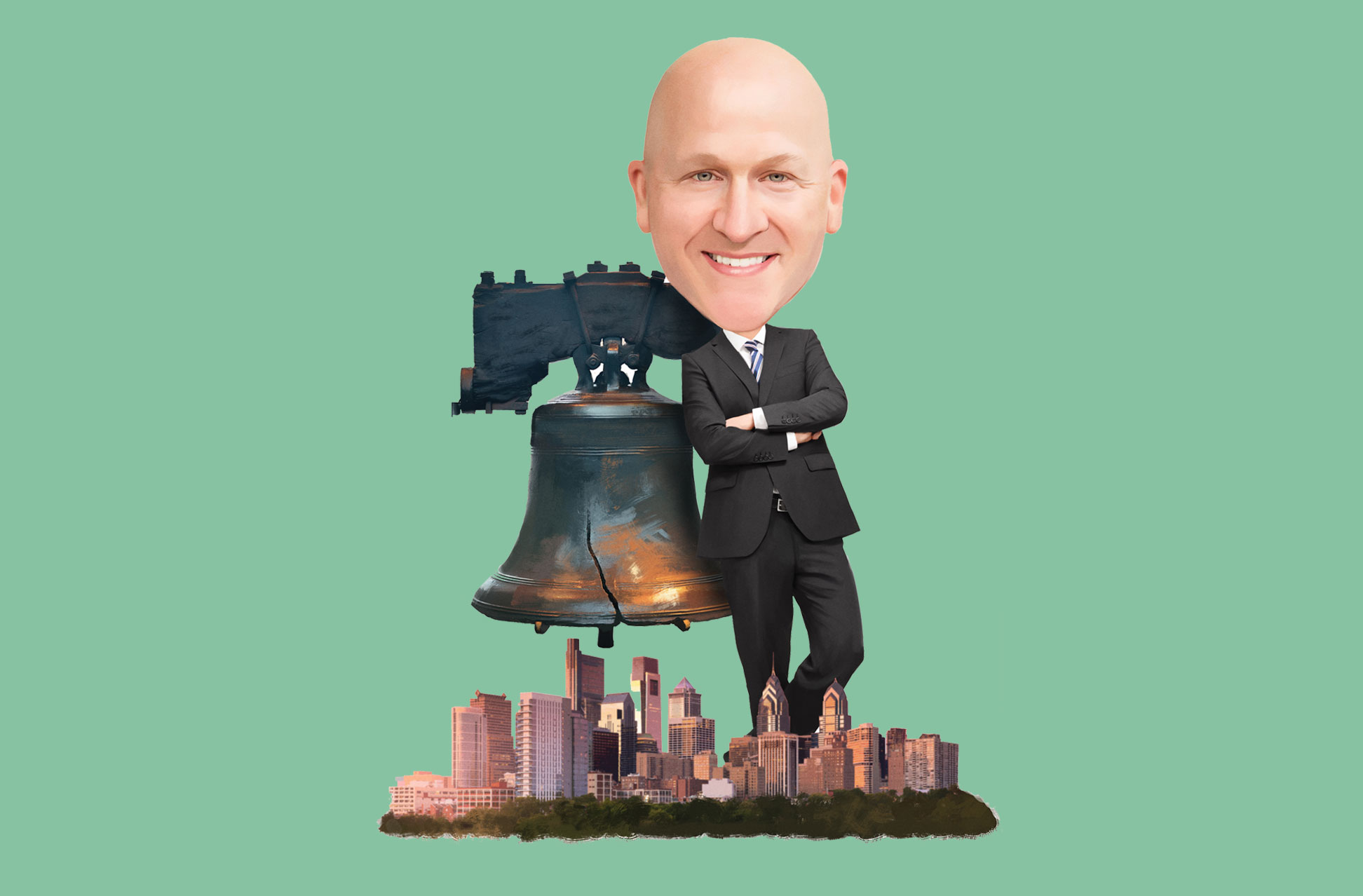 Q
In college you received financial aid from the Philadelphia Hero Scholarship Fund, and you have served on the fund's board of directors. What's the connection for you?
A
My dad, Dick Gardner, was a lieutenant in the Philadelphia Fire Department, and he was permanently disabled in the line of duty. He passed away at age 50, when I was 20 years old, and the Hero Scholarship Fund helped pay for my college education. I named our company Patriot as a tribute to my dad. The Latin and Greek roots of the word "patriot" are both related to the word "father."
Favorite vacation spot: Stone Harbor, New Jersey ("We spent a month last winter in the desert in California—that's a really close second.")
Favorite movie: Fletch
Favorite Philadelphia-based movie: Trading Places
Favorite musician: Neil Young
Favorite author: Ayn Rand
Favorite book: The Fountainhead ("I stumbled across it while I was in college. I didn't know anything about Ayn Rand, didn't know anything about her philosophy. I was drawn in by it. It actually changed the trajectory of my life. I was a pre-med student initially. That book helped me crystalize the way I thought of the world. I've probably read it five or six times over the last 30 years.")
Favorite Philadelphia restaurant: Dalessandro's
Favorite cheesesteak: "One wit" (with cheese, sauce and fried onions)
Favorite Stone Harbor restaurant: Fred's Tavern
Favorite dish at Fred's: Pizza steak ("It's their version of a spicy Philly steak sandwich. I just had one last night.")
A
East Falls, a rowhouse neighborhood in northwest Philly. Three bedrooms, one bath, probably 1,200 square feet. Five boys and a girl, eight of us crammed into a small space. No garage, no driveway, no off-street parking. We had more than 30 first cousins in Philadelphia—big, whacky, Irish-Catholic families just pumping out kids left and right.
Q
You started Patriot three years ago. What have you learned in that time?
A
Wow. A lot. I have an undergraduate degree in finance and an MBA from Wharton, and I've been in the insurance distribution business for 30-plus years, but it's only in the last three years that I've learned how to finance a business, how to think strategically about what direction you want to take your company, how to put the best people in the best places. You think you know those things, but you don't really know them until you have to make those difficult decisions.
A
We have 1,100 employees in 85 offices coast to coast. We've completed 65 M&A transactions in our first three years. Our business is about 50/50 between property/casualty and employee benefits. We're headquartered outside Philly, although since COVID hit we have operated remotely for the most part. We've got this really energetic partnership with agency entrepreneurs all over the country working with one another to make one plus one equal three.
Q
The world went into lockdown about a year after you started Patriot. How have you fared with COVID?
A
I honestly feared for the worst, but we've thrived. We saw a very brief constraint on the capital that we need for acquisitions, in March and April last year. But that abated quickly, we were able to keep the M&A engine humming, and we've grown organically really well during the pandemic.
Q
You've spent a lot of the pandemic at your home in Stone Harbor, on the Jersey Shore. Why Stone Harbor?
A
The Jersey Shore is a Philly thing. We rented here for years, then we bought the proverbial worst house on the island in 2010. Because my wife has her own interior design firm, we now have this lovely little cottage that feels more and more like home. It's a small house, about 1,400 square feet, but I wouldn't change a thing.
Q
What is something your co-workers would be surprised to learn about you?
A
They probably would be surprised to learn I get really, really nervous about public speaking. I get the same clammy hands and upset stomach I used to get playing sports as a kid. Like with a lot of things, there's a "fake it 'til you make it" element to appearing confident with public speaking. I'm still faking it a bit.
Q
If you could change one thing about the insurance industry, what would it be?
A
We could do better recruiting young people. I love our industry, but I think we have a sort of inferiority complex relative to other professional services providers, and it keeps us from being able to confidently portray to young people how much opportunity there is in the industry.
Q
Last question: What gives you your leader's edge?
A
I think it comes down to admitting what you know and what you don't know. I find myself all the time telling my colleagues, "Whoa, I don't understand. Slow down. Talk to me like I'm in fourth grade." I just come at it like we all have something to learn from one another. I think that authenticity enables me to attract great people to our team and great agencies to Patriot.