Liz Smith, President, Assurance, Schaumburg
I gained a great deal of knowledge and had a bigger impact because of some of the relationships I created with competitors.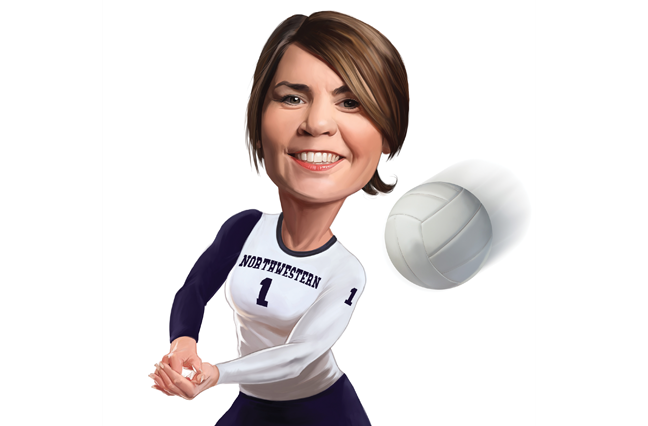 Q
You played volleyball at Northwestern. Why volleyball?
A
I love the game, and it helped that I'm tall and I happen to be athletic. Honestly, my first love was probably basketball, but I wasn't good enough to play Division 1. So I stuck with volleyball.
And why Northwestern?
Obviously, for the academics, it's a great school. I thought it would position me best for the future and for opportunities down the road. I also visited Chicago a lot growing up and loved the city. It was a smaller school, so it gave me the best of both worlds being close to the city. Also, family is very important to me, and it was close enough to visit home often.
Who were your childhood heroes? Were they athletes?
Being from Michigan, I was a huge Detroit Pistons fan. It was the time of the Bad Boys—Dennis Rodman, Bill Laimbeer, Isiah Thomas. I'm embarrassed to say Dennis Rodman was my hero, but it's true.
What's the story behind your karaoke version of Kenny Rogers' "The Gambler?"
(Laughs.) I wish I could tell you. We used to do karaoke in college, and that was the song I always played. I just got known for singing "The Gambler"—not that I'm very good.
How did you get into the insurance business?
By default, like most people. I always knew I wanted to be in sales. An opportunity was presented at an individual health insurance carrier when I graduated, and I jumped on it. I ended up on the brokerage side of the business 10 months later, and I haven't looked back.
Tell me a little about your scope of responsibilities.
It's twofold—setting the vision and structure for the employee benefits practice as well as helping execute on the bigger strategy of the entire organization. I work closely with our team on the ongoing development of our service platform, drive business development, mentor our consultants and other leaders, identify ways to improve the organization and stay involved at several levels within the industry through different thought leadership groups.
How did your experience as a Division 1 volleyball player influence your business career?
It has had a big impact on my career. Most importantly, time management. One of the toughest things about being an athlete is the pressure of both school and sports, so you have to find ways to be organized and efficient. Obviously, being a team player has driven a big part of my success. As a volleyball player, I took a leadership role. I was the setter, which is similar to the quarterback on a football team, so it prepped me for my future. I also think the discipline that volleyball taught me keeps me disciplined at work and with my team.
Do you still play volleyball?
I stopped playing after I had my first daughter. But I would love to get back in it.
Are you going to gently guide your kids toward volleyball?
I'm not going to push it. But secretly, yes, I'm hoping they jump on the volleyball bandwagon.
Do you have a favorite vacation spot?
I like the beach and warm weather—the Caribbean, Hawaii, Mexico. We do a family trip every year to Hilton Head; it's a family tradition.
What business leader, in any industry, do you most admire?
Jack Welch. I just think one of my favorite sayings of his was all about culture and people. He talks a lot about high performers and culture—how those two things interplay. At Assurance, we're really big on culture, on engaging our employees, making it a best place to work.
What is the best advice you ever got?
Do something every day that gets you out of your comfort zone. That's the only way you're going to grow personally and professionally. My high school volleyball coach told me that.
What is something your co-workers would be surprised to learn about you?
Growing up, I hated that I was so tall. I never wore heels until I was in college. My co-workers would laugh about that—I'm always in heels.
How would your co-workers describe your management style?
I would say collaborative. Not a micromanager. Team player. No two people are the same. I do my best to make sure I can help individuals improve their performance and enhance their career.
If you could change one thing about the industry, what would it be?
More transparency across the board—from providers, carriers, brokers. With limited information, it hinders the ability to make good and well informed decisions.
What gives you your leader's edge?
I would say the willingness to be open to creating new connections. I have had the opportunity to gain a great deal of knowledge and have a bigger impact based on some of the relationships I created with my competitors. A lot of them have become great friends. It does give you an edge when you have the ability to gain knowledge from the best and brightest in the country.
The Smith File
Age: 38
Hometown: Hinsdale, Illinois
Family: Husband, Neal (married 10 years); daughters: Lauren, 6, and Madeline, 3
Last Movie: "Sad to say, but the last movie I saw was The Wolf of Wall Street."
Wheels: Audi A6