Leader's Edge Magazine Redesigned
A new square design, but we are still all about you and your business.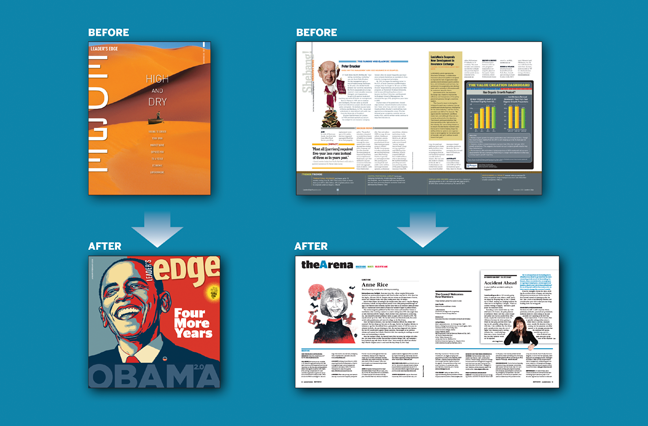 Leader's Edge marks the beginning of its 10th year with this issue.
So we thought it was time to redesign your magazine and provide a better online experience. When our creative director Ted Lopez and I showed our president and CEO Ken Crerar our initial redesign ideas, he rejected them. Not radical enough, he said.
"Blow it up and start all over. After all," he said, "all of the other insurance publications have been copying us for a decade; let's give them something new to copy."
Well, OK.
So Ted and I went to work. Along with our former art director Brad Latham, senior designer Hillary Reilly and news editor Maureen Brody, we pulled together a new concept. In print. what you see is the fruit of our labor—Edge2 or Edge 2.0, whatever you would like to call it. It is organized differently, with a new design and, yes, a square format. (Ken originally challenged us to create a round magazine, but the U.S. Post Office said no and our printer said impossible. One thing I can say for my boss, he is obsessed with pushing us to look at everything differently.)
We hope we have stepped up the quality of the editorial content in our "new" publication by going more in-depth and by inviting more thought leaders to share their ideas to address issues in our community. We hope this deeper dive will enable you to create a better future for your business. After all, we are all about you and your business.
Navigating Our Pages
We think the new design will make it easier for you to navigate. We have married our three news departments (industry, markets and regulation) into a single unit that takes up the middle of the magazine. Our old "Shebang" news sections are now called "The Arena." Think business gladiators. Sound familiar? It's a challenging and competitive marketplace out there. We want you to be well armed for business every day.
We have also moved our thought leader columnists into this new section—news and commentary all together, but as you will see, we make it easy to distinguish between news and analysis.
Following The Arena section, you will find our feature well, with interesting and entertaining stories that we think will educate, too. And during 2013, you will find much more in-depth features examining some of the
major world trends that will affect your business.
We are doing this in recognition of The Council's 100th anniversary this year. We want to look forward rather than backward.
We've moved our Tech-No-Savvy page up front, next to our humor page, and have expanded our technology news beyond just gadgets for business leaders.
Finally, we refocused our travel section more intensely on business travel, while still giving you some travel highlights for your personal use.
As for the design itself, you will notice more white space to improve readability, different artists and, we hope, more engaging photography.
Farewell
Finally, and sadly, the man who guided this redesign and who has been with Leader's Edge for eight of the last nine years, Ted Lopez, is leaving us. He is moving to The Smithsonian Institution where he will be art director for both the print and digital editions of Air & Space magazine. The design possibilities, no doubt, are more far reaching than coming up with concepts for visuals for insurance stories.
For the immediate future, Brad Latham will renew his role as creative director. He served in that position two years ago when the magazine was designed by the Washington design firm Eason Associates, so your magazine is in familiar and capable hands.
Like everything else, times change and so too must your broker magazine. We hope you like what we have done. Feel free to give me your opinion about your magazine, and we just might publish it.