Le Weekend in Paris
Turning every corner is a feast for the senses.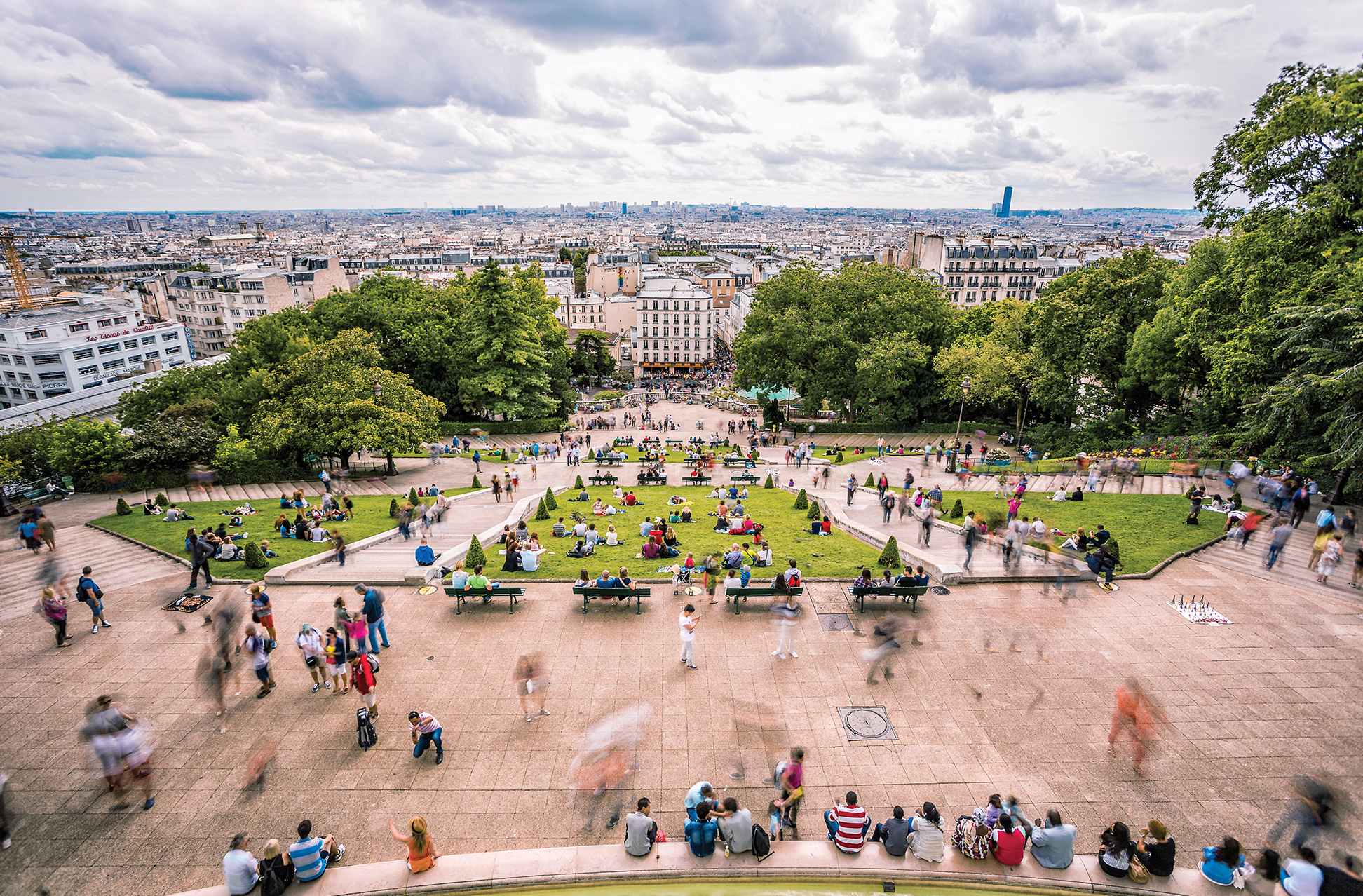 "Paris is a place where, for me, just walking down a street that I've never been down before is like going to a movie or something. Just wandering the city is entertainment." —Wes Anderson, filmmaker
Wes Anderson, known for making quirky films like The Royal Tenenbaums, is currently working on The French Dispatch, set in a fictional French city. No doubt he found inspiration for the musical/comedy/drama strolling the streets of Paris, where turning every corner is a feast for the senses. Retail shops arrange their window displays like art exhibits. Street musicians perform groovy jazz tunes. Public gardens abound with shade trees, topiaries and rainbows of flowers.
The weekend, or as they say in France, le weekend, is an ideal time to wander Paris. By law, many businesses are closed on Sunday, a way to preserve the French lifestyle and the traditional Sunday lunch with family. In larger cities such as Paris, more stores and restaurants are open, but people still reserve le weekend, especially Sundays, for enjoying the French capital at a leisurely pace.
Tack on a weekend to your next business trip to Paris. Fuel up with a café au lait, wrap a Louis Vuitton scarf around your neck, and join Parisians for shopping, visiting museums and exploring the neighborhoods. Sunday morning, head with chefs and locals to the Marché Bastille, an open-air market by the Place de la Bastille. Even if you aren't preparing Sunday lunch at your pied-à-terre, the more than 150 stalls of fruits and vegetables, herbs and flowers, cheese and charcuterie, and fishmongers and butchers is a glorious sight.
Next, visit the museums, where the architecture rivals the art. Housed in a 17th-century mansion in the Marais, Musée National Picasso-Paris was renovated in 2014, tripling the exhibition space to better display more than 5,000 works by Pablo Picasso. The magnificent Hôtel de Biron, where Auguste Rodin lived, is home to the Musée Rodin, which has also been completely restored. Inside, paintings by fellow artists are interspersed with Rodin's sculptures and drawings. In the gardens, The Thinker and other sculptures are nestled in the rose bushes (the café is an idyllic place to take a break). But the big museum news in Paris is that the Louvre, which holds the largest collection of Leonardo da Vinci's paintings, will present a retrospective of his work from Oct. 24, 2019, to Feb. 24, 2020.
Finish the day shopping at Le Bon Marché on the Left Bank, a one-of-a-kind Parisian experience. An art deco glass roof and atria are the hallmarks of the department store. Art is displayed along with racks of designer clothing from rising stars, iconic fashion houses and seasonal pop-ups. Bespoke suits and men's sportswear are presented in a space set out like its own apartment. Watches, jewelry and accessories are arranged with curatorial care.
Le weekend can be a tricky time for eating out, as a lot of restaurants are closed. If you're up for parting with hundreds of euros for haute cuisine, many Michelin three-star restaurants, such Le Cinq, are open. But if you prefer to sample the creative dishes being served at the neo bistros in the 11th arrondissement, the city's hottest dining scene, there are fewer options. Septime, for example, lauded by theworlds50best.com as one of the top restaurants on the planet, is closed Saturdays and Sundays. But two other hot spots are open: the seafood bar Clamato (first-come, first-served) and the nearby Clown Bar (reservations accepted). Both are must-dines for visiting gourmands.
Where does one stay when every arrondissement has its charms? Paris has some of the world's most opulent hotels—Ritz Paris, Hôtel de Crillon, Four Seasons Hotel George V, to name a few. Most are on the Right Bank and closer to businesses and the top tourist attractions. For $1,000 and up a night, you have an embarrassment of riches to choose from. However, with the recent opening of the renovated Hotel Lutetia on the Left Bank, you can experience one of the most sophisticated places to lay one's head while exploring the historic cafés of the literati and chic boutiques of the Saint-Germain-des-Prés. If you prefer a boutique hotel, stay at the newish Hôtel Providence on a side street near the shops and cafés of Haut-Marais and Saint Martin Canal. With the eye of an artist, designer Pierre Moussié has appointed the lobby, restaurant and 18 rooms and suites with a mix of luxe contemporary furnishings, flea market finds, objets d'art and marble-topped cocktail bars. It's an absolute gem.