Kurt de Grosz, President, ABD Insurance and Financial Services
The BenefitPoint experience taught me a lot about building and running a company, including mistakes not to repeat.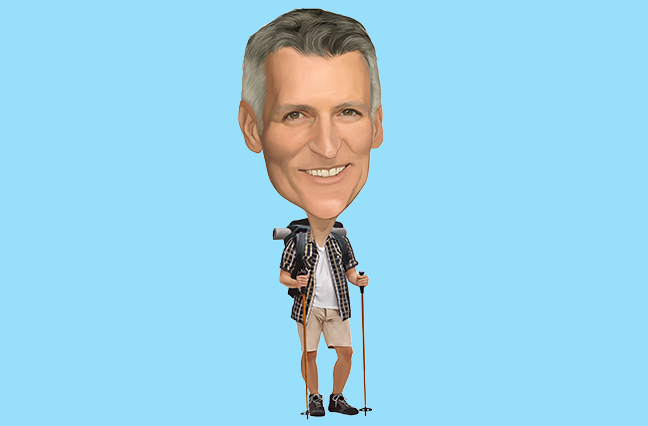 Q
You are on the board of Peninsula Family Service, a Bay Area nonprofit that serves vulnerable populations. What is it about PFS that appeals to you?
A
It's the opportunity to serve the neediest in our own community, where households making $117,000 qualify to live in low-income housing projects. The breadth of PFS is very appealing. We operate nine child-development centers in San Mateo County. We run financial empowerment programs, including financial workshops and credit- and asset-building tools. And we provide older adult services, including senior peer counseling and transition care services.
You've had an entrepreneurial streak throughout your business career. What was your ambition when forming the new ABD?
To build a values-based firm with a world-class culture and a fierce commitment to long-term independent ownership. When I told my friends in the investment community that my vision was to build a firm whose core differentiator is culture, they looked at me cross-eyed. Today, we have 280 stakeholders and continue to invest with the next generation in mind. "Forward Looking" is one of our five core values.
Why were you so committed to independent ownership?
When you have non-employee owners, you have two core purposes—drive shareholder value and drive client value—and sometimes those purposes are at odds with each other. When you're closely held, it is easier to invest for the long term and to put people before profits.
You went to college at UCLA but moved back to the Bay Area after graduating. How come?
I wanted to be close to family. This is where my roots are and where I wanted to start my career. L.A.'s fine. It's got warm beaches and Hollywood, but we've got culture up here in NorCal!
You and your wife are avid hikers. What are your favorite spots in the Bay Area?
We have the coastal mountains with tons of trails. We love the Marin Headlands. We also do a lot of hiking at Lake Tahoe. We did some amazing hiking several years ago at Lake Louise, up near Banff, Canada.
Your official company bio says you enjoy "good Vitis vinifera with friends." What's your favorite California wine these days?
One of my all-time favorites is Ridge, specifically Monte Bello, their estate reserve Cabernet. It's interesting because Ridge is from the Santa Cruz Mountains appellation, which is not as well known as Napa or Sonoma. But wine connoisseurs know that Ridge Monte Bello is considered a California "first growth."
Who has been your most influential mentor?
Definitely my father, Fred. His enthusiasm toward the business is incredible. He received so much pleasure and satisfaction from building a respected company that did exceptional client work and that employed and supported so many colleagues and their families. I would be remiss if I didn't also mention Bruce Basso. Bruce and my father were partners. When I was putting the new company together, I leaned heavily on Bruce for his wisdom and guidance. He is extremely generous with his time and gracious, wanting nothing more than to see me and my partners succeed.
Is there a leader in the business world whom you've most admired?
Marvin Bower, the late co-founder of McKinsey & Co. He invented management consulting and had a very progressive view on what it means to be a leader.
If you had five minutes with Donald Trump, what would you tell him?
That's a little above my pay grade. It's too easy to say something negative, and it's not popular to say something positive, especially being from California.
What three words best describe ABD?
Work, love, play. That's ABD's ethos. We work hard. We play hard. We celebrate the things and people we love.
How would your co-workers describe your management style?
Definitely not micromanaging. I'd say encouraging, empowering, leading by example.
If you could change one thing about the insurance industry, what would it be?
The industry would embrace change and innovate more quickly.
Last question: What gives you your leader's edge?
I don't think I have many insurance brokerage peers that started and built an insurance software business. The BenefitPoint experience taught me a lot about building and running a company, including mistakes not to repeat. It gave me a close-up look at hundreds of insurance brokerages and their operations. I learned the importance of operational best practices and the value of a world-class operating team.
The de Grosz File
Favorite vacation spot: Lake Tahoe
Favorite movie: Shawshank Redemption
Favorite actor: "I watched a documentary on Robin Williams that reinforced what an amazing talent he was."
Favorite book: "I just finished Season of the Witch: Enchantment, Terror, and Deliverance in the City of Love, by David Talbot. I wouldn't say it's my favorite book, but it's a favorite. It's about the cultural transformation of San Francisco in the '60s, '70s and '80s. It really is an eye-opening book that highlights the intersection of culture and politics and brings clarity to who and what and why San Francisco is what it is today."
Wheels: Audi A6. ("It's a 2009, and I'll probably drive it until it dies. I'm not a car guy.")