Keith Schuler, President & CEO, Interwest Insurance Services
We're known as a last-minute industry. That has to change.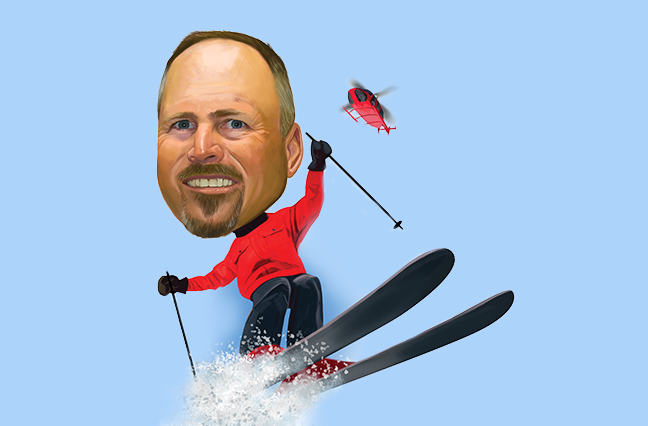 We're known as a last-minute industry. That has to change.
Q
Tell me about helicopter skiing.
A
You're dropped off on a ridge at 11,000 or 12,000 feet elevation. When the helicopter leaves, there's a sense of quiet that you don't get anywhere else. People don't talk much, because you need to stay in the moment and focus on the elements and surroundings. There is a sense of being small in a really big area.
Q
Who were your childhood heroes?
A
My father—he had such a strong work ethic. Vic Belfore—he was this big, flamboyant, Italian stockbroker who I met in high school. He taught me about giving people a second chance. Bob Ladouceur—my football coach at De La Salle High School in Concord, California. He taught me about committing to a common goal and a common cause.
Q
What do you think you bring to your job from your experience playing football?
A
There's a plaque on my desk that was given to me by Bob. It says: "When preparation meets opportunity, greatness can be achieved." I try to bring that idea to this organization every day.
Q
You became CEO at InterWest in July 2008, in the heat of the financial crisis. What was that like?
A
About three months in, I really thought to myself, "Man, I just really wish I could go back to producing and managing a branch, and life would be great." But there was a core group of people within InterWest, so I had a lot of support and a lot of talent, and everybody was willing to work really hard at some crucial times.
Q
At what point did you aspire to become CEO?
A
Never. The organization, from 1992 to 2006, was run by three divisions. I was running one of the three divisions. It became clear that we needed to remove the division model. Our chairman, Tom Williams, asked if I would be willing to take the reins from him. I joke that I missed a meeting and got elected president and CEO.
Q
What is something your colleagues would be surprised to learn about you?
A
I'm probably more emotional than they would think. I can't watch Rudy without crying.
Q
Your office in Chico is very close to some devastating wildfires. What has been the impact on your firm?
A
Our Chico office has 100 employees. About a dozen were personally affected. They lost everything. So it hit home with us. At the same time, we had over 250 clients in the Paradise-Chico area that experienced losses—and all of them were total losses. The impact on the community is going to last for a very long time. I've never seen anything like it in my 33 years in the business, and I hope I never do again.
Q
What three words would your colleagues use to describe your management style?
A
Entrepreneurial, respectful and demanding.
Q
If you could change one thing about the insurance industry, what would it be?
A
We seem to have a huge disconnect in the timing in which we are able to deliver information to our clients regarding their policies upon renewal on an annual basis. We're known as a last-minute industry. That has to change.
Q
What gives you your leader's edge?
A
It's our commitment to the two or three generations behind and their development. It has cost us millions to develop that talent, but we're reaping the benefits.
The Schuler File
Favorites vacation spot: Lake Tahoe
Favorite Lake Tahoe restaurant: Sunnyside. "It's on the waterfront—California cuisine, great bar on the marina. It's just got a great Lake Tahoe mountain vibe."
Favorite city to travel to for business: Anywhere I can take my wife with me.
Favorite movie: Kelly's Heroes
Favorite actor: Gene Hackman
Favorite book: Outliers, by Malcolm Gladwell
Wheels: "From Monday to Friday, a BMW X5. After that, a Ford F-150. We joke that the X5 is the corporate jet and my car is the F-150."