Kate Armfield, COO, AHT Insurance
I didn't want to be just the boss's daughter.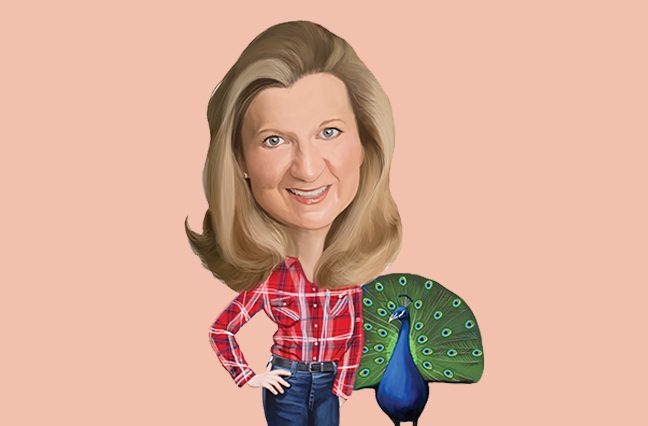 Q
I've done many of these interviews but never with anyone who raises peacocks on the side. Why peacocks?
A
They're kind of like jewelry for your yard. I have a cousin who breeds peacocks in Louisiana. She got me started on it.
How many do you have?
Right now I have three. Two met their demise with a utility power line, unfortunately. They sit on the porch and look in the window. You can tell they want to come inside.
How many other animals do you have?
My daughter has a horse boarded somewhere else. We have bird dogs and chickens. We have two German wire-haired pointers and a red standard poodle that came from a breeder in Georgia. They are all bred to hunt. The poodle's father is world-famous. He's been on the cover of dog hunting magazines. But our poodle is afraid of the dark.
You grew up in Middleburg, Virginia. What was it like?
My family had a charge account at every store in town, including the gas station. I could walk into a mom-and-pop grocery store and literally charge a two-cent piece of candy.
And you came back 10 years ago. Why?
Because of all that, right? It's a nice, small community. The people are really genuine. My husband grew up in a rural part of Virginia. We're country people by heart. [And] with the trauma my family went through, everybody has been super-supportive, and that's been important to me, too.
Your husband died in December of 2016. How did you cope with that?
People at work were amazing. People in the industry were amazing. We just muddle through.
After graduating from Duke, you worked in Washington politics for a few years. What was that like?
I worked for Maureen Reagan, the president's daughter. She was then co-chair of the Republican National Committee. I also did opposition research. All of my candidates lost. I figured I don't have a knack for this. I was really turned off to politics after living it for a while.
You're the third generation in your family to work at AHT. Is that something you're always mindful of?
Nepotism is not always a positive in insurance, so I was always mindful of that. I just always tried to work harder. I didn't want to be just the boss's daughter.
What was your first job at AHT?
Working for David Schaefer, who is now the president of the company. I'd get in a car with him with a stack of maps—nobody had GPS back then—driving around, eating Big Macs and trying not to get it all over. We have so many stories of life on the road.
What's the best part of your job as COO?
Finding really good people. We have a woman who's been here maybe 15 years. She started as an administrative assistant. She came to me after 10 years on that job and said, 'I love working here, but I can't imagine typing proposals forever.' She said she wanted to be a benefits account manager. She's now a star account manager. Those are the fun things to watch.
What's kept you in the business for so long?
I think when you become an owner in a company you feel compassionate about creating an environment where people can grow and thrive. You want to pass it on to the next generation better than you got it.
Would you like to see your kids follow in your footsteps?
I don't think either one would. My son is more engineering- and math-oriented. My daughter, she's 14. Who knows what she's going to do?
What business leader, in any industry, do you most admire?
I thought quite a lot of Jay Fishman at Travelers. I'd spent time with him. He always remembered my name, remembered my husband's name. He always seemed generally interested in what agents were thinking.
What's something your colleagues would be surprised to learn about you?
I climbed the highest mountain in Austria, called the Grossglockner [elevation: 12,460 feet]. I was maybe 19. There's a metal cross at the top that has the names engraved of every person who's died on this mountain.
If you could change one thing about the insurance industry, what would it be?
Finding more innovative ways to attract young talent into the industry.
Last question: what gives you your leader's edge?
I would say just trying to be compassionate about our workforce and open-minded as to how to get people on a career path that's meaningful for them.
The Armfield File
Favorite vacation spot: "Anywhere warm and sunny."
Favorite book: I love mysteries.
Favorite author: John Grisham
Favorite movie: Airplane
Favorite actor: Robert Redford
Musician: The Rolling Stones ("I've taught my children since they first started to talk: 'What's the best rock 'n' roll band ever? The Rolling Stones.' I feel like I've accomplished something as a parent with that.")
Wheels: Acura MDX ("It has a ski rack on top and a bike rack on back.")