James Corden
A Jewel of a Cameo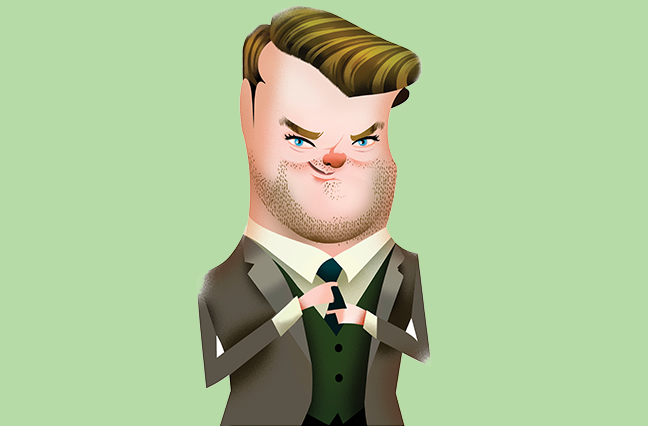 Every theft film has to have at least one insurance investigator, and perhaps the most unlikely one ever is James Corden, in Ocean's 8.
The pudgy, plain, British actor, singer and comedian, who has been hosting The Late Late Show since 2015, was an insomniac's secret until he suddenly started turning up everywhere. His Carpool Karaoke skits with famous singers flood YouTube. (Grab a hanky before you watch the Paul McCartney episode.) He hosted the Tony Awards in 2016 and the Grammy Awards in 2017 and 2018. It was even rumored he had a bit part in Star Wars: The Last Jedi. Alas, not true.
Predictably, Corden's overnight ubiquity is backed by 22 years of solid work, and he's only 40. He has written and starred in British television series, appeared in 30 films, and twice hosted the Brit Awards. He has won 38 honors himself, has starred in three music videos, and even has a role in the video game Fable II.
In Ocean's 8, he's a thorn among roses, investigating the jewel theft perpetrated by an all-girl gang: Sandra Bullock, Cate Blanchett, Anne Hathaway, Mindy Kaling, Sarah Paulson, Awkwafina, Rihanna, and Helena Bonham Carter. The setting is the Metropolitan Museum of Art's Annual Costume Gala, awash in celebrities and designer duds.
Amidst this visual flurry, Corden's appearance is brief and late in the game. Really, how much of the insurance angle do you want in a sexy heist flick? As he told Movie Extras, with a straight face, "The studio called me and said they were worried this film didn't have much star power. Eight very talented actresses, but they needed a big star. And I said, 'Sure, I'll do it.'"
Just kidding. In fact, as one online fan site noted: "Corden is basically a case study in how to take over Hollywood with almost no one noticing until it's too late, and that's kind of impressive. Really, we should all be taking notes."