Italy: Beyond the Quattro Grandi
The further you venture away from the big four iconic destinations, the more rewarded you'll be.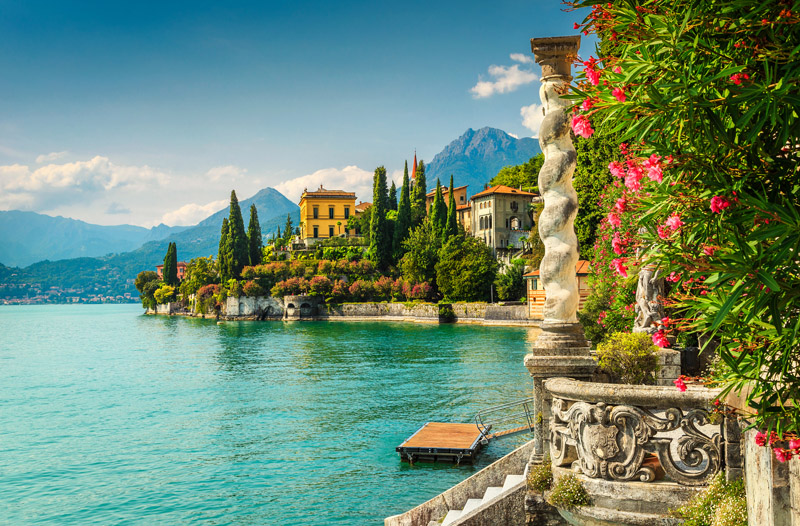 Rome, Florence, Venice, Milan.
When it comes to the classic Italian trip, most travelers seldom stray from those big four, and who can blame them? Standing in awe in the Colosseum, touring the venerated Vatican, strolling along the art-filled corridors of the Uffizi Gallery, gliding in a gondola beneath the Bridge of Sighs, walking to the top of the Duomo to see Milan's ever-changing skyline—those are hallmark moments that every earnest traveler should experience once in their lifetime.
When to go: The low-season months of April to June and September to October are the best times to visit Italy, as the weather is still pleasant but there are fewer tourists than July and August and prices aren't hugely inflated.
Currency: Euro (€)
Language: English is widely understood, but attempts to speak Italian are appreciated.
Companies to consider: Globus, Azamara, Regent Seven Seas Cruises, Oceania Cruises
While those sights are iconic for obvious reasons, it's worth remembering that Italy is a large and beautiful country. The further you venture away from these big-four destinations, the more you will be rewarded with charming villages that offer respite from summer crowds, authentic flavors that have remained unchanged for generations, and breathtaking vistas that are seldom on Italy's top postcards but should be.
This is by no means a comprehensive list of hidden gems—simply a few that sparkle the brightest for the moment. The classic allure of Italy is inescapable wherever you go, from the Dolomites in the north to the tip of the boot and Sicily beyond. The key is to explore as much of it as possible and to talk to as many locals and to try as many flavors of gelato as you can. Only then can you say that you have lived la vita dolce.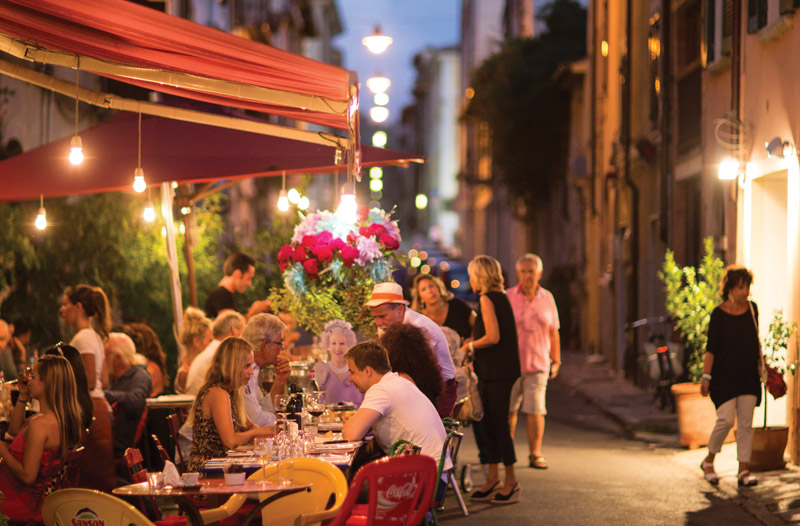 Near Florence
While one can easily spend weeks falling in love with Florence—the birthplace of not just Machiavelli, Dante and Gucci but also of the Renaissance itself—there's a surprising number of gorgeous towns and villages within a few hours' drive of the fabled city. And what a drive it would be, coasting up and over the rolling hills and past the sprawling vineyards of Tuscany.
When approaching, don't let the massive brick walls of Lucca keep you away. The walls—some of the best-preserved defensive structures in the country—keep the chaos of the modern world out so that the peace and beauty of the past can stay safely tucked away. Inside those walls, you'll find a city of medieval houses of cream, yellow and white built high against the walls of an ancient Roman theater, the oval shape of which now encompasses the Piazza dell'Anfiteatro. You can even take a walk on the wall along a 2.5-mile pathway lined with trees and historical views.
From a distance, San Gimignano—another spectacular walled Tuscan town—looks like an attempt to create a modern metropolis in the past. More than a dozen tall towers loom over the city below, the remainder of 72 such structures that once stood proudly and defiantly during medieval times so that the ruling class could stay a safe distance from the diseases and dangers lurking in the streets below. The pillars now form a UNESCO World Heritage Site, and you can climb to the top of the 200-foot-tall City Hall tower for a truly breathtaking view.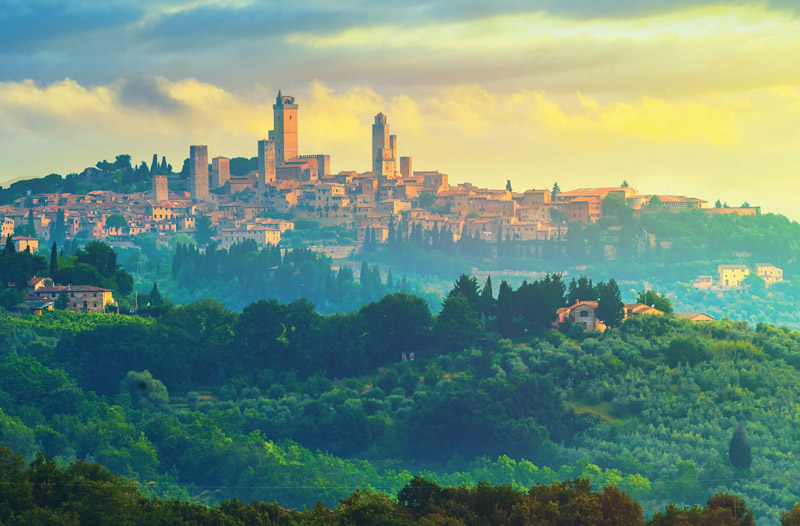 Near Venice
Venice evokes romantic images of serenading gondoliers rowing through winding canals underneath arched stone bridges. Lately, it also evokes not-so-romantic images of tourists overfilling quaint cafés and packing into St. Mark's Square, so it's wise to traverse some of the city's 400 bridges and find your way out into the surrounding countryside.
There—about an hour west of Venice—you'll find Verona, the well-known setting for Romeo and Juliet. Today, the entire town is a UNESCO World Heritage Site famed for its stunning medieval and Renaissance architecture, creating a picturesque small town that's perfect for relaxing in the rhythm of Italian life. Built in the first century, Verona's open-air amphitheater, the Arena di Verona, is one of the town's largest draws, especially during the summer when the Arena Opera Festival wows crowds of opera lovers with world-class productions. However you spend your day here, you can always look forward to your evening stroll, a daily tradition known nationally as la passeggiata, which is raised to an art form here thanks to the town's cobblestone streets framed by pink-hued medieval buildings.
A little further away from Venice is Bologna, home to one of the world's oldest universities. Steeped in history, culture and world-class baroque and Renaissance architecture, Bologna also accommodates more modern pursuits with museums dedicated to Lamborghinis and gelato. And like any good university town, Bologna has plenty of local breweries, charming cafés and neighborhood bars.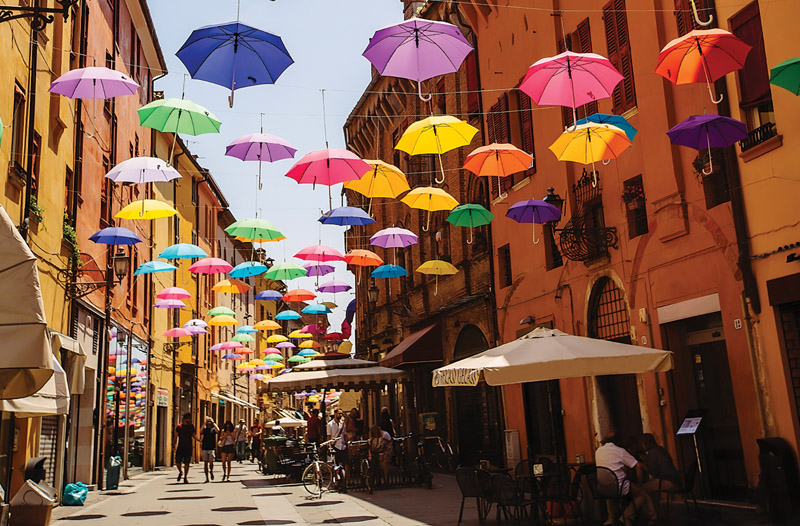 Island Escapes
Surrounded by three seas, Italy is home to a number of tantalizing islands that mix historic culture with sea-sational views. It's hard to imagine a more enchanting setting than Ischia. Set in the Tyrrhenian Sea, about an hour off the coast of Naples, this small mountainous island rises dramatically from the azure waters of the Bay of Naples. Easily reached by hydrofoil or ferry, the island is also heralded for its thermal waters, a reputation that has endured since the eighth century B.C., thanks to the more than 100 hot springs that flow from Mount Epomeo. Hotels often have pools filled with hot spring water, but you'll also find numerous wellness centers.
While Ischia feels like a little secret, the island of Sicily feels more like a separate nation. To truly get a taste of it all, head to the island's second-largest city, Taormina, spectacularly perched on a mountainside high above the glittering Ionian Sea. Best known for its historic Greek amphitheater and breathtaking views of Mount Etna, this charming resort town has been a beloved tourist destination since it became a popular stop on the Grand Tour in the 1850s. If you time your visit right, you can catch a performance at Teatro Antico, one of the most dramatic and well-preserved amphitheaters in the world.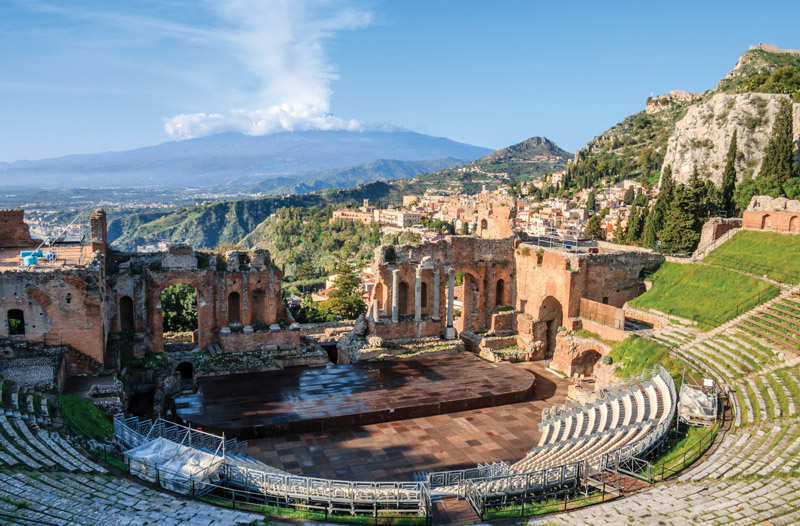 Natural Draws
Sure, people flock to Italy for the historic buildings, high-end fashions and delectable variations of carbs, but the country's natural wonders should not be overlooked. Nowhere does the marriage of nature and culture coexist so splendidly than up north in the Lake District. This is a place where sprawling forests intertwine with ancient villas, backdropped by mountains and bordering magnificent crystal-blue lakes.
One of the stars of this scene is Lake Como (I'm compelled by journalistic laws to report that beloved actor George Clooney occasionally lives here). Like Cinque Terre, Lake Como is not even close to being a hidden gem, but it deserves a high ranking among the places to visit outside of the major cities. Here, cobblestone streets lead past Gothic cathedrals and swanky boutique shops, and abundant hiking trails give you numerous vantage points to appreciate the stunning vistas.
Speaking of hiking, did you know the country has a north-to-south, border-to-border, island-hopping hiking path that is nearly twice as long as the Appalachian Trail? It's called the Grand Italian Trail, a nearly 4,000-mile track from Trieste up north near the border of Slovenia, across the snow-tipped Italian Alps, along the border of France, down through the center of the boot to the tip of its toe, then on to Sicily and Sardinia.
Thankfully the trail is divided into 368 sections, making it easier to manage for those looking for the ultimate Italian trek. Highlights along the way include Gran Paradiso National Park, the first to receive national park status in Italy; the ancient maritime-powered city of Genoa; Como Grande, the highest mountain in the Apennines; Mount Vesuvius and Pompeii; Palermo on Sicily; and Santa Teresa di Gallura on Sardinia, a seaside village home to stunning beaches.
So much to see and do and eat and hike—the country has it all for those courageous enough to venture away from the quattro grandi, the big four. Be sure to add enough time on your next Italian vacation to escape the cities and see the real side of this international treasure.
Tasty Treats
Finding delicious food in Italy is a lot like shooting fish in a barrel, then presenting that fish in a sauce of olives, tomatoes and capers and serving it with a nice Pinot Grigio. You will not find Americanized versions of spaghetti and meatballs drowning in sauce, but you will discover that every region has its own, delectable version of the classics you've come for. Here are a few dishes to aim for.
Mortadella > Yes you will find a thousand dishes featuring Bolognese sauce in Bologna, but don't leave the city without sampling this locally produced specialty sausage made from pork, spices and herbs.
Cicchetti > Italy's take on tapas includes small bites of fresh fish, cheese and deep-fried goodness paired with an Aperol Spritz for the perfect canal-side lunch in Venice.
Roman-Style Pizza > There's still a debate about which Italian city was home to the world's first pizza, but there's no denying that Rome's paper-thin-crust style of pie is the real deal. Try it with potato and mozzarella.
Risotto alla Milanese > This saffron-infused version of this mouthwatering dish is said to have been invented by workmen building the Milan Cathedral who were using saffron to dye the stained-glass windows.
Gelato > Italy's ice cream is best served up at Vivoli, the oldest gelateria in all of Florence, where you'll struggle to choose between the tasty flavors. Will it be pear with caramel? Lime and mint? Green apple? You may have to visit more than once.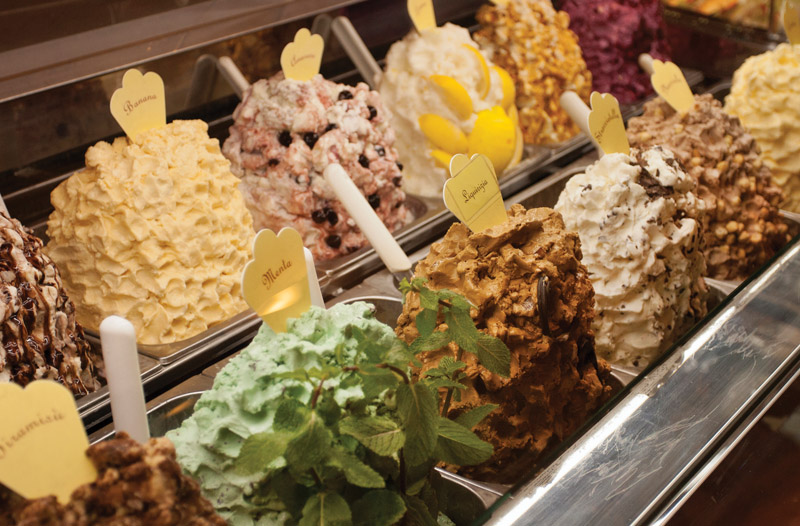 Cruise Corner
Everyone loves Rome (via Civitavecchia Port) and Venice—classic stops on any Mediterranean itinerary. But Italy's smaller ports of call are places of beguiling natural and artistic beauty that deserve more of the spotlight. You may need to book a ticket on a smaller, more agile cruise ship to reach these ports below, but they are very worth your time.
Sorrento > Sorrento is utterly gorgeous. Filled with colorful villas flanked by sweet-smelling orange and lemon trees, the town's narrow cobblestone alleys twist and turn their way up the steep cliffs in a striking procession. This might sound treacherous, but rest assured visitors are handsomely rewarded for their effort with spectacular views of the Gulf of Naples.
Portofino > Although it's described as a small fishing village on the Italian Rivera, Portofino is a fishing village unlike any other. The picturesque harbor is filled with sparkling superyachts, the first hint of the town's incredible glamour and sophistication. Yet hidden amid the designer shops and Michelin-starred restaurants, Portofino's architectural gems—such as the 16th-century hilltop castle Castello Brown—are plentiful.
Syracuse > This small port city on the east coast of Sicily was founded by the ancient Greeks over 2,700 years ago. As one would imagine, this long history has left an abundance of treasures in the form of Greek temples and baroque palaces. Ortigia, the old town, is the main attraction for visitors, many of whom find their way to the Church of Santa Lucia in the Piazza Duomo to view Caravaggio's masterpiece, the "Burial of Santa Lucia" hanging over the altar.