Yorck Hillegaart's Hamburg, Germany
Hamburg is a dynamic, open-minded metropolis with all its qualities but still preserves a laid-back attitude and neighborly charm.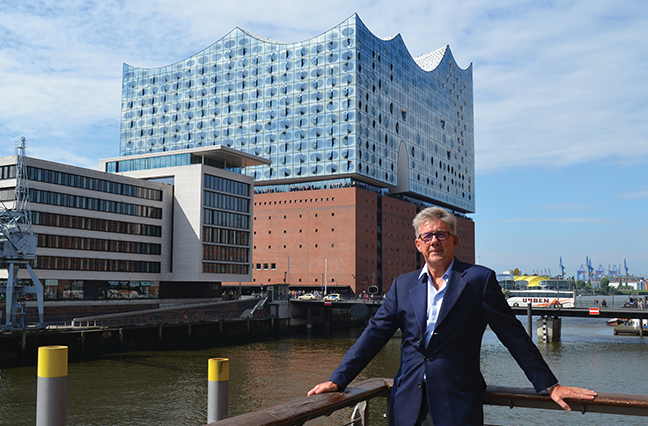 It's a mix of cosmopolitan and neighborly charm, says Yorck Hillegaart, Executive Board Member/Partner, Funk Gruppe GmbH.
What's to love >> Hamburg is a dynamic, open-minded metropolis with all its qualities but still preserves a laid-back attitude and neighborly charm. Parks, green spaces, forests and waters make up almost 50% of the city. But Hamburg also has cosmopolitan charm. We are always open to new trends, and internationality forms a part of everyday life here. That's why the start-up scene is continuously growing.
New and exciting >> The Elbphilharmonie concert hall, which we fondly call Elphi, is a wave made out of glass, steel and concrete that rises into the sky. It's worth a visit not only for the spectacular architecture but also for the exceptional acoustics.
Seafood >> Hamburg is famous for seafood. Fresh catches from the North Sea arrive daily at the harbor, where the restaurants offer excellent seafood and commanding views of the port.
Favorite new restaurant >> Definitely The Table, run by Germany's youngest holder of three Michelin stars. There is just one, single, large table made of cherry wood. From here, you can take a look at the open kitchen and observe how unique flavor experiences are made.
Classic eats >> I love eating at Tarantella, especially in summer. They have a spacious terrace, which has a nice view of our city park. The restaurant serves a varied range of international food. I'm a friend of seafood; therefore, I always go for something fishy.
Cocktails >> Because of the ambience, I prefer to take clients to any of the places around Alster Lake, such as the Anglo-German Club e.V. Another beautiful spot is the rooftop bar Clouds. It's at the heart of the Reeperbahn and the top of the famous building called Dancing Towers.
Stay >> I usually recommend the Fairmont Hotel Vier Jahreszeiten or Hotel Atlantic Kempinski, but in October, Hamburg is going to have a new luxury hotel: The Fontenay. It is an architectural wonder, and a Michelin-starred chef will run the restaurant.
Thing to do >> Explore our gateway to the world—our harbor. Take the ferry or book a cruise on the Elbe River. You can sail on Hamburg's so called "green lung," Alster Lake. But Hamburg also has numerous theaters, museums, operas and galleries that make it a pure cultural pleasure.
Side trip >> Hamburg is close to the coast. Visiting the islands is worth a trip. They are blessed with gloriously long beaches and unique natural surroundings. Sylt, Föhr and Amrum—just to name a few of them—are also the poshest places to be.