Game Changers
They made their mark and changed an industry.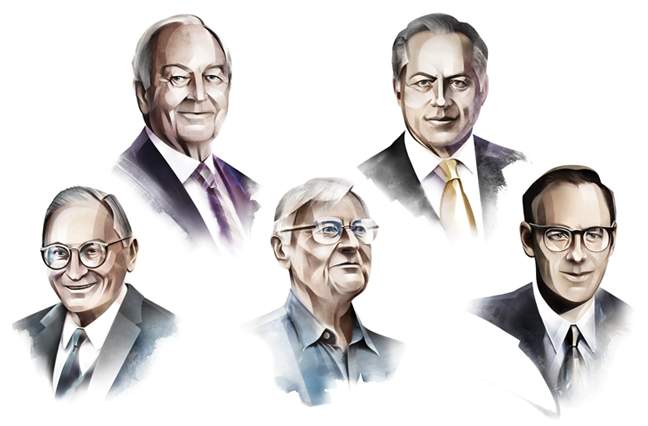 Each year The Council identifies people and events that have made extraordinary contributions to the insurance industry and especially to the commercial brokerage side of the business. We call them Game Changers. A special committee takes recommendations and sorts through the nominees. The winners' ideas and innovations must make a permanent impact on today's business. This year no events were chosen while five stellar individuals and business leaders are recognized.—Editor
Myron Du Bain
Chairman and CEO, Fireman's Fund
Born Business Leader
Heeding the call of his generation, Myron Du Bain joined the Navy when the United States entered WWII. He commanded a rescue boat in the South Pacific and later served in the Korean War. What's not commonly known is his important role in intelligence work as a member of the OSS—the Office of Strategic Services, a predecessor to the CIA.
His good friend, former Secretary of State Henry Kissinger, called him a man of "boundless optimism, tremendous buoyancy and patriotism."
Du Bain earned a bachelor's degree from the University of California at Berkeley in 1946 and later graduated from the Executive Program of the Stanford University Graduate School of Business. Upon returning from the war, Du Bain followed his wife Alice's suggestion he apply for a job at Fireman's Fund. She thought it seemed like a "nice company." Du Bain joined the company as a file clerk and quickly rose through the ranks, eventually becoming president and CEO in 1974. After leading the company to seven years of record growth, he retired in 1982 to become chairman of Amfac, a hotel chain, and later chairman of SRI International (formerly Stanford Research Institute).
A colleague noted he was a "born leader." Another said he ran Fireman's Fund the same way he played tennis: he was "patient and non-flamboyant, with the uncanny knack of making impossible returns."
Du Bain was chairman of the James Irvine Foundation from 1989 to 1996, chairman of the United Way of the Bay Area and a director of the San Francisco Opera and San Francisco Symphony. He was also a member of the famous Bohemian Club.
Robert Sanford
Partner, Smyth, Sanford, & Gerard
The Biggest Little Brokerage in the Business
Bob Sanford was bigger than life, generous to a fault. As his good friend and fellow Council game changer Mary Lanning said, "He bellowed, he sang, he sassed." And he would give a poor man on the street the shirt off his back. Actually, he did give a shivering day laborer his jacket as he walked to work one day, a friend recalled. He also handed out hot coffee and donuts in the South Street Seaport. Sanford was an old-school broker, in the best sense.
He was loyal to his clients, employees and his many, many friends young and old. Sanford grew up in his family business—Smyth, Sanford and Gerard—and he made it thrive. He liked to say it was the "biggest little brokerage in the business." He breathed life into the Insurance Brokers' Association of New York, turning it into a vital force in making state public policy.
Sanford served multiple terms as its president. He was a member of the National Association of Insurance Brokers and a small, effective fish in a pond of big broker fish. Sanford was most proud of his role on the board of trustees of The College of Insurance. He also devoted thousands of hours to YES!Solutions, a grassroots community organization that assists the aging, poor and ill, primarily in New York. He especially liked the organization's StreetCorner Gourmets, who serve meals and provide help to thousands of visitors.
J. Smith Lanier II
Chairman, CEO and Chairman Emeritus, J. Smith Lanier & Co.
The Boy Scout Businessman and Entrepreneur
J. Smith Lanier II lived by the oath he took as a Boy Scout and built a family business on the principles of service—to God, country and the human race. Smith was many things to many people and was known for his generosity, kindness and honesty. He was an entrepreneur, business and community leader, and philanthropist.
Smith attended Auburn University and then transferred to the U.S. Merchant Marine Academy, earning a degree in mechanical engineering and a commission in the Navy. Smith joined his aunt's insurance agency in West Point, Ga., in 1950. But the Korean War interrupted his career, and he ended up serving on the USS Ault DD-698 as an engineering officer.
When he returned, he purchased the agency and grew it to national prominence. Smith also helped launch many business ventures and was a founding director of five publicly traded companies. A strong supporter of public and private education, he sat on several boards of trustees, including the USMMA, LaGrange College,
Oglethorpe University and Atlanta Christian College (Point University). Smith also served on the first Dean's Advisory Board of the College of Human Sciences at Auburn University and was honored with the school's International Quality of Life and the Alumni Association Lifetime Achievement awards. He was named Georgia
Small Business Person of the Year in 1997 and National Small Business Person of the Year in 1998. The USMMA named him Alumni of the Year in 1998 and inducted him into the Distinguished Hall of Graduates in 2009. Smith was active in local, regional and national politics. He was county chairman, sat on the state executive committee of the Alabama Republican Party, and attended two Republican National Conventions as a delegate.
John Keenan
Founder, Keenan & Associates
Supported Teachers and Employees
John Keenan created a workplace that stressed people over profits, where employees could see their kids play soccer or attend a school play. His approach built a strong loyalty among his employees, and he was fiercely loyal to them. Keenan made provisions to ensure the firm would remain independent after his death. His vision propelled the firm to become the 17th largest insurance brokerage and consulting firm in the United States.
Keenan earned a bachelor's degree in business administration from Loyola University in 1952 and then served as an Air Force lieutenant during the Korean War. With three partners, he opened Keenan & Associates in 1972, pioneering a niche marketing discipline, specializing in insurance for schools and hospitals. His son, Kevin, who works for the firm, says his father wanted to help teachers get better benefits, and he created a market to meet the insurance needs of school districts. Keenan's vision led the company to form statewide purchasing pools to obtain protection for the unique risks of schools. Almost 30 years later, these programs are among the largest public risk pools in the nation.
Keenan insisted his seven sons—four now work for the firm—succeed on their own before they could work for him. Friends knew him as an exceptionally generous man who always looked for the good in people.
Keenan aided schools in South Los Angeles, where he grew up, particularly the Verbum Dei High School, a Jesuit college and career preparatory school. He created a corporate internship program that serves young men who are economically and academically underserved.
Bob P. Russell
Chairman and CEO, Crum & Forster
A Dreamer with His Feet Firmly Planted
Bob Russell was one of the best known and respected executives in the business. As colleague Jake Wallace (chairman emeritus, Willis Corporation, and 2013 Council game changer), noted, Russell was one of the last of the old-time company field men who rose through the ranks to head a large insurance company, doing it the old-fashioned way by knowing every field agent and immersing himself in the business. Russell had his rules for success, which included working hard, setting an example, fostering integrity and treating everyone with respect.
Be a dreamer, but keep your feet on the ground, he said. Having a good sense of humor, Russell infamously told a class of young agents that "carriers would do business with Hitler, Idi Amin, or the devil himself instead of agents if we could make money. We just haven't learned how to get rid of you guys."
Russell was valedictorian and senior class president of Paschal High School in Fort Worth, Texas. After graduating, he joined Floyd West & Co., later acquired by C&F, and sold insurance door-to-door. He became president of C&F in 1966 and chairman in 1972. Russell retired in 1984.
Russell also put his business acumen to another passion—golf. He began as a caddie at Meadowbrook Golf Course in Fort Worth and soon became a three handicapper. He was known for having such a good time playing, relating jokes and stories, that once he forgot to tee off. Russell served on the board of governors and later as president at Baltusrol Golf Club in New Jersey. The club was the site of the U.S. Open in 1967 and 1980.
Russell also served as chairman of the fundraising campaign for the Police Athletic League of New York, honorary chairman of the Greater New York Councils of the Boy Scouts of America, and a trustee of the Independent College Fund of New Jersey.